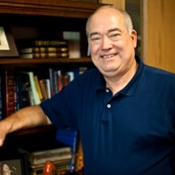 Charlie Ryser
Pastor
---
Phone:
918.392.1125
Email:
---
What do I love about my family?
Outside of everything, I would have to say we're still pretty tight after all these years and all the things we've gone through as a "minister's family." We're not afraid to disagree and have lively discussions about a wide variety of topics and still love one another. Our daughters, their husbands and our grandson are the joys of Sally's and my life.
What difference has Jesus Christ made in your life?
Looking forward and back on my life he makes the total difference. In choosing Sally as my wife or was it her choosing me? Our allowing Christ to be the Lord of our life and other times not letting him lead have made for interesting twists and turns in our life journey. All I know for sure is that the Lord has been merciful and gracious through it all; laughing and crying with us; dancing with us while tasting our tears of joy or sorrow, embracing us when we would let him and letting us laugh with him, and still other times letting him laugh at us, but never without sensing or knowing that we are eternally loved by him.
Describe the moment when you knew you would enter full-time ministry.
Sally and I were driving back from my parent's lake place and Sally was asleep beside me when I asked the Lord if he possibly had anything in this life better for me to do? I told Him that I was willing to simply obey him. I heard the audible voice of Jesus telling me; "Charlie, you are accepted." I woke Sally and asked her if she heard that? I told her the Lord wanted me to enter the ministry.
What happened next?
I went to Bill Mason's office. I had to sit in line because there were four other men sitting outside his office waiting to speak to him about entering the ministry that day.
If a celebrity chef offers to prepare a special meal in your home, what would you request?
This has to be a trick question? In this moment I wouldn't want anything that fancy; iron skillet fried chicken, homemade yeast biscuits with white cream gravy and some really good local honey and or apple butter, coleslaw, and maybe Sally would have to teach them how to make her cherry or strawberry pie with homemade ice cream or real whipped cream. That might possibly tide me over for a while, but really it's the family or friends around the table that makes it taste good.
If you could have one hero or role-model join you for that meal, who would I invite?
That's not fair, I have quite a few so I'll cheat. I would want Adam and Eve so I could ask them, What were you thinking?; Socrates; I would want my great, great, great, great grandparents on both sides; Apostles Peter, John and Matthew; and Mary the mother of Jesus. I think it would also be interesting if Paul was there, but he was probably cause us all to have indigestion.
After the meal which DVD would you choose and why?
Either the Mission, Crash or the Pink Panther with Peter Sellers. If Paul is there it would have to be the Pink Panther just to hear and watch everyone laugh.
In addition to your Bible, what book in your library do you most treasure and why?
Sally and I have been reading all the Brennan Manning books together; The Raggamuffin Gospel because he leads with grace and honesty but doesn't shy away from asking Christians tough, soul searching questions, or True Faced, which is much the same way.
What do I do for recreation?
I enjoy our garden and yard work. If I could I would fish for trout and would love to try ocean fishing some day. I enjoy art, craft exhibits and day trips, but most of all I really enjoy being with my girls and grandson.
If I were not a full-time minister, what career would you choose?
I would love to be a naval aviator, college professor or archeologist on a dig.
---