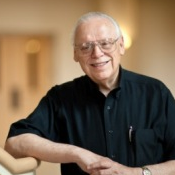 David Thomas
Pastor
---
Phone:
918.392.1120
Email:
---
David Thomas was brought up in the church. His father was an active layman and served as choir director in the Will Rogers United Methodist Church of Tulsa. At 12, David was attending a youth camp and felt the call into the ministry. Just six weeks later his father was killed in a plane crash. On top of that, his mother was a struggling alcoholic. She went into a three-year bender, ending up in a number of institutions dealing with her illness.
Now he was living with his grandmother and for a period of time, a teenage David went through a rebellious stage, feeling both guilt and anger. "I got away from the church. I got in with a gang and into some trouble. One friend said to me when we were drinking, 'Dave, I thought you were going to be a preacher. Boy you're going to have to do some changing.' That was terribly embarrassing. I told him that I was going to get things straightened out some day. There was this girl next door. I couldn't date her, but I could go to church with her. It was there that I realized that my life was a mess and that I needed some help. I accepted Jesus into my life as Savior and Lord, and it was like the weight of the world had been lifted off my shoulders. It was like I had had a taste of heaven.
"One Sunday night in church, it was like flashback to the time of my original commitment to God. 'It's time,' I thought. I placed my life back into His hands. Back in the fold, David began ministry at his uncle's church, Sheridan Avenue United Methodist Church, where he served as the custodian, youth director and assistant pastor. "It was there that I met Patty Stevens (later to become his wife)." While a senior in high school, he began serving as pastor of the newly organized St. John's United Methodist Church in north Tulsa. "There I learned what it meant to lean on the Holy Spirit," said Dr. Thomas. Serving as a pastor captured his heart, and it's a role he fulfills to this day.
Following graduation, he attended Oklahoma City University. In 1962, he graduated from Perkins School of Theology at SMU, and he later received his Doctor of Divinity degree from OCU. Following his ordination he served as pastor of churches in Tulsa, Shawnee, Oklahoma City and Bartlesville.
After retiring following seven years as senior pastor of First United Methodist Church of Bartlesville, he and his wife, Patty, moved to Tulsa where he assumed a post-retirement position as Minister with Senior Adults at Asbury UMC.
Dr. Thomas has done a remarkable job in building the senior adults ministries through Tweenagers, Bible studies, and other programs and special events designed to serve our senior adults. He helped start the Asbury Singing Ambassadors, a strong and joyful singing group, composed of some 125 senior voices. The goal of that choir is more than entertainment; it's a vehicle to help seniors grow and reach out in serving others.

Aside from his role as pastor, Dr. Thomas enjoys reading and study. His favorite authors are Max Lucado, Emerson Fosdick, and Chuck Swindoll. He loves to teach, likes to play golf and finds it relaxing to work in the yard. He quickly adds that he loves just "being with Patty." He sees Patty as the perfect mate for him and feels she has been a real blessing as they have shared together in ministry. "Patty has a unique way of relating to people…all kinds of people. She can identify with them and she sincerely cares for them," he said.
---