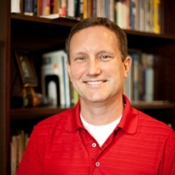 Dick Read
Pastor
---
Phone:
918.392.1125
Email:
---
What do you love most about your family?
I have the most amazing wife and two kids. Cindy got ripped-off when she married me, but I got the blue ribbon prize in her! Cindy and I are extremely proud of Rachel and David, especially how they run after God's heart. What I love most? I love just being with them!

What difference has Jesus Christ made in your life?
As I claim Jesus as my Savior, I think of Psalm 40:2: He lifted me out of the slimy pit, out of the mud and mire; he set my feet on a rock and gave me a firm place to stand. As I intend to live my life with God's purposes and plans at the forefront, I find so many amazing adventures. There's no way I could have written the script that God has written or dreamed the dreams that God has dreamed or experienced all that God has purposed unless it had been for Jesus. And the culmination of it all is still to come!

Describe the moment when you knew you would enter full-time ministry.
As a young teenager, Billy Graham was my hero when I watched his crusades on TV. When I was home alone, I would stand behind the pulpit-like tall wing back chairs in our living room and preach incredible (so I thought!) salvation messages to thousands of imaginary hearers. That's when I realized that being a pastor is what I really wanted to do with my life.

What happened next?
As an "Air Force brat," my intention was to be USAF chaplain, but once I experienced civilian life, I thought, "Hey, this is all right!" During my junior year at ORU, I started volunteering in the youth ministry at Asbury. Finding a deep passion for youth ministry, I spent the next 15 years doing life with teenagers before taking some of those same ministry principles into adult discipleship.

If a celebrity chef offers to prepare a special meal in your home, what would you request?
I would plead with Virginia Huddleston (Asbury's own celebrity chef) to batter up her amazing Fried Chicken, mashed potatoes, sweet green beans and home-made rolls, then top off the meal with her famous Chocolate Kahlúa Cheesecake - step aside Cheesecake Factory!

If you could have one hero or role-model join you for that meal, who would you invite (excluding the obvious answer—"Jesus.")?
Billy Graham on one side and Bono on the other –THAT would be some cool dinner conversation.

After your special meal, your guest/hero asks you to pop some popcorn and queue your favorite movie. Which DVD would you choose and why?
Bono would probably gag on his kernals of corn when he would first see Julie Andrews twirling atop the Alps with "the hills are alive with The Sound of Music." I'm pretty sure it'd be just Billy and I for the rest of the movie – Bono would be back in Dublin before Do-Re-Mi.

In addition to your Bible, what book in your library do you most treasure and why?
You mean other than Spiros Zodhiates New Testament Word Study Dictionary (my Bible study companion)?
In the past year, two books that have been transformational in my Christian perspective are N.T. Wright's Surprised By Hope and Richard Stearns' The Hole in Our Gospel. Each book has caused me to rethink God's heart for me as a follower of Jesus and has renewed my vision and passion for ministry that extends beyond the walls of the church.

What do you do for recreation (or re-creation)?
I like (okay, well sort of) to work out. Cindy and I like to do long walks or light hikes together. I enjoy reading (most of the time), working in the yard and watching the St. Louis Cardinals. And we really enjoy hanging out with Rachel and David or family and friends over dinner.

If you were not a full-time minister, what career would you choose?
Because of my size, I know people are shocked I'm not playing in the NBA or NFL. The comments first started when I had my college growth spurt - I shot up to 5'9" (almost) and 139 lbs. (no, really, I did!)
---