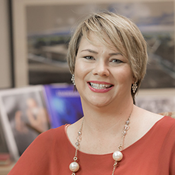 Gloria McGee-Denton
Pastor
---
Phone:
918.392.1125
Email:
---
Gloria Grace McGee-Denton was not raised in church or in a Christian home, and was often not allowed to go to church. She always had a sense that God was there and began to pray to God by simply talking with Him about what was going on, asking Him to save dying puppies and help unhappy people.
She was a visitor at a VBS when she first felt God "tug at her heart," but while she was trying to decide how to get out of the middle of the pew and go down front, the preacher said accepting Jesus would make life easier. Her parents, fiercely independent idealists, had taught her the easy way wasn't always the best way. So she rejected a relationship with Jesus out of pride when she was only in 2nd grade.
The next time she was in VBS was in Junior High. Her parents had divorced, she'd moved several times and gone to several different schools, money was very tight and she'd struggled with chronic illness. This time, she accepted the offer of salvation…and found so much more.

What do you love most about your family?
My family was designed by God, and that's a wonderful gift. My husband Carter is truly the most humble, kind, Godly man I know. We've been married since 1999 and have been partners in ministry throughout our relationship. We have four daughters: Kiara (high school), Leola (elementary), Kalissa, (elementary), and baby Emma Grace. They have challenged and changed us, and they are so resilient, strong and fun.
What difference has Jesus Christ made in your life?
I was scared to be one of 'those Christians.' Much to my surprise, after accepting Christ as Lord and Leader of my life, I remained me. Only the new-and-much-much-much-improved HD version. I'm still amazed that someone like Him would pick someone like me to love. Never a boring moment when you play Follow the Leader with Jesus!
Describe the moment when you knew you would enter full-time ministry.
I had wanted to do thrilling things like be a heart or brain surgeon, a race car driver or paratrooper, a war correspondent or foreign ambassador, but when I accepted Christ and found joy, peace, unconditional love and meaning, none of those other things seemed as exciting anymore. Of course, with no church background, I didn't know what ministry even looked like. I just knew, at 17 years of age, there was no company or career or calling worth my whole self and my whole life besides Jesus. So I offered myself to Him, head-to-toe, heart-and-soul.
What happened next?
I couldn't help but talk about what I'd experienced (Acts 4:20), so I became a "bringer," bringing good news, prayer, support, love, light, truth, kindness everywhere I could—and bringing people to church, Bible study, activities. I'd invite so many people to worship that I couldn't fit them all in my car, so I'd drop off a load of friends, then go pick up another load of friends. It's just what you do when you find something so awesome!
Got an Army scholarship, planned to be a Chaplain. Double-majored in Speech Communication & Sociology, minored in Military Science. Went to Oklahoma State University for Masters Degree #1 in Speech Communication Consulting, believing that ministry and the work of the church, at the end of the day, is simply about communicating the unconditional love of Christ through our organizations, our worship, our teaching, our actions, the way we live our lives. And when we fail as the Body, it's often a result of a failure to rightly communicate or communicate the right things.
Twenty days after graduating from OSU, I started Masters #2 when I went to seminary at Perkins School of Theology at SMU in Dallas. While there, I begged God to let me be on the front lines, the places of darkness and suffering and tremendous need for change, to be a missionary a yard from the gates of hell. God responded by simply telling me to feed the sheep. Reinhold Niebuhr said the pastoral role "offers greater opportunities for both moral adventure and social usefulness than any other calling." So true.
Spent the last 13 years as a Director of Student Ministries; Director of Wesley Foundation campus ministry at SEOSU in Durant, OK; and pastor at Colbert UMC, Colbert, OK, before coming to Asbury in 2011.
If a celebrity chef offers to prepare a special meal in your home, what would you request?
Seafood. I would love to love seafood…but I really don't.
If you could have one hero or role model join you for that meal, who would you invite (excluding the obvious answer—"Jesus")?
Depends on the day. Yesterday, I would've had Adam Sandler over for some laughs. Today? Probably John, Paul, George & Ringo. Tomorrow? Dietrich Bonhoeffer or Dorothy Day.
After your special meal, your guest/hero asks you to pop some popcorn and queue your favorite movie. Which DVD would you choose and why?
"It's A Wonderful Life." Why? Well, because it is.
In addition to your Bible, what book in your library do you most treasure and why?
My 1914 copy of Squirrel Nutkin, by Beatrix Potter. Love the way she brought nature to life and shone an early light on care for the earth. AND, my husband's grandfather, William Nelson Denton, was a ranch foreman and Baptist preacher/circuit rider/church planter in Southern Oklahoma. The pages of his preaching Bible are slick and shiny with use and tears and sweat. They are a link to not only Carter's family heritage, but to those who shared the Gospel amidst difficult times when it was hard for many to believe in the "goodness" of God.
What do you do for recreation (or re-creation)?
Go outside. What can I say? "Sunshine on my shoulders makes me happy." Food tastes better al fresco, people smile more (or is that squint more), kids laugh more. I'm pretty sure birds chirp and squirrels scamper in heaven.
If you were not a full-time minister, what career would you choose?
A farmer, a writer and an artist.
---