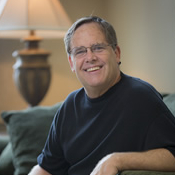 Guy Ames
Senior Associate Pastor
---
Phone:
918.392.1125
Email:
---
What do you love most about your family?
Family has been the most important formative world for me. I grew up in a Methodist preacher's home and both parents were "preacher's kids" or "PK's." In fact, my family has come from Methodist parsonages since the early 1800's. From generations "my family" has taken seriously their role of passing on the faith to future generations. Also, I have never been able to separate family from church family. I was even born on a Sunday morning so that my Dad still had time to make worship that same morning. My wife, Margaret and I married the weekend I graduated from seminary, and we began our first local church assignment t two weeks later. For many "PK's" growing up in church has left a bad taste in their mouths, but for me I found my second home among God's people in the church, and this has been true for many of my extended family over decades. One phrase from Psalm 16 speaks for me about this: "The LORD IS my chosen portion and my cup; you hold my lot. The lines have fallen for me in pleasant places; indeed, I have a beautiful inheritance." (Psalm 16: 5-6; ESV)
When thinking about my immediate family, though, what stands out most has been the ways in which my family has persevered through trials and serious challenges. I'm incredibly proud of my three grown sons and their marriages, and probably my greatest joy comes when we can all be together. The most important Ames, though, is our grandson, Jacek, (who will soon have a sibling) who keeps Margaret and I busy driving the Turner Turnpike to Yukon for play days with him.
What most excites me these days, though, is spending time with Margaret, my wife. For many years, a painful disability has kept her from doing many everyday tasks. A few years ago, God opened a door of joyful healing for her, and now she and I love to experience the simple joys of jumping in the car and taking off, catching a movie, or walking together at Haikey Creek Park.
What difference does Jesus Christ make in your life?
This question is almost like asking what difference oxygen has made in my life. Jesus Christ has been at the center of my life's history. In his tenth year as a pastor, my father gave his life to Christ for the first time. That change alone brought the Presence of Christ close up into my boyhood home. Over many years God placed people around me who knew and loved Jesus. Their influence and mentoring continues to be with me every day. In my senior year in high school, I received the baptism of the Holy Spirit and Jesus' presence became more real for me than I had ever known. From that moment on our front porch in Muskogee, the words of the Bible came alive, and I determined to do my best to live for Christ and to follow His Word.
Jesus Christ has given me direction and central purpose. I love the Bible's declaration, "I have been crucified with Christ. It is no longer I who live, but Christ who lives in me. And the life I now live in the flesh I live by faith in the Son of God, who loved me and gave himself for me."(Galatians 2:20) My deepest meaning and greatest contentment has come when I have sought to let Jesus have his way with me. Many times I have forgotten this principle and inevitably lose my way. But always, Jesus Christ has given me a way back. Time and time again, knowing Christ has given me a perspective on which to rebuild after something has become broken. When messes have invaded my life, Christ has enabled me to pick up the pieces and began asking how to use those broken pieces to make something new and different and useful for Christ's purposes.
One of my life's Bible verses has become Romans 8:28, where the Apostle Paul writes, "in all things God works together for good to those who love him, to those who are called according to his purposes." Following Jesus Christ and His teaching has continued to give me direction, so that even when I have taken one of life's detours I can eventually get back on track. What difference does Jesus make in my life? Because of Jesus I know who I am.

Describe the moment when you knew you would enter full-time ministry. What happened next?
The decision to enter full-time ministry grew slowly over many years. From my senior year in high school, I wanted to serve God in some full time fashion but did not want to be a pastor. During my years at ORU, I spent time as a youth director, summer missionary, even a short-term pastor of an all black congregation, but I did not see myself either attending seminary or serving as a pastor. In fact, I did not want to continue serving in the United Methodist Church. As a passionate young Christian, I wanted to serve God in a more secular field as in counseling or social work or possibly politics, never church. After college, I worked full-time as a Methodist youth director, and the loving and serious Christians in that congregation opened my heart to the possibility of continuing to serve among Methodists. While taking a two week prayer retreat seeking God's guidance about my future I prayed daily for new direction. "What do you want of me, where do You want me to go next?" For 13 days straight, I prayed the same prayer with no clear answer. Finally the last day of the retreat, knowing that I had to return to work and a passel of youth, I desperately cried out in prayer, "God, please give me some direction." God's still small voice came to me, "Go to seminary."
I thought, "You've got to be kidding, Lord." Over the course of that year I looked at seminaries and after months believed that God had led me to Asbury seminary in Kentucky. At the end of three years of study and preparing to marry a beautiful Kentucky woman, I needed a job. Still not convinced that I was called to pastor, I received my first appointment as pastor of two congregations in Ada, OK. The folks were wonderful, loving, challenging, and within a short time we had found a home. One afternoon about six months after arriving in Ada as I was walking home from the church, the fall leaves crunching under my feet and the brisk fall air filling my senses, it suddenly dawned on me, "I am doing exactly what I was meant to do!" It was that day that God's calling which had started during my childhood days became finally clear.
If a celebrity chef offers to prepare a special meal in your home, what would you request?
I would ask for a meal that my mother prepared: pan-fried chicken, mashed potatoes and gravy, okra gumbo, home-grown tomatoes and onions, fried eggplant and fried squash, and fresh picked green beans, bread and butter pickles, homemade biscuits, hot apple pie and peach cobbler and home made peach ice cream.
If you could have one hero or role model join us for a meal, who would you invite (excluding the obvious—"Jesus.")
Kevin Durant or Serge Ibaka or Thabo Sefalosha or Russell Westbrook – actually the whole OKC Thunder.

After your special meal, your guest/hero asks you to pop some popcorn and queue your favorite movie. Which DVD would you choose and why?
Schindler's List. Spielberg is an absolute genius in the production and direction of this movie with the use of black and white, which places the viewer back into the WW II era. Schindler's List is a true story of real humanity that rises above the selfishness to selflessness. Schindler is like many of us, looking out for self and then finally sees that God has called us to more than self. I love the heroism that immerges form this unlikely hero. When I visited Israel, I stood next to the tree-lined walk where Gentiles who sought to save Jews during the Holocaust are immortalized. Schindler's tree is not far from the tree honoring Corrie ten Boom.
In addition to your Bible, what book in your library do you most treasure and why?
Two books stand out. I hold a prized 1830 copy of Wesley's Sermons. Every Methodist preacher from the very earliest days of the American Methodist movement in 1784 has been required to read this. My great-great grandfather, Matthew Davis (the first in the line of now six generations of Methodist ministers) would have owned a copy of this. From Wesley's sermons comes some powerful and important Christian principles that are still helping to mold the Christian Church around the world. The other book is The Cost of Discipleship by Dietrich Bonhoeffer, a German Lutheran pastor and theologian who left the safety of American education and went back to Germany during the 1930's. He fought against Hitler's insane Nazi leadership, finally being incarcerated in a concentration camp. He died shortly before the camp was liberated. Bonhoeffer's book was one of the first influencers in my Christian thinking. He challenged me with the notion that to follow Jesus calls for me to realize that even though God's grace may be free it is not cheap. What cost Christ everything cannot cost me any less.
What do you do for recreation (or re-creation)?
Watching the OKC Thunder (with my wife); playing with my grandson; golf with my sons; fly-fishing for trout on the White River or Mountain Fork River); taking long walks with my wife.
If you were not a full-time minister, what career would you choose?
I would probably like to work in international relations or serve in a non-profit agency that helps to treat people in the poorest parts of the globe.
---