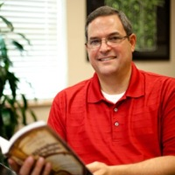 Jim Lenderman
Pastor
---
Phone:
918.392.1106
Email:
---
What do you love most about your family?
I love that I get to spend my life with the woman of my dreams and two sons who have captured my heart. I love how the four of us all follow the Lord. That's more important than I can put into words. I also love our shared sense of humor. It's a real blessing to feel right at home when I'm with them.
What difference has Jesus Christ made in your life?
Words can't express the difference Jesus has made. I professed my faith in Jesus Christ when I was 12 or 13. That decision has had eternal consequences for me. Knowing Jesus as my Savior, I know my sins have been forgiven through Him. He took the penalty for my sin on Himself on the cross. I am now a new creation with a new, abundant life before me. With Jesus as my Lord I have a new purpose for living. My life is no longer my own, it is God's. My purpose now is to grow to love the Trinity with all of my heart, soul, mind and strength; and to love my neighbor as much as God loves me. I have a very long way to go with the Lordship of Christ in my life, but I'm moving in the right direction.
Describe the moment when you knew you would enter full-time ministry.
I was called to become a minister when I was 13 or 14. I didn't hear an audible voice or anything like that. I just had an inescapable conviction that I was supposed to be a United Methodist minister. As I began to share God's call on my life with other people, many said I was "just going through a phase" since I was so young. I eventually listened to them.
What happened next?
I went to college to be a chemical engineer because I saw an ad for a chemical engineer with an $80,000 salary. (That was 4X as much as my dad ever made.) During my freshman year I became friends with a 27 year-old grad student in mathematics who was from Tulsa. His name was Brad Hunt. Brad was sold out to Jesus. God used Brad to reel me back in and remind me of His call on my life to be a minister. So I changed my major to Administrative Management and focused on preparing for full-time ministry.
Beth and I were married two weeks after I graduated from the University of Arkansas. I used my undergrad degree to work for a couple of years before entering Asbury Seminary in Wilmore, KY. After finishing seminary in 1991, I served in full-time ministry in Arkansas for sixteen years at First UMC Hot Springs, Parkers Chapel and Pleasant Grove UMCs, First UMC Prescott and Grace UMC in Conway. In 2008 we moved to Oklahoma when I began serving on the pastoral staff here at Asbury UMC.
If a celebrity chef offers to prepare a special meal in your home, what would you request?
No question I would ask for a mound of assorted crab legs (snow, king and Dungeness) with a baked potato and house salad. Then I'd ask for the impossible – make the drawn butter both real and fat free. OK, who am I kidding? At that point what difference would that make?
If you could have one hero or role-model join you for that meal, who would you invite (excluding the obvious answer—"Jesus.")?
That's another very easy one. I would want to share that meal with my mom and dad. My parents passed away in 2002 and 2001 respectively. They impacted my life and faith more than anyone else. I would love for them to see how my boys have grown up. I would love to hear their voices again as they share about what God and heaven are like. What I believe by faith, they know by experience. That would be a very special evening.
After your special meal, your guest/hero asks you to pop some popcorn and queue your favorite movie. Which DVD would you choose and why?
I don't know if I would want to spend some of that time precious watching a movie, but if we did it would have to be It's a Wonderful Life. That is my all-time favorite movie. It reminds me of my parents' lives and how I want my life to count for God as well.
In addition to your Bible, what book in your library do you most treasure and why?
It's definitely Kingdom People by Jim and Molly Davis Scott. This book helped give me focused purpose and intentional direction for my life and faith. I also use it for a major portion of my ministry here at Asbury. God uses it to help people create an environment in their lives where God is more intimate and real, to discover who God created them to be apart from what they do, and to discern what God is calling them to do as they join God in ministry and service in the church and in the world.
What do you do for recreation (or re-creation)?
Mostly I love being with my family. I dabble with art a little bit to raise money for Swahili Bibles for the Democratic Republic of the Congo (though I'm definitely NOT an artist). I have to admit I don't recreate very well. This is one of my many opportunities for growth.
If you were not a full-time minister, what career would you choose?
I always dreamed of having a long career as a power forward in the NBA for the Boston Celtics after completing my legendary career for the Arkansas Razorbacks. Unfortunately I never had the kind of high quality coaching that would unleash my skills on the court and make my dreams come true. Either that or it was my lack of height, vertical leap, quickness and shooting ability that caused me to never be discovered. Now I'm just too old.
---