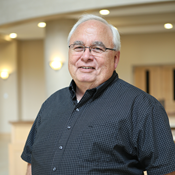 Mike Hardgrove
Pastor
---
Phone:
918.392.1125
Email:
---
What do you love most about your family?
That they ARE family and that means family meals, celebrations, sharing and caring and… grandkids!

What difference does Jesus Christ make in your life?
Without Jesus Christ there is no life. There is only loneliness, lack of meaning and lack of vision. I attempt to live my life in response to the thankfulness I have in my heart for what God has done for me through Jesus Christ and the Holy Spirit.

Describe the moment when you knew you would enter full-time ministry.
While attending church camp at Camp Egan when I was in the 7th grade I received my call to ministry. It did not become clear to me that it was a call into full-time ministry until I was in high school. I told my youth director and my pastor and they began mentoring me.

What happened next?
I began being more involved in the leadership of the youth group, even on a district level. I began to imagine how God might use me. I first thought it would be in music ministry but that changed when I changed my major in college from music education to psychology.

If a celebrity chef offers to prepare a special meal in your home, what would you request?
Which celebrity chef? I'm afraid it wouldn't be too exciting because I would ask for my traditional birthday meal. It would be meatloaf, mashed potatoes and gravy, green bean casserole and cherry pie.

If you could have one hero or role model join us for a meal, who would you invite (excluding the obvious—"Jesus.")
The author of the book of James would be my first choice. The book of James has always been my favorite book because to me it is the instruction manual about how the rubber meets the road.

After your special meal, your guest/hero asks you to pop some popcorn and queue your favorite movie. Which DVD would you choose and why?
I guess it would be one of the Harry Potter movies. In spite of the magic, Harry Potter is a story about the human struggle to overcome unrighteousness.

In addition to your Bible, what book in your library do you most treasure and why?
The United Methodist Hymnal is one of my most treasured books. Every since I was young I've found guidance, assurance, motivation, inspiration, peace, challenge and education through the words and music of the hymns of the church.

What do you do for recreation (or re-creation)?
I do many things for recreation and re-creation. It includes family time, time spent in nature, music, stained glass and carved glass, watching movies and reading, when there is time.

If you were not a full-time minister, what career would you choose?
Retirement! I'm too old to seriously consider another career.
---