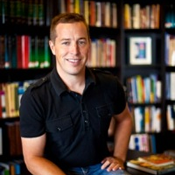 Todd Craig
Pastor
---
Phone:
918.392.1125
Email:
---
What do you love most about your family?
I love my family because they are my family! Ethan (born in 2005), Caleb (born in 2008), and Will (born in 2012) and I have so much fun running around the house being silly. My wife Stephenie not only puts up with all this but jumps in to participate as well. Whatever we are doing, I love that we are doing it together.
What difference has Jesus Christ made in your life?
I am not sure I could guess what my life would look like without my faith in Christ. I decided at an early age to follow Jesus. I chose the path early enough in life that it has essentially shaped my entire life journey. I can't imagine finding rest, peace and freedom apart from my relationship with Jesus.
Describe the moment when you knew you would enter full-time ministry.
I had been wrestling with the idea of full time ministry as a vocation for a couple of weeks my sophomore year of high school. I was sitting in the stadium at Memorial High School watching a football game when I finally relented.
What happened next?
Graduated from Holland Hall high school, earned a bachelors degree at Oklahoma Baptist University and then completed the Masters of Divinity degree at Asbury Theological Seminary. In June of 2001, I joined the staff at Asbury.
If a celebrity chef offers to prepare a special meal in your home, what would you request?
I would suggest we go out to eat (seriously).
If you could have one hero or role-model join you for that meal, who would you invite (excluding the obvious answer—"Jesus.")?
That guy who does Perceptions on the radio.
After your special meal, your guest/hero asks you to pop some popcorn and queue your favorite movie. Which DVD would you choose and why?
Braveheart (cliché?)
In addition to your Bible, what book in your library do you most treasure and why?
Not sure I treasure any book in particular but one of my favorite reads was Into Thin Air by Jon Krakauer
What do you do for recreation (or re-creation)?
I love sports!
If you were not a full-time minister, what career would you choose?
Architect for Vandalay Industries
---