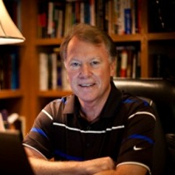 Tom Harrison
Senior Pastor
---
Phone:
918.392.1113
Email:
---
Asbury members listening to Dr. Tom Harrison on Perceptions or during his Sunday morning sermon hearing him relate amusing stories or seeing his mischievous grin cross his face may think, "Here's a guy I can relate to." He speaks from his heart and believes that when he talks to the congregation it's like talking to his friends or to "friends he hasn't met yet!" One of his greatest joys comes from visiting with members: "I like hearing what God's doing in their lives and when they come to Christ. I feel privileged to be a part of the process of changed lives," he said.
Tom enjoys sports— and is an especially active St. Louis Cardinals fan. He also likes to read history, biography and leadership books. He sees his wife, Dana, as an integral part of his ministry and a wise counselor. The couple have three children: Joshua (and wife Amber), Jessee (and husband Clif), and Jeffrey.
Though raised in the church, it wasn't until he was 14-1/2 that he found a personal relationship with God. "There was a Lay Witness Mission at my church. The people talked about asking Jesus into your life. Until then, I thought of Christianity as a list of things you did, not as a relationship. I was in ninth grade. I had a life-changing experience. I began to read the Bible, pray and share my faith."
Following graduation from Will Rogers High School in Tulsa, he served as a youth director (Marlow, Oklahoma; Collinsville, Oklahoma; and Epworth UMC in West Tulsa). He received his bachelor's degree from ORU and a Master of Divinity from Asbury Theological Seminary. His Doctor of Ministry degree is from Oral Roberts University. Oklahoma City University has also given him an honorary doctorate. Prior to coming to Asbury in 1993, he pastored three other charges: Vici/Lenora in the Woodward District; Sallisaw in the Muskogee District, and Sunny Lane in the South Oklahoma City District.
Dr. Harrison tries to teach the Bible in an understandable way. He also insists that it must be applied, lest it is only "Bible trivia." He often marvels that he is paid to do a job that he enjoys so much.
---