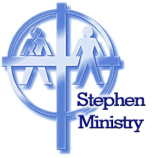 Stephen Ministers are members who have been trained to provide a listening ear and a helping presence for others who need support while they struggle through life's rough times. The Stephen Minister works on a one-to-one basis with his or her care receiver and keeps all sharing strictly confidential. No fees are charged for the services. If you are confronted with one of those times in life when things are difficult, perhaps you can find assistance by sharing with a Stephen Minister.
Am I confused about events in my life?
Do I doubt God's presence and love for me?
Am I hurting?
Do my job worries seem too great to handle?
Am I feeling lonely?
Have there been changes in my life that have caused readjustments in my lifestyle?
Am I having difficulty making decisions and finding answers?
Have I recently suffered a loss?
Do I ever feel like I just want someone to listen?
Am I concerned about a pending operation?
Am I fearful about a prognosis?
Have I determined that there is no need for a professional therapist, no life-threatening level of depression?
Can a Stephen Minister help me?
"I didn't know what to expect from my Stephen Minister, but he put me at ease. I had a friend I could trust and who really cared about me. My caregiver helped me to work things out for myself and had the patience to let me do it."
"When I really needed a friend, my Stephen Minister was there. We cried together, prayed together, talked, and now we laugh together."
"I wanted answers and she asked questions. She knew how to see things in a new way and her questions helped me find my own answers. I thought God had forgotten me, but my Stephen Minister helped me grow close to God."
For more information about becoming a Stephen Minister, contact Ruth Winn at 918.392.1146 or .
If you know of someone who could benefit from having a Stephen Minister, have them leave a message at 918.392.1183. Calls returned Monday-Friday.