Cross-Cultural Tulsa
By Jim Davis Tidings July 2016
---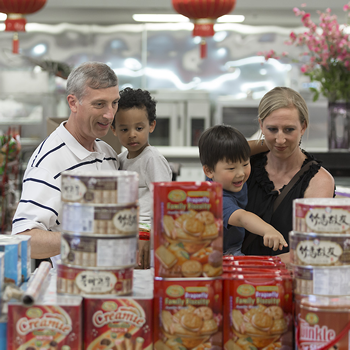 How well do you know your city? Do you know what nationalities are represented in Tulsa? Maybe you're well versed in the history of Tulsa, but you might find there are some places and cultures in Tulsa you don't know.
I love going out exploring to see what I can find, and I also love a good scavenger hunt. Adapt these ideas to your own family and your time available, or use these as ideas to discover other people and places.
Be sure to incorporate a bigger picture of why you are going and why you are learning new cultures. As Christians, we know God desires the nations to worship Him, a theme throughout scripture. Jesus demonstrated this by ministering to all those around Him, including Samaritans and Romans. The Apostle Paul purposely went through the city of Athens to learn culture and religion (Acts 17, particularly verse 23) in order to engage in meaningful discussions. We should know our city, including its variety of cultures and people, and practice seeing it through God's eyes. The world has come to Tulsa, and because of that, we have the opportunity to show Christ to nations without leaving home.
Go out into Tulsa as a learner, and look through the lens of this Christian worldview. What prompted people from another culture to come to Tulsa? Ask about their home country or city. Learn how to say thank you in their language. More importantly, pray for those you meet. Pray for people, nationalities, and those of other religions to come to know Jesus Christ. Learn to be a globally-minded Christian.
In my own family, seeing the Hindu temple in town prompted some interesting discussions with our 4-year-old boys about why not everyone worships Jesus. They know that Jesus loves them and that we give him thanks and praise, because they have seen and learned that at home and at Asbury. Therefore, they were perplexed that some people go to a temple to worship a different god. We explained that some people have never heard of Jesus, some choose not to love Him, and some believe other gods are true. We have the ability to tell people why we love Jesus. We were also able to add that in some countries, you get in trouble for worshipping Him. These discussions have been simple but profound.
See what you and your family can learn from some of these suggestions:
Let's start with some great food! I'm sure many of you have a list of favorite restaurants, but maybe it's time to branch out and discover some dishes that bring a global flair to lunch or dinner. Go try some phở if you never have – maybe even find some Vietnamese folks to ask where their favorite phở in town is. Do you know where you can get shawarma and what it is? Try a Korean or an Indian restaurant. Be sure to learn a bit about the country and how you can pray for that country.
Speaking of food, go check out some grocery stores too. Make a point to go to Nam Hai International Market at 11528 E. 21st St., just east of Garnett. Buy something that you've never heard of before. Bonus points if you ask someone in the store how to prepare it.
There are three synagogues in Tulsa. You can get a good treat at one of them – the Tulsa World says the best chocolate chip cookie in town is from the Altamont Bakery at Congregation B'nai Emunah.
Did you know there is a Hindu temple, four mosques and a Buddhist temple in Tulsa? Do a little research and learn their histories. How long have they been around? Find out where one or two are and go on a discovery trip, or maybe even schedule a visit. Go as an observer and a learner. However, this is not the time to tell them about Jesus or to say their religion is false or wrong. Also, be aware it is possible to encounter spiritual forces, but that Jesus in your heart is more powerful.
Tulsa has a large Burmese population. Actually, that's a bit of a misnomer, because although they are from Myanmar (previously known as Burma), most aren't ethnic Burmese. Find out which ethnic groups are represented here in Tulsa. What is their predominant religion, and why is that related to the reason they are here? Visit one of the two stores run by this population – the OK Asian Market and the Hornbill Oriental Market.
Did you know The University of Tulsa is more than a quarter international students, including many from oil-producing countries because of TU's petroleum engineering program? International Community Outreach, a ministry supported by Asbury, hosts a dinner for international students every two weeks during the summer. Contact Jim Davis in Asbury's Global Outreach office at 918.492.1771 if you would like to join them on July 6 or 20, or August 3.
Ride the Tulsa Transit bus. While this isn't necessarily a global experience, see how life is different if you don't own a car here. Do you know how to plan a ride? Do you know how to pay or transfer buses? Be sure to observe the environment around you and see what you notice and learn.
Please share your experiences! Email a photo or story to Jim Davis at or stop by his office for a visit. Have fun, and better yet, strive to become a globally-minded Christian.
---