Prayer in Georgia
By Jim Davis, Marilene Long Tidings July 2016
---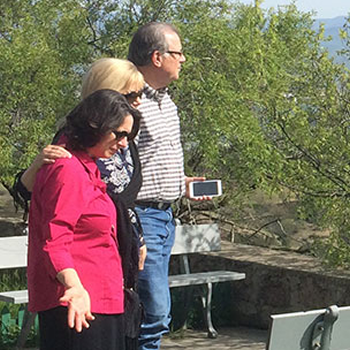 Asbury is a church deeply involved in global missions, and one of our focus areas is a region near the Caspian Sea. We are engaged there with an unreached people group (typically defined as an ethnic group that is less than two percent Christian) spread over several countries in the region. This is a part of the world where missionaries are not allowed.
As long-term work in the region has become more difficult, we have directed much of our involvement to the nearby Republic of Georgia, which is an Orthodox Christian nation with full freedom of religion. There are several hundred thousand of our unreached people group there, who are Georgian citizens living there because of how the borders between countries were drawn following World War I. Ethnically, they fit better with the country next door. However, with Georgia's freedom, we can minister quite openly there with the Gospel of Jesus Christ.
Recently, a team of six from Asbury was in Georgia, and our primary purpose was to pray. While we always incorporate prayer into our short-term trips, this was the first time it was the main purpose. We provided prayer support for an annual ministry meeting for the region, but we also went out to pray over towns and villages of our people group.
One day, we went out to the village of Garachirp (although the Georgian name to find it on a map is Iormughanlo) to pray over it and its people. This village (actually seven villages that have grown into one) is 100 percent our people group and is where an American worker has rug weavers as part of a business project which also provides a ministry platform. He has had many spiritual conversations with these families, and there is definite interest in Jesus. We pray these weavers will be the first believers in the village.
We prayed in a variety of places and ways. The village is about a two-hour drive each way from where we were staying, so we used much of that time to pray over the country and the ethnic group as we drove. As we approached the village, we stopped on a hill across the valley and prayed over it with prayers and scriptures as we looked upon it. We did some prayer walking through the streets, praying for the village and those we met or saw. We prayed over two mosques, a school and over the rug-weaving families. We had lunch with one of those families, tea with another and visits with others. The hospitality was abundant, and lunch was delicious and plentiful. We were not outwardly obvious in our prayers anywhere, but since no one spoke English we could pray aloud with our eyes open as if we were just speaking to one another.
Our prayer focus for this village is that it will be a center of faith with the whole village following Jesus. We long for the day when we can return and worship with a group of believers there! We also pray that this village will send out workers to bring people to Jesus in other towns and even in other countries. How much more effective they would be in doing so without the language and cultural barriers we face.
We know from history that every major movement of people coming to Christ starts in prayer, so we are praying that this village will be the beginning of a movement. What better work could we do on a week-long mission trip than to pray for God to move? What if the people in this village come to Christ? What if a neighboring village sees the transformation in people's lives and God moves there too? What if a movement starts and keeps going, even in to other countries? Join us in praying this will happen.
So, can this have implications for us here in Tulsa? Absolutely. While a Muslim village in Georgia may look more like a mission field, there is no less need for Jesus to transform lives here in Tulsa. We can prayer walk here in Tulsa in the rhythm of our everyday lives. Do you walk or run for exercise? You can pray while you do, even for the people you pass in your neighborhood or along the walking trail. Pray for businesses or churches you pass. Pray for those in Tulsa who don't know Jesus to come to trust Him. Pray scripture over people.
You can also walk around Asbury's building and use the prayer stations along the sidewalks to pray for our city. Come serve at 2nd Saturday and choose the prayer van, where you will go to each of the service sites to pray for those ministries. Go to one of Asbury's partner elementary schools – Grove near the church or Walt Whitman in north Tulsa – and pray for transformation in the lives of the students and their families. The possibilities for praying are endless.
We based much of how we did things during our Georgia trip on the book "Prayerwalking" by Steve Hawthorne and Graham Kendrick. We encourage you to take a read. You can also connect with Asbury's global outreach, local outreach or prayer teams to learn more about how and what you can pray. We would also love for you to join us on a trip to Georgia to pray if that is where God is leading you.
I urge, then, first of all, that petitions, prayers, intercession and thanksgiving be made for all people – for kings and all those in authority, that we may live peaceful and quiet lives in all godliness and holiness. This is good, and pleases God our Savior, who wants all people to be saved and to come to a knowledge of the truth. – 1 Timothy 2:1-4
---