A GOOD STORY
by Stephanie Hurd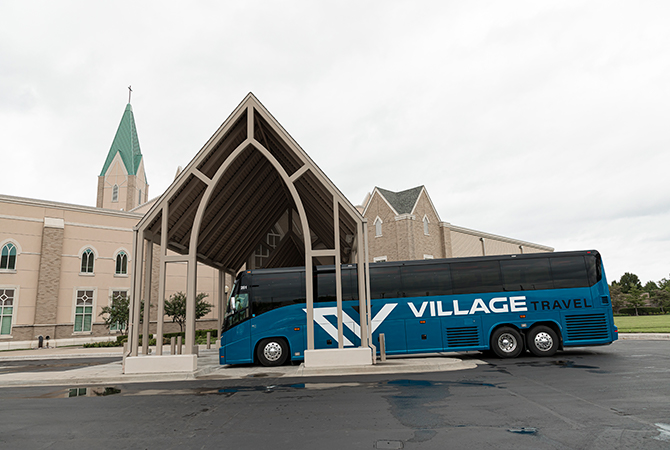 If you have ever been to Israel with Pastor Tom, you know how he and our Israeli guide, Yoav, use the time on the bus to tell stories. They give history, context and spiritual meaning to the places we visit. Those trips also include devotional time, prayer, instructions, jokes and laughter.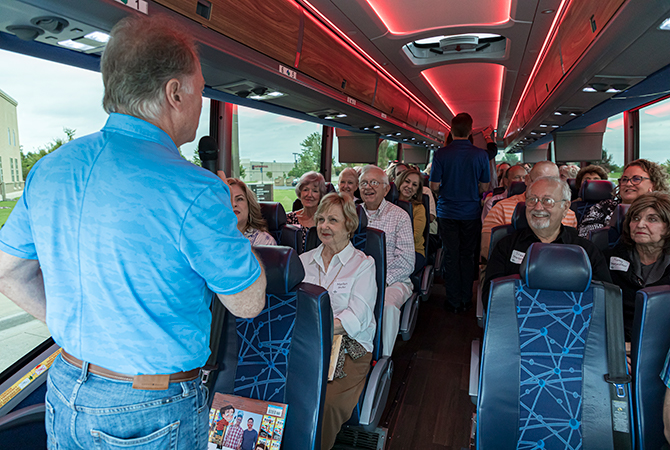 The bus rides through Israel served as the inspiration for our Better Together bus tours. We put Pastor Tom on a coach with a microphone and invited others to come along for the ride. He started at the beginning, when the church was planted in south Tulsa and nine charter members held services in the foyer of Francis Scott Key Elementary.
The bus then traveled to Asbury's first building on Sheridan, and into the parking lot of the shopping center where we had to expand for classroom space. Pastor Tom pointed to the location (acreage on Shadow Mountain) he hoped we could purchase in 1998 but couldn't.
We traveled along our historic February 28, 2004, walk from 5838 S. Sheridan to 6767 S. Mingo. We heard an encouraging word from Pastor Bill Mason via video, and from our Better Together co-chairs, LeAnne Erwin and Trey Cooper. As Pastor Tom cast his vision, we heard from partners who will occupy our future Community Development Center (in the Venue building) and from students who expressed gratitude and optimism for the future of student ministries. We also saw the site of the proposed expanded portico on the northeast side of our facility.
Some stories were funny and delightful; others were poignant and meaningful (and at least three included something to do with fire). As the bus tours continued through the weekend, people added details that had been forgotten or never shared. Many members learned our history for the first time.
Kylee Broadhurst, who helps lead 11:00 am worship, expressed how much the tour put things into a perspective. She observed, "Asbury is so much bigger than what happens in our 11 o'clock service each week."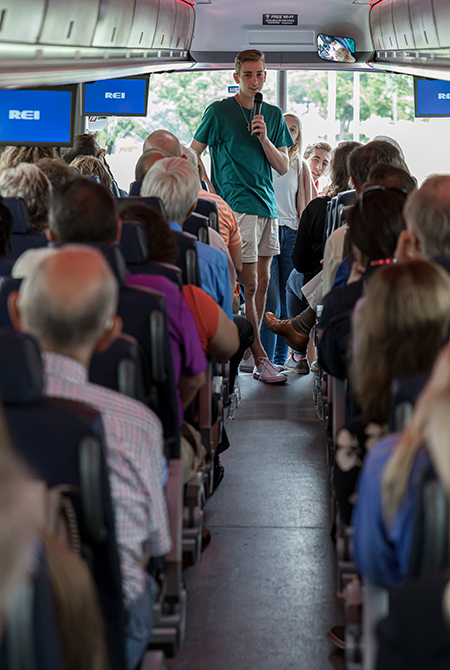 Some members — those who have been with Asbury since the Sheridan days (or before) — were reminded of God's faithfulness through the years. Gary VanFossen recounted to Pastor Tom that when he and his wife Dorothy saw the 35-plus acres at the Mingo property, he was certain the Lord had spoken to him.
Among his "show and tell" items, Pastor Tom read a note from Lauren Golliver which he has kept since we relocated in 2004. She was 5 then, and she just recently married. Her mom, Susan, added a note to Lauren's explaining Lauren raised her $76 in coins by inviting the guests who came to their home to contribute their spare change to Asbury's "Building on Faith" capital funds campaign.
We had 368 people join us on the bus tours. Not only were these tours a wonderful experience for those who could participate, but their lead gifts were significant for the Better Together campaign.
Thanks to all who took the ride to hear a small part of Asbury's good story. Retelling the past is essential, but we are also part of a greater story that is still unfolding. We are glad you are part of it. We have a rich past, a meaningful present, and by God's grace — an exciting future. All the stories Pastor Tom shared on the bus tours made one thing abundantly clear: we always have been and always will be Better Together.