Adam Heare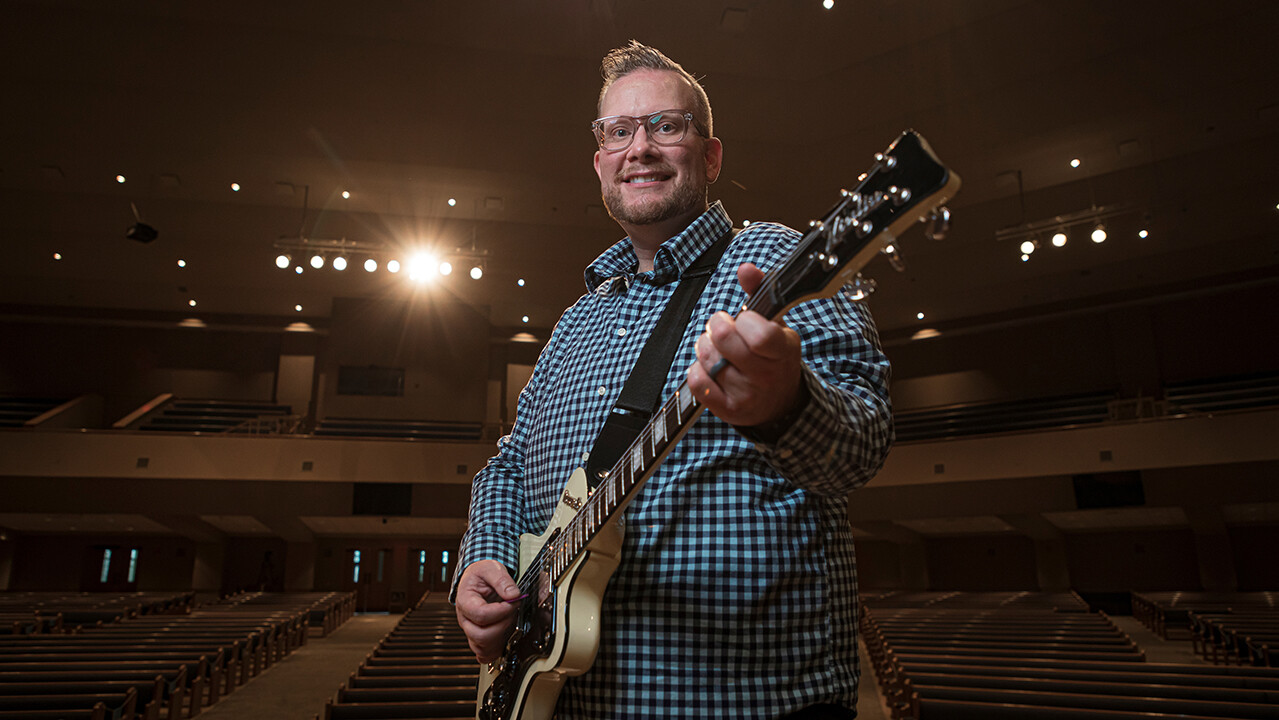 by
Rob Loeber
God's timing doesn't always make sense. Even though He's working in the waiting, the human brain is easily confused and often frustrated at the pace with which God moves.
Adam Heare knows the feeling all too well.
Whether it was through people or proximity, Adam has been connected to Asbury for almost his entire life. He grew up in the shadow of the Asbury steeple and attended youth group functions with friends as a student at Union and later Bixby. Even when he moved away and his passion for music converged with his calling into ministry, Asbury never left Adam's mind. After years of working at other jobs and other churches, the admiration for Asbury and the ambition to work there finally turned into an opportunity.
"I was moving back to Tulsa in 2008 and I applied for a position at Asbury, but it didn't work out," Adam recalled. "They liked me, but they were already further along with another candidate and I thought that might be my only shot. I had no way of knowing what God had in store for me."
Adam left ministry for a few years before returning to an area church where he coordinated music and even recorded two, full-length, original worship albums. The job was good, the work was fulfilling. All along, God knew there was still a desire in Adam's heart to end up somewhere else. Nearly 13 years after his pursuit ended in a closed door, Adam found himself applying to Asbury again — this time to be the Director of Modern Worship.
"There are things you ask the Lord for and sometimes the answer takes a long time," Adam stated. "Working at Asbury has always been my dream job, and I'm just so humbled to be here. I am humbled and honored. It's crazy how God works."
God is now using Adam to lead worship at Asbury while developing a youth music ministry and passing on his knowledge and experience to the next generation of singers, songwriters and musicians. Adam isn't placing too much importance on hitting the right notes. His desire is simply to see young people develop a passion for the artform of playing and performing music.
"A huge part of my story was having adults in my life who took the time to mentor me through music and so it only makes sense for me now to be doing the same thing," declared Adam. "For me, becoming a disciple of Christ was tied directly to worship and now it just comes naturally to me to be able to disciple these kids in the exact same way."
As for his vision for the worship experience at Asbury, Adam challenges himself to write and perform some of his own material. For a man who is already living his dream, one of the most rewarding aspects of his role is seeing people respond to God through music.
"I'll just turn into a crying mess on stage because it is so powerful to me to witness people worshiping," Adam said. "It is truly beautiful to see people in God's presence. It never gets old."
Adam would likely agree that a piece of music is almost a perfect analogy for the way God works. Relationships and moments are like carefully placed notes. There are periods of pausing and waiting. It adds up to one story, one complete melody pointing back to a composer who knew what He was doing all along.