With both joy and grief, Pastor Emeritus Bill Mason went home to be with the Lord. The celebration of a life well-lived will be at 2 pm on Saturday October 24 in our Sanctuary. It will also be live streamed on our website and social media (Facebook and YouTube).
Pastor Bill Mason's Ministry
Bill was Asbury's senior pastor for 29 years (1964-1993). He stayed deeply engaged with us until his death. Asbury was his life. He deeply loved God. He loved to pray. He deeply loved people, too. He loved to minister to them, especially when they had an illness. He was dependable and caring. He was happiest when involved with the people in our congregation and throughout the Tulsa community, as well as ministering to the ill.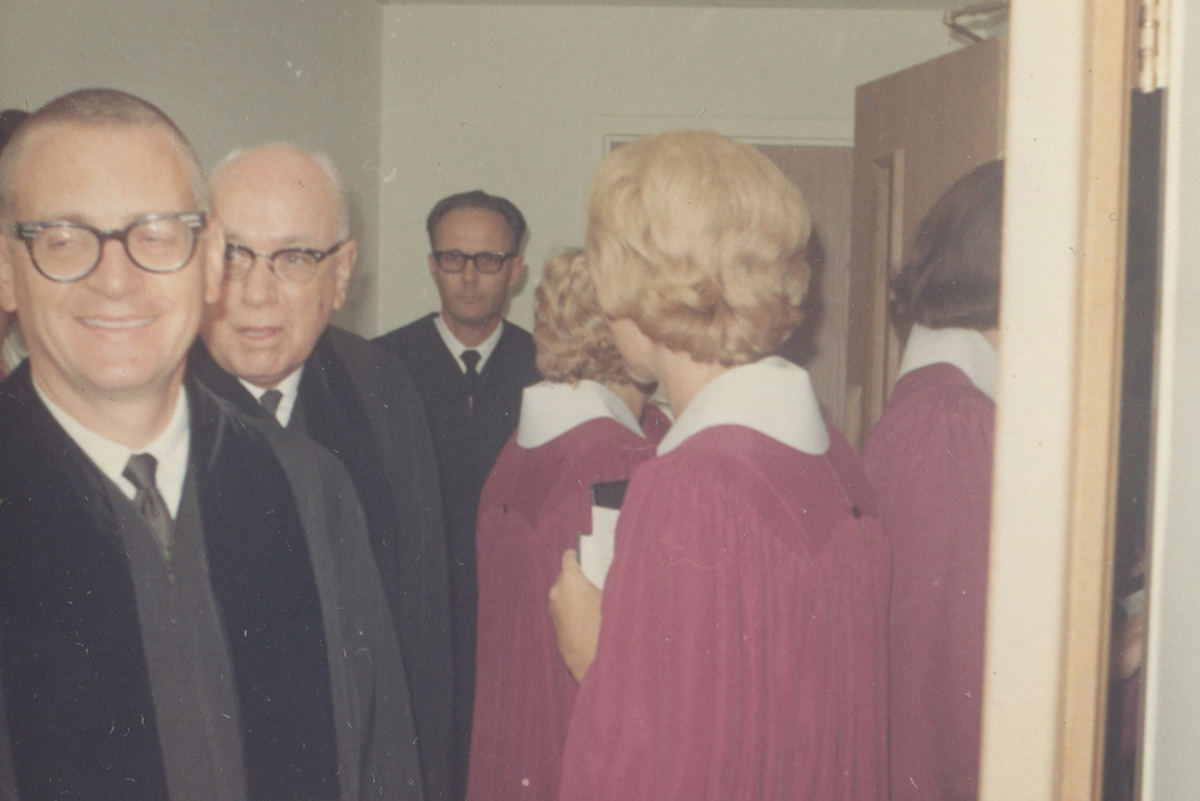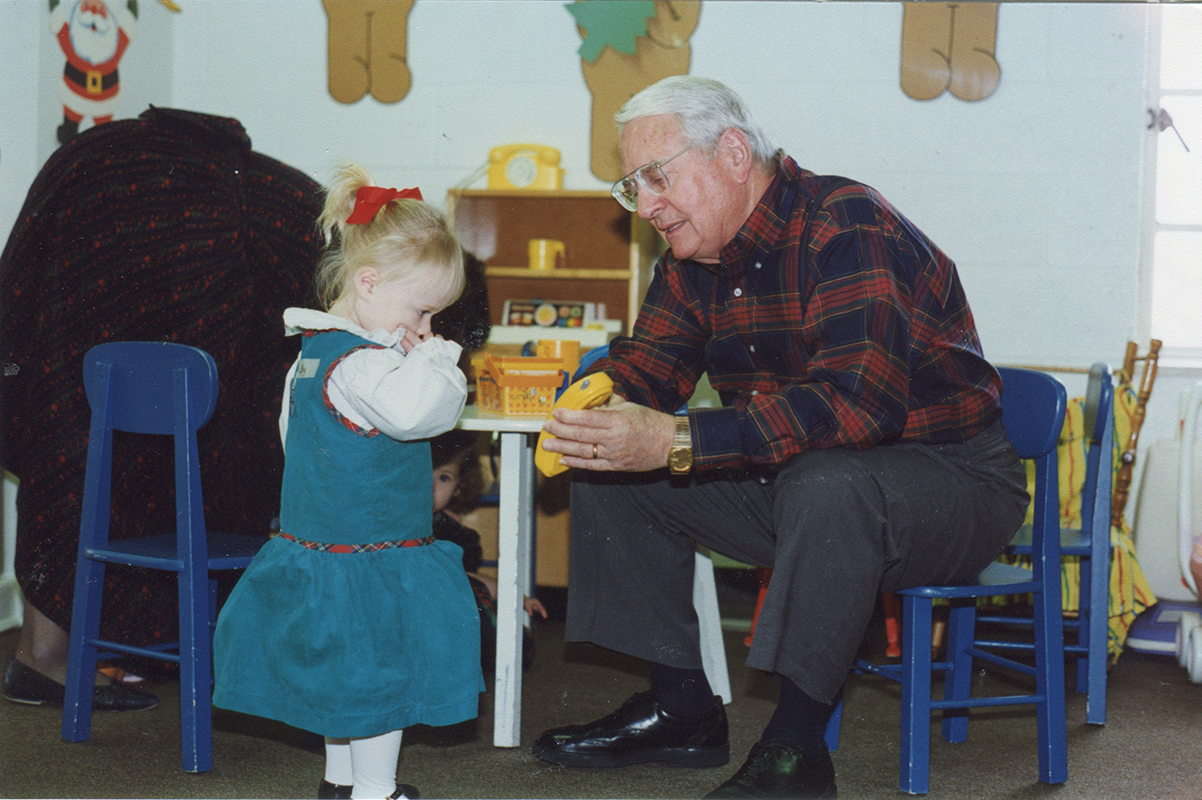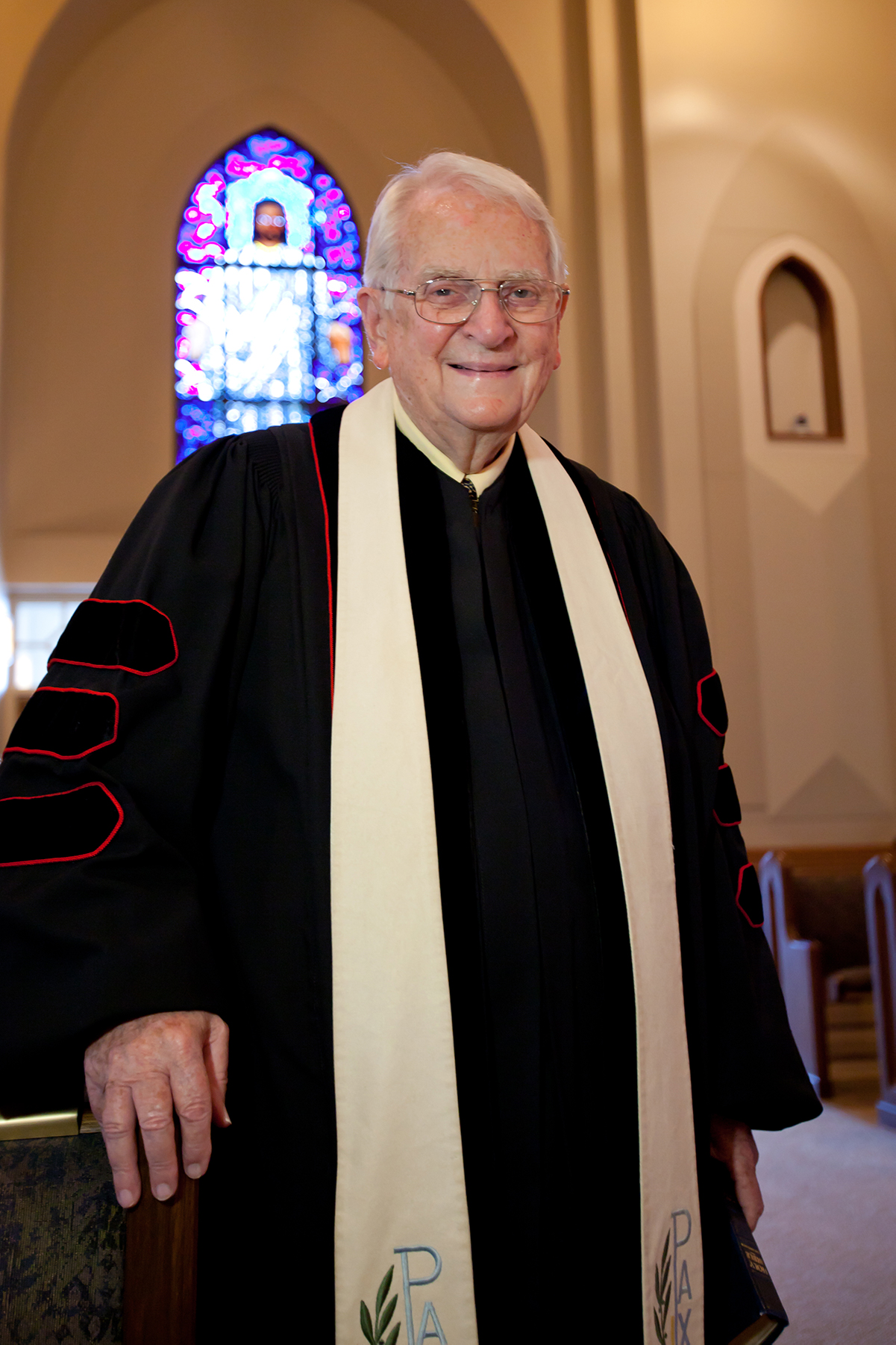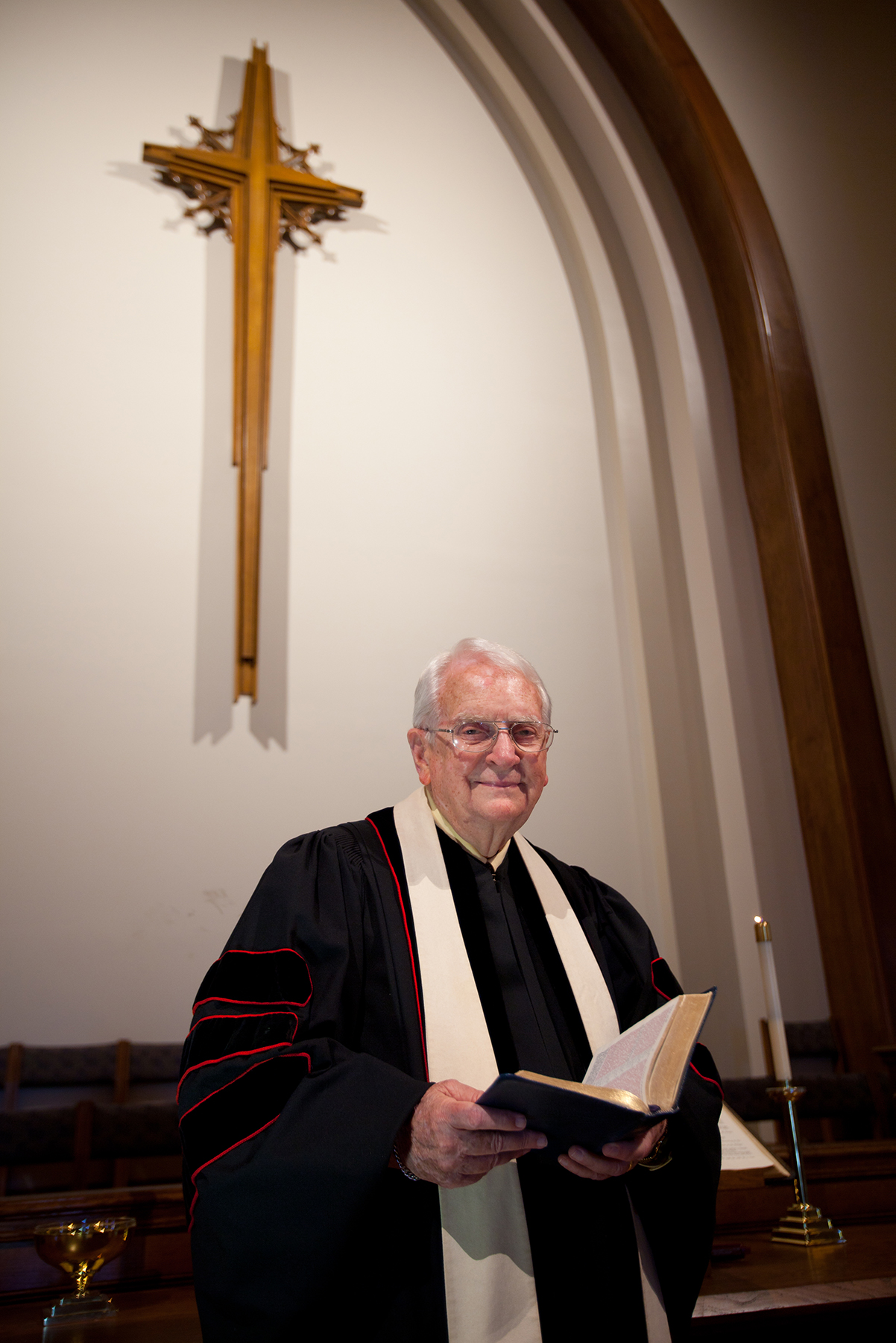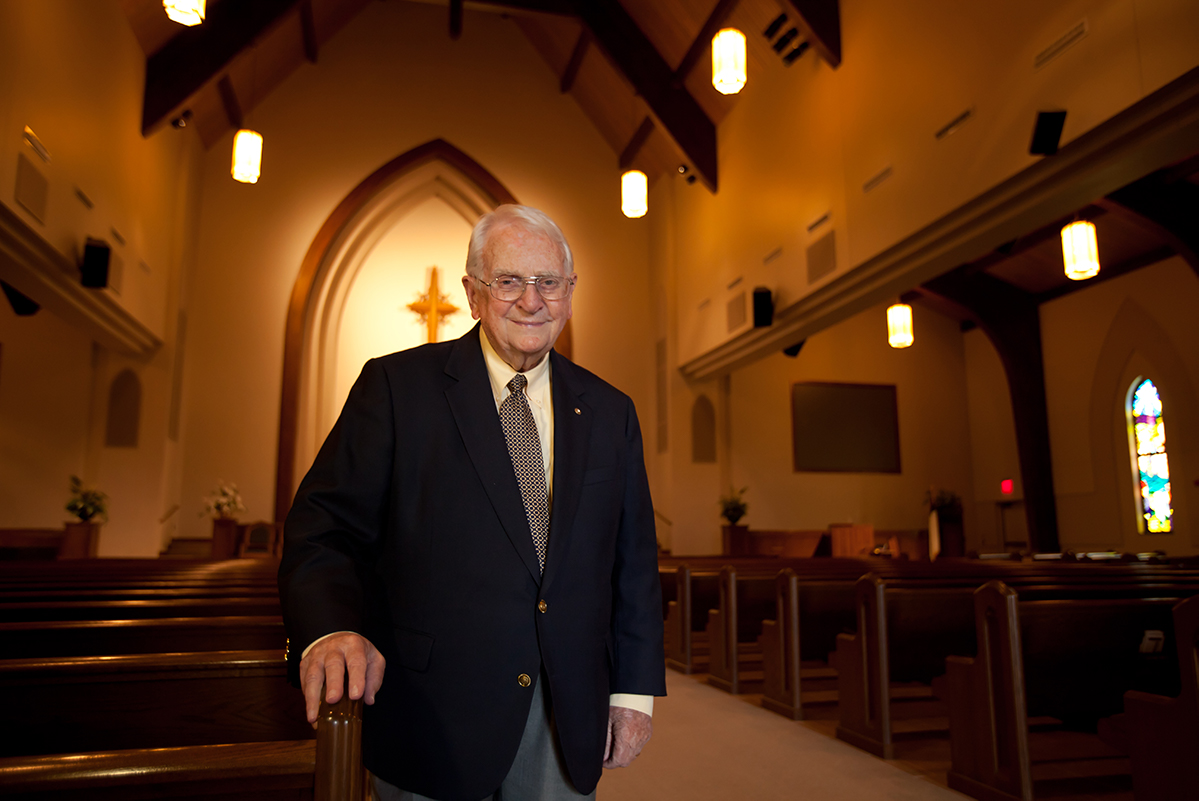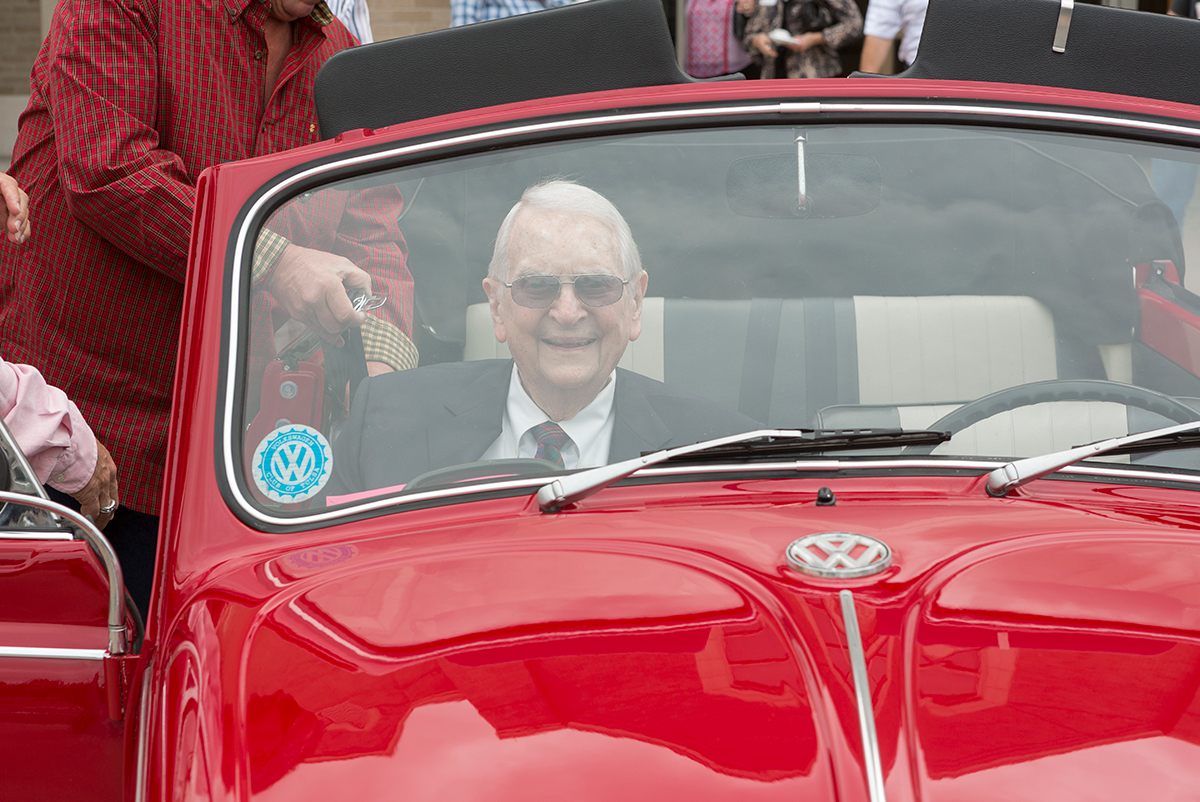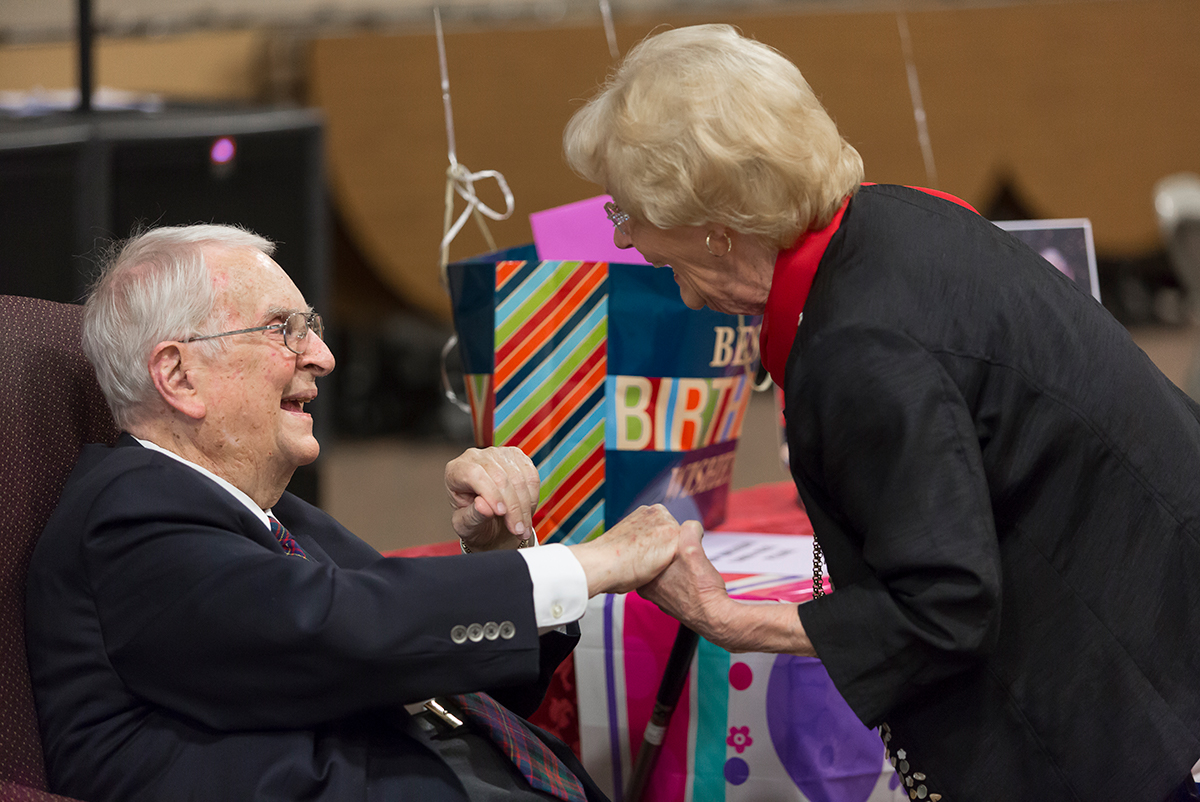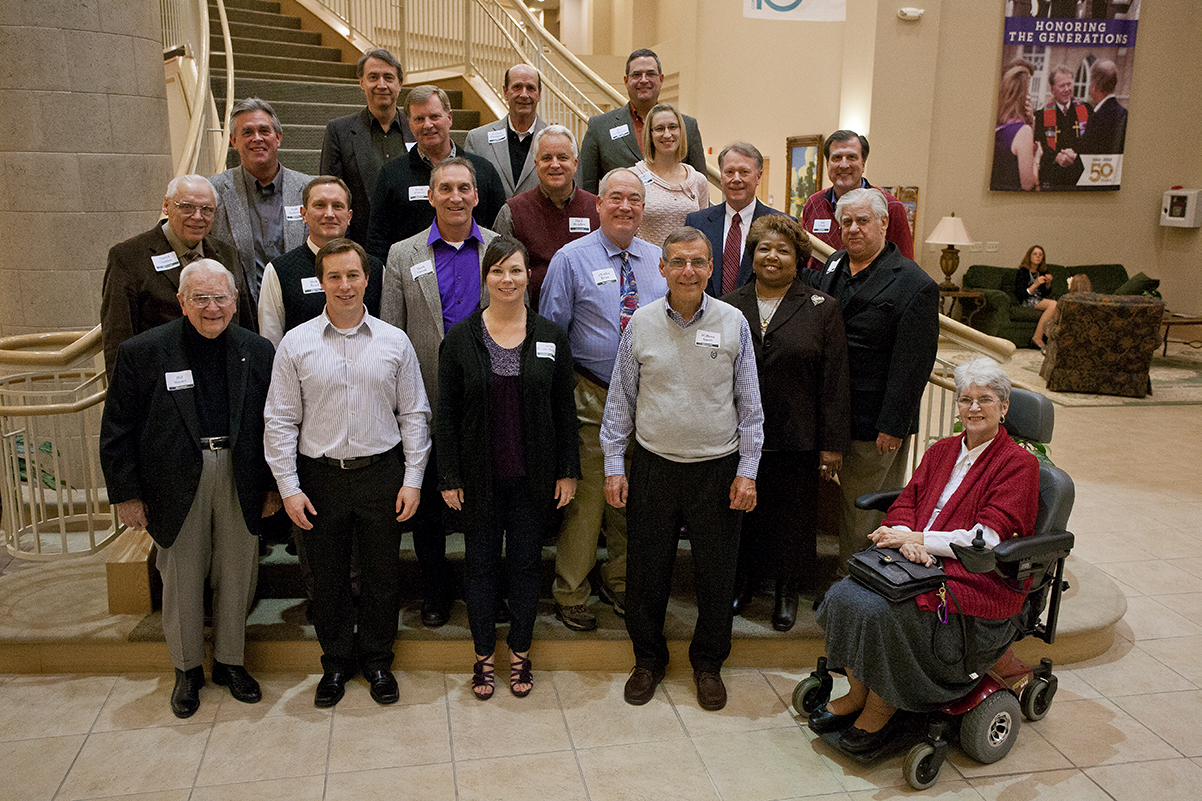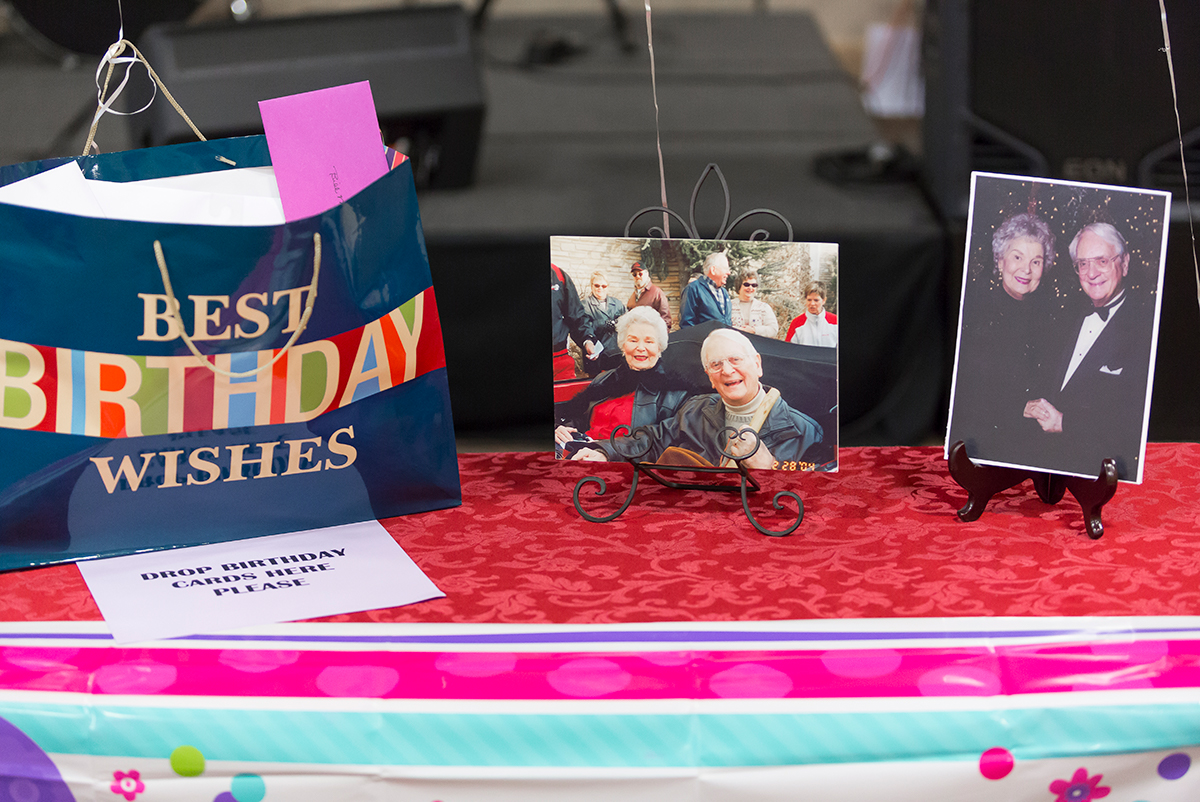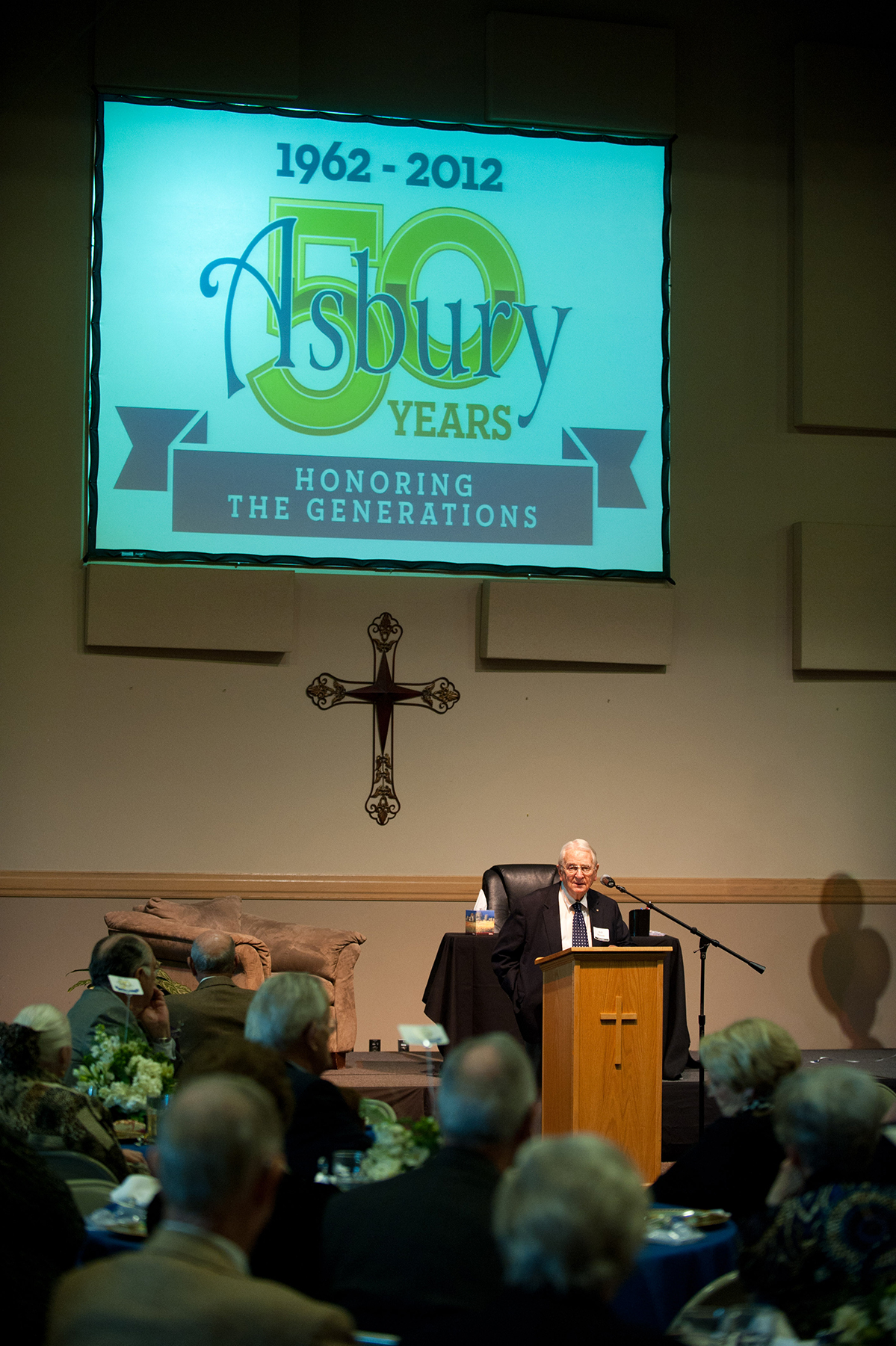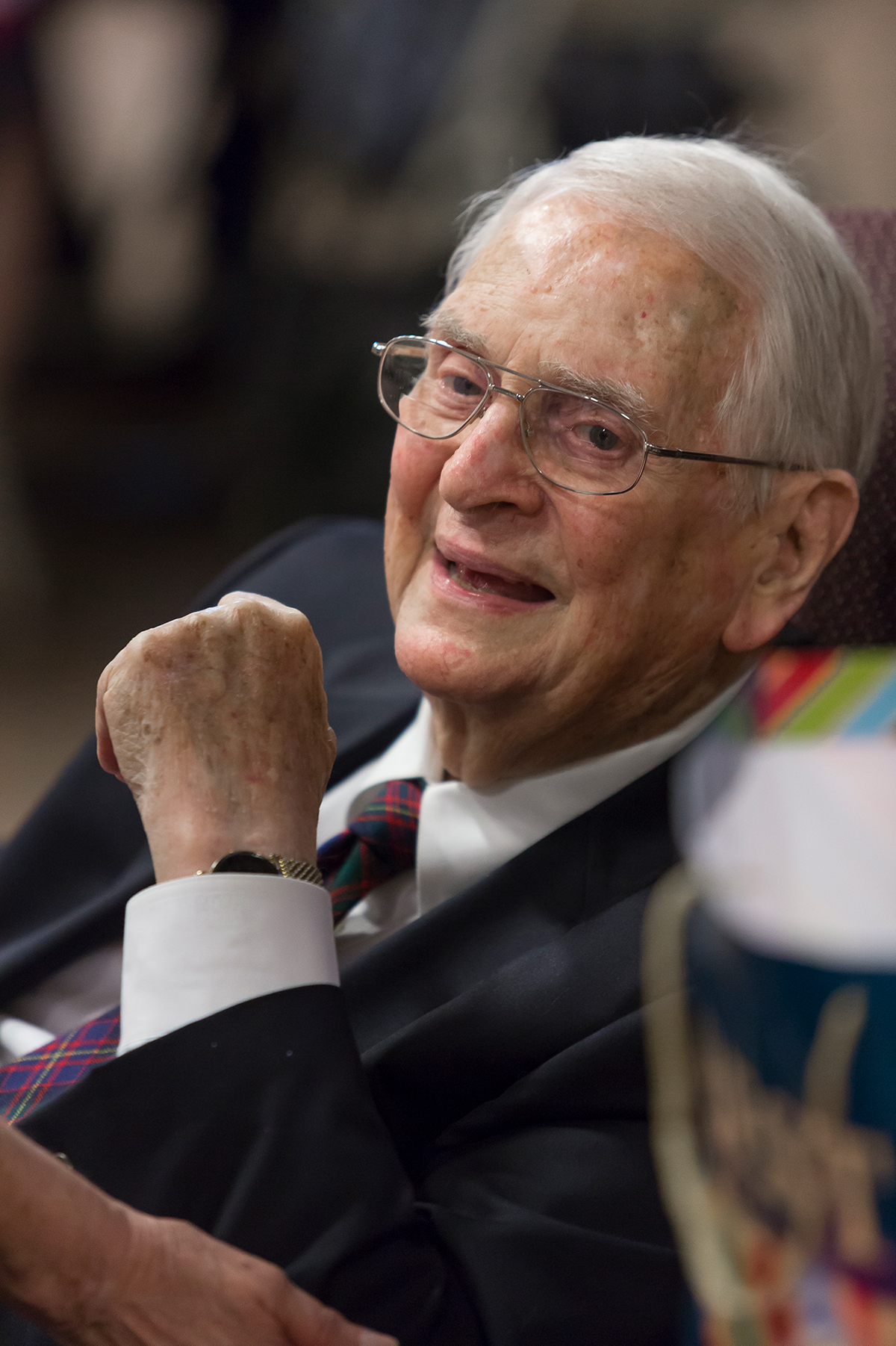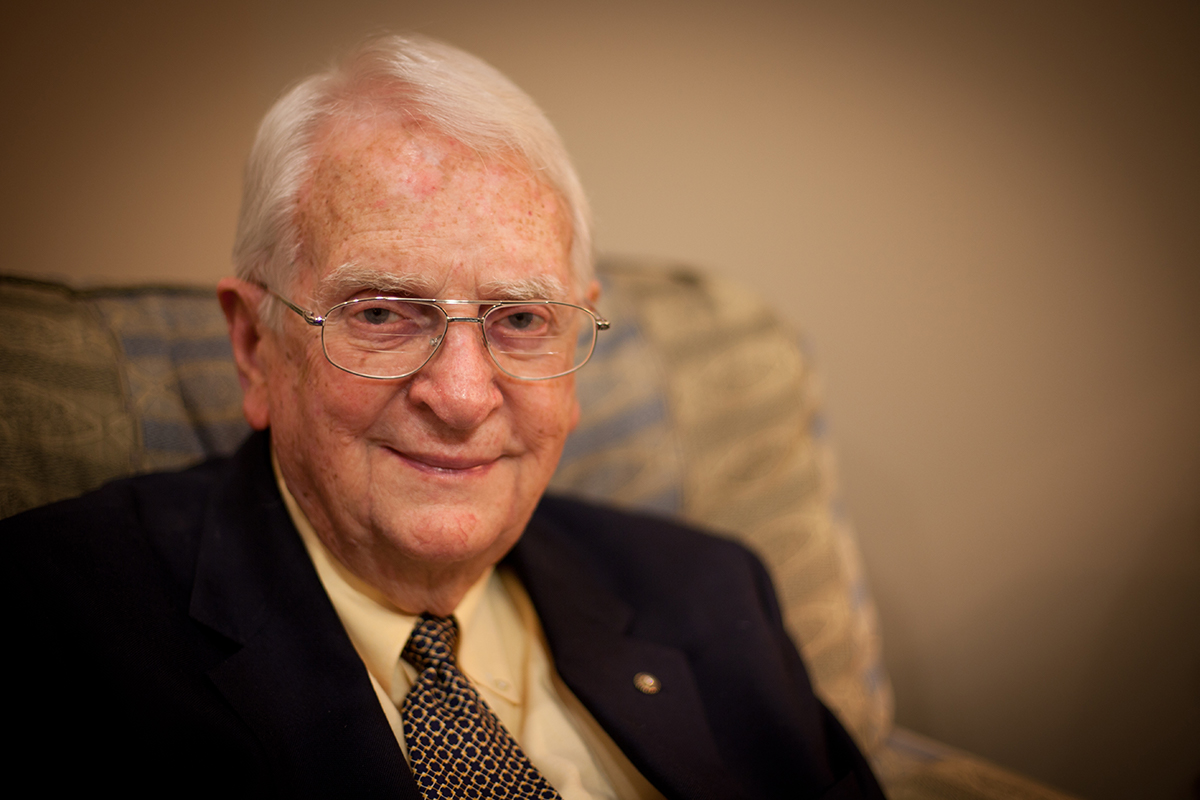 Remembering Pastor Bill Mason
It seems surreal to me that Bill is no longer with us. I know I speak for a lot of people who say, "He has been like a dad to me." He cheered me on at every turn. He was a wonderful leader, mentor and guide. He was an extraordinarily kind man, too. He aged well and gracefully. It will be hard to go into our Sanctuary and see the empty place in his pew. That line in our communion liturgy that says, "and all the company of heaven," reverberates more to me. Heaven is now nearer and dearer. You're invited to post your memory here. We'll update this page periodically with your posts.
"I will always remember Bill singing "Turn Your Eyes Upon Jesus/He Is Lord" before the prayer time during services. And if a fire truck or ambulance siren was heard going by, he would stop whatever he was saying, and say a brief prayer for those involved in whatever that situation was. He was so genuine and unwavering in his faith and the truths of the Bible, and so down to earth in his preaching, speaking more like a kindly grandfather than a preacher. Yet he could be firm and forthright when taking a stand on something he truly believed in. I first came to Asbury when I was working at ORU in the late 70's, and having tried several other Tulsa churches, I just truly felt so at home the minute I walked into Asbury, so much that it brought me to tears. I remember him and Jayne driving in their convertible VW the day we all walked from the old church to the new location and how excited he was, as we all were. I'm sad he won't physically be with us at Asbury any more, but he will always be with us in Spirit and I'm sure "all the company of heaven" certainly celebrated the day he went home to Jesus!" - Debbi Boonstra
"I joined Asbury in 1980. I loved hearing Bill sing "Turn Your Eyes Upon Jesus" usually at the end of the service as a benediction. I then sang it to our kids when they were babies. That was my good-night, sweet dreams song. He baptized our children. I have now sung that sweet song to my grandbabies as I got to rock them to sleep." - Karin Duke
"Bill came into our life in 1970 when our son had surgery and was in the hospital for 23 days .He visited him every day and we were not members of Asbury at the time. We joined in 1971 and have loved being with Bill ever since. There are not enough words to tell all he has done for us. I know he is with Jesus and Jane now." - Susie and Jim Barrett
"I am a retired surgeon. I worked 43 years at Saint Francis. For years I thought Bill was a Doctor because I saw him coming and going from the doctors' entrance when I was either coming or going. He was so faithful visiting the sick. What a wonderful man and wonderful person to try to emulate. Happy that I was privileged to know him.

Incidentally, I was going to a Baptist church earlier and that is why I didn't know him at first." - Jim Lickhart
"Bill Mason baptized me in 1967; Married my husband and me in 1984 and baptized my oldest son in 1990. I saw him last at the Savoy a few weeks ago and he pointed to me and mouthed the words "I love you". I have so many memories of him, but that one....., I'll never forget. He loved other people more than life itself, but not more than he loved his Jesus. Welcome home, Bill Mason." - Laura Bloomfield
"My family moved to Tulsa in 1976 when I was 6 years old. My parents told my brother and I we were doing "church shopping". Our first stop, Asbury, turned out to be our last one. We never went anywhere else.

Like so many others, Rev. Mason baptized and confirmed me. In 1998, he married my husband and I. Of course by that time he was Pastor Emeritus. I asked him to sing Turn Your Eyes Upon Jesus during the ceremony. I remember being in church the first time he sang it in a worship service. He told me at our wedding that he had told someone new to the church office that he was singing at our wedding. They were surprised and had no idea that he had sung that song for so many years in church. I got the impression that he was happy to be singing there at the altar again. We were blessed to have him.

The last time I spoke to Rev. Mason was in October 2019 when he sat in the pew behind my entire family as my parents were recognized for their 50th wedding anniversary. What a special, full circle moment that was for all of us!

I can't imagine my life without the steady force of Asbury in it. So grateful for Rev. Mason and his legacy!" - Laura Keep
"I have so many memories of Bill that it is difficult to narrow them down. I guess one that really stands out in my mind was when I was a young Tulsa Police Officer, I started attending the first service because I was working the midnight shift. I would go to church, then go home to bed.

Bill took the time before one service to tell me that he prays for me every morning. I was very touched. Of all the people and responsibilities of a big church, he took the time to pray for me. Wow!

Since he retired my friend, Julie Miles, and I took him to lunch for his birthday every year but this one. It was a special time." - Patrick Calhoun
"My parents Bill and Dot Blew belonged to Asbury and I would frequently come over from OKC to Tulsa for the weekend. I too remember him singing Turn Your Eyes Upon Jesus....and have remembered that to this day. Bill and Jayne were in OKC when I was in the hospital learning I had Crohn's Disease. Bill stopped by my room and ask if he could pray for me. He held my hands and there was a force that entered me that I couldn't explain at the time...but not long after I know who was holding both of our hands. It changed my life forever.....He and Jayne even came over to OKC for my 50th birthday celebration. I know my Dad was there to greet him when he arrived in Heaven. I will never forget Bill and what he did for me...ever." - Dave Blew
"Ruth & I moved back to Oklahoma and joined Asbury in 1969. We became good friends immediately. Was not aware at that time that Bill was also a Masonic brother at that time, or when he became a 33 Masonic brother; I was just a 32 brother. He asked me to run the sound at the old church and he asked me to serve on the Board for a while. I remember many of his sermon's and his singing that were always inspiring and up lifting. I prayed that God would call Bill to Heaven with Jane after he became so ill and couldn't walk or do hardly anything. God did & I thank God for taking Bill to heaven with Jane, relatives & Ruth.." - Gary & Daisy
"Rev. Mason seemed to visit every day I was at the hospital with a dear friend when her baby was ill and often hospitalized. He had a most sincere and loving demeanor. We moved our membership to Asbury a few years later. Many people probably came to Asbury because of the love they felt from Bill Mason.

Jayne became a dear friend through Christian Women's Club. They must have been so very happy to be reunited in the presence of God. I thank the Lord for this wonderful couple and the many ways they shared the love and grace of God." - Lisa Reid
"My family joined Asbury in 1965 when we moved to Tulsa. My first memory of Rev. Mason was in our church pre-school class. When you turned 5 you "graduated" from the child care setting to a "real" Sunday school class. I watched Rev Mason take many children by the hand and walk them to their new class. I was so excited when my turn came to graduate and Bill Mason walked me next door. I have many memories of Bill Mason over the years, calling me on my birthday, teaching my Confirmation class in 6th grade, visiting me in the hospital every day during a 10 day stay following an accident. Asbury was a church home to me--and Rev Mason was servant leader who continually demonstrated the love he had for his congregation He placed on my heart the love of Jesus and what it meant to be part of a church home. This formed well placed memories on my heart that are the foundation of my Faith today. The last time I saw Rev. Mason was May of 2017 when he attended my Mother's graveside service. He sang the song familiar to all of us" Turn Your Eyes Upson Jesus" Singing those familiar words with him was such a source of comfort on a such a sad day. Bill Mason will be missed." - Mary Beth (Veatch) Stasey Aledo, Texas
"Reverend Mason, was my pastor as I went through Junior High and Senior High School during the late 1960's and early 1970's. Bill had an amazing impact on my life that has lasted until today. Even as a student, he was always accessible. He worked with me on my Eagle project for Boy Scouts. He employed me to mow the church lawn and to be security at the front desk during late night meetings. When I was concerned about Hal Lindsey's book, the Late Great Planet Earth, and whether, or not the world would end soon, he told me he didn't know the answer, but to prepare as though it would end, but also prepare for life to go on. He told me to ask adults who believed the world would end, whether, or not, they had life insurance. Because he knew that would expose the hypocrisy. He provided pre-marital counseling to my fiancé and I, then married us 43 years ago. But, my highlight with him, was when my Dad was buried in Stillwater 3 years ago. I got to drive Bill from Tulsa to Stillwater and back. Those 3 hours in the car with him were wonderful. He shared all kinds of wisdom with me from his years in the ministry. Many things which I have applied to my personal life, as well as to my role as a Sunday School Teacher. His positive impact on my parents, as well as on me, will last for generations to come." - Paul and Debbie Gastineau
"To say that Bill was one of the best people I've ever known is a huge understatement. I'm sure I speak for all who knew him when I say that he was a tremendous influence on me. He was an unbelievable friend to many people in my family, including those who were never members of Asbury. He was a presence bigger than life. I will never forget him. And his influence and wisdom will stay with me the rest of my days. My deepest condolences to Robin, Peggy, Randy and Cameron. May he rest in eternal peace." - Gary Reynolds
"Dear Bill,

Our family and Asbury Church will miss you so much.....how blessed we have been that you responded to a Billy Graham Crusade to leave your family business, study at SMU, and dedicate your life to serving the Lord. We were then blessed to have you return to Tulsa to lead Asbury and stay so we could grow with your "Servant-Leadership" style. Thanks for marrying us 54 years ago and always being there for us.....baptizing three children, marrying them, baptizing eight grandchildren and celebrating and comforting us as our parents went to heaven. Thanks Bill, for being part of our family all of these years and for all you have meant to all of Asbury Church....and , most important, for all you have done for "God's Kingdom". We love you and miss you........" - Jim & Ronda Norton
"The first time I visited Asbury was at the Church on Sheridan. I had purchased a home just a few blocks away after going through a divorce the previous year in 2002. The Sunday I visited turned out to be the Sunday the the church honored couples with long term Anniversaries. It took a great deal for me to finally get up the courage to walk into a church by myself as a single person, but then to be setting among a congregation of couples celebrating anniversaries, the tears just started to flow. I started to get up and leave, but then the music started playing and this elderly gentleman in a robe started singing acapella a song that began to comfort me. It was as Jesus was singing to me and telling me that where I was safe and that love existed. It was Bill Mason singing "In This Very Room". The Holy Spirit spoke to me that Sunday morning thru Pastor Bill Mason and Easter of 2004 I made Asbury my church home. I have been involved in the Singles Ministry and Community Leadership, Co Leader of the Divorce Recovery Program and was a Stephen Minister. The Holy Spirit working thru Bill Mason and using his voice at just the right moment that Sunday morning changed my life. I will forever be grateful." - Malia Miller
Listen to Pastor Bill Mason's Music: In This Very Room