Asbury Preschool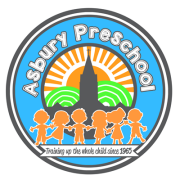 The mission of Asbury Preschool is to glorify God by nurturing the whole child in their spiritual, academic, physical, emotional, and social development. This is achieved through providing a variety of activities that are developmentally appropriate and recognize the individual needs and differences of children. Through Christian principles and teacher-assisted and directed activities, children are encouraged to be independent thinkers and life-long learners.
Registration for the 2020-21 preschool year is as follows:
Currently, enrolled students can re-enroll January 8-17, 2020.
Members of Asbury UMC can begin enrollment January 20-24, 2020.
Enrollment opens to the public January 27, 2020.
3 enrollment options available:
2 days a week, Tues/Thur - $220 a month

(PreK, $235 a month)

3 days a week, MWF - $330 a month (

PreK,

$345 a month)

5 days a week, M-F - $550 a month (

PreK,

$580 a month)
All classes are 9:30 am-2:30 pm
Within one week of completing enrollment forms, please bring your $75 non-refundable registration fee to the preschool office. Your child's enrollment will not be placed until your registration fee is received.
Fees are based on a yearly enrollment and can be paid in total, a semester at a time, or in nine equal payments. Your first month's tuition is due the week of March 2, 2020 and is non-refundable. Your child's registration is not final until we have the completed forms, registration fee, first month's tuition and an updated copy of his/her immunization record. Immunizations can be faxed from your pediatrician's office to 918.392.1100, Attn: Asbury Preschool Office.
If you have any questions or schedule a tour, please call or email Christina Treat, Director of Asbury Preschool at 918.392.1172 - or the Assistant Director, Susan Rizzotti at 918.392.1126 - .
Download Instructional Calendar 2020-2021
Tuition Payments Online
Currently, enrolled students may pay monthly tuition via e-check by clicking this link for the website.