The live service is available on Sunday during the 9:15 am and 11:00 am worship times.
"Developing all generations for significant lives in Christ."
At Asbury, we believe God changes people. If we are open to His Word, if we listen to His Voice, if we want to grow… He can do an amazing things in our lives. That is why Asbury believes in a life-long commitment to discipleship. Worship with us. Learn with us. Serve with us. You will be amazed at what He develops in you.
Join us for Sunday Worship
8:00 am Traditional Service, Mason Chapel | 9:15 am Traditional Service, Sanctuary | 11:00 am Modern Service, Sanctuary

Explore Asbury
Current Sermon Series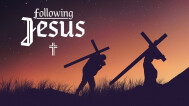 Join us for our current sermon series: Following Jesus
---