A Family Affair
By Marilyn Glass Tidings March 2016
---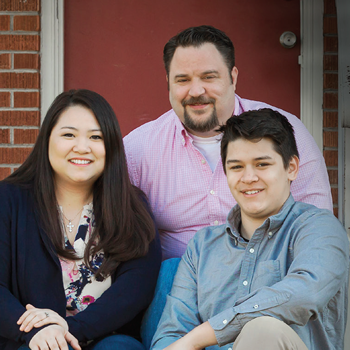 The Yates family–Justin, Melissa, and their 17-year old son, Alex–are strong advocates for volunteerism. Justin and Melissa volunteer in the children's ministry; Alex interns with 3rd, 4th and 5th graders.
"We started with 3-year olds," Melissa says. "As they advanced from one class to the next, we moved with them. We're now in our fourth year, working with the same kids we had in the 3-year old room."
All three members of the Yates family agree that the bond they have developed with the young students is heartwarming and rewarding. Alex has almost finished his first year volunteering in the children's ministry, and he looks forward to more. "It is lots of fun. I love being with them and playing with them. I hope we can provide the same kind of welcoming and nurturing environment that I had at that age. These kids are just great!"
God reminds us in His Word that children are important in His kingdom. "We are honored to be trusted with these kids–not just physically but spiritually, too," Justin says.
How do I get involved? How do I sign up?
Marsha Baker will be able to answer questions, give a tour and sign you up for the August 2016-August 2017 school year. Volunteer form
Contact Marsha Baker, children's ministry coordinator, at 918.392.1127 or for questions.
---