A Friendship Tied Together Serving the Homeless
By Lucienda Denson Tidings April 2017
---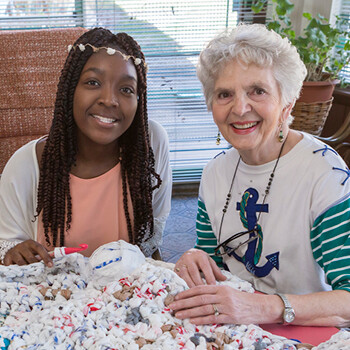 You don't have to be an adult to make a difference.
Mat T'yawna Harper just celebrated her 14th birthday. She is already proving what a difference caring, commitment and being of service in her church can make in her life and in her community.
She's a busy teen with a schedule many high-level corporate leaders would find challenging. A student at Union Eighth Grade Center who makes "mostly A's," her favorite subjects are math and science. She plans to have a career as a neonatal pediatric nurse. She also has her own business, teaches people how to crochet, is active in Asbury's 2nd Saturday outreach, and plays basketball for two teams.
"I love to crochet, and I have a business; it's called 'BC by Mat,'" she said. The BC stands for Best Creations. "I make everything."
Mat's crochet creations include hats, ear warmers, scarves, baby clothes and sweaters. The money she earns from her sales goes into her college account.
The second Saturday of each month, she can be found at Asbury's 2nd Saturday, serving. She has participated in the community service project for about two years. She became involved through her basketball team and EDUREC, a non-profit organization. To be a member of the team, she had to be involved in some form of community service. She chose 2nd Saturday to meet the community service requirement.
"2nd Saturday is a community service at Asbury which we do the second Saturday (of each month)," Mat said. "We will go out and share love and the Gospel through community service."
Mat said it made her feel blessed that she was doing something for other people, and believed she was helping make a difference in peoples' lives
People involved in 2nd Saturday meet at the church in the Venue. "Everyone selects which area they want to participate in. Before we go out for community service, we do a devotional and pray," Mat said. Then they get their supplies and go with their group. "It makes me feel good to bless other people instead of just thinking of myself."
There are several areas of service to choose from including the Dream Center, which includes a food pantry and clothing, Mat said.
Mat is most often found crocheting mats for the homeless. "We use plastic bags (instead of yarn)."
The first thing her group does is cut the plastic bags into strips and tie the strips into yarn-like lengths of plastic. "You cut the bags up, make long strips and crochet the strips into mats," Mat said. A lot of cutting and tying has had to happen before the crocheting can begin. The mats are 6 feet long and 3 1/2 feet wide. Each mat takes about a month to crochet.
The mats provide protection for people who live on the street when they sit or lie down. When the homeless person gets up, they can roll up the mat and take it with them. It's very durable as well as being light-weight. When she finishes a mat, Mat feels she has not only accomplished something, but she has been blessed by blessing someone else.
She had her introduction to making homeless mats – and some new crochet techniques – from a 2nd Saturday veteran, Phyllis Sheffield.
"I learned how to make homeless mats on 9-11, during our Day of Service," Phyllis said. "I said, 'Oh, I know how to crochet, but I want to learn how to make one of these (mats)'," Phyllis said. She was told it took a month to make one, but she could take home the crochet needle and work on the mat at home.
"It takes a huge amount of bags. It takes 700 bags to make one mat, and even more if it's a little wider."
It also takes more strength, because the plastic is hard to work with. "You have to really pull it (the plastic 'yarn') through the opening. If you make the openings bigger, it's easier, but it's not like yarn. It's hard to teach people how to crochet with plastic. We have taught some people, including a 9-year-old who asked if she could take some plastic yarn home. I didn't want to disappoint her and tell her it was going to take forever. She was determined to learn to crochet, and she did. Her mom said she had that kind of determination. We did the single crochet, and did the single strip, then started doing the double crochet."
Phyllis is a mother and grandmother, and a veteran of medical missionary trips to Africa. She said she was surprised at how soft the mats are and the level of protection they give from the ground beneath.
Since her introduction to using plastic yarn for the homeless mats, Phyllis has made a mat a month. Mat has made two so far, Phyllis said. "She goes to school and is in sports, so she doesn't have much time. She took a whole lot of yarn home last time, because she knows how much yarn it takes to make one."
A special friendship has developed between Mat and Phyllis. "It started when she first came. She knew how to crochet. She didn't know how to double crochet. She started crocheting on a mat that had already been started. I had a mat that was finished, and I said, 'Come lie down on one with me," and her mother took pictures.
"We kind of forged a bond then. In December, she made me a basket out of plastic yarn. It is just darling. I use it every night to keep my scissors, my crochet needles, and notebook with people's names. It's kind of a love basket. It touched by heart that she did that."
It comes as no surprise to people who know the family that Mat would be involved in service to others. Her father founded EDUREC, a community center in north Tulsa that combines education and recreation. The name was created by taking the first three letters of the words EDUcation and RECreation. The center focuses on both. Rovenna, Mat's mother, is involved in the basketball side of the non-profit.
"I love basketball and sports. I decided to put together a basketball team. Mat plays basketball and enjoys it. When we, as a family, became involved in 2nd Saturday, I thought it would be a great way to incorporate the Lord into my basketball program. We have a motto that says we have a love for Christ and a love for people. Our basketball teams carry that motto as well. We have three teams. We have two 2nd grade teams – a girls' and boys' team – and a 7th and 8th grade team. They all are required to be at 2nd Saturday to participate and do volunteer service," Rovenna said.
Mat's parents are encouraging her to not dream small. That helps her think she has the potential to do good things, "and that I have to think less of myself and more of others."
She believes 2nd Saturday is already making it possible for her to do both.
Want to get Asbury 2nd Saturday' Updates? Simply subscribe the form below:
---