Change From the Inside Out
By Floyd Plummer Tidings January 2016
---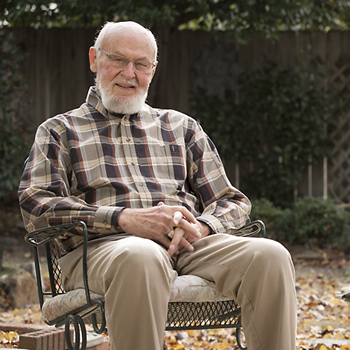 How blessed are we to belong to a church like Asbury. Not only for the obvious reasons one belongs to a church but also for Asbury's uniqueness. There is so much activity, so many ways to serve God and the community, and so many opportunities to build our faith in service to others to the glory of God through Christ Jesus. If anyone wants to serve, there is a place at Asbury for them.
I came to Asbury in 1996, drawn by the spirit of the church as well as the music ministry under the capable leadership of Hart and Marty Morris. I joined the choir immediately, feeling it was my place to serve, having been in a church choir since age 17.
As time went on, I began to feel the Spirit leading me to find yet another area of ministry. I didn't know what or where it was to be. Pondering this matter, I subconsciously adjusted my daytime work pattern to accommodate this new mission effort. Still, I did not know what it was.
On a Sunday morning in the early fall of 2000, I heard the words "Stephen Ministry" for the first time from Pastor Tom. It was in connection to the annual fall promotion for the new Stephen Ministry class beginning in January of 2001. I began to wonder if this could be my answer.
I was pointed toward Charlene Giles, the director over the care ministry that oversees the Stephen Ministries, for more information. Following that visit, I knew this was where I was being led. I would be receiving 50 hours of training, one day a week from January to May 2001. Things were working out perfectly. It was an answered prayer.
Then came my bout with shingles. I had not anticipated that attending training would require overcoming the pain and trials of this debilitating disease. Yet I persevered, with the support of my fellow trainees. In fact, we bonded even more through the sharing of our various struggles. I was not the only one who had to work hard to make it to the weekly meetings. Getting to know my classmates was a joy, and nearly all of us ended up with perfect attendance.
The training was exceptional! The lectures, role playing, class participation, questions and discussions were all enlightening. It quickly became apparent that the gist of this training was to be able to help others who are experiencing difficulties in their lives that are common to all of us. Learning how to help using various techniques of dealing with others and relating to them in a safe and confidential way was most exciting and very important.
Early on we learned the value of listening and observing body language to detect emotions and attitudes. These skills are important to understanding the nature and extent of someone's dilemma. If we were later to find ourselves in a position to have an influence on a person in distress, the more we could discern about the problem and the person, the better we could help. Exploring their relationship to God was also extremely beneficial.
Space does not permit an exhausting list of all the important aspects included in training, but suffice it to say, "My life was changing." I was 68 years of age and had experienced many things. I reasoned, therefore, that I might be able to combine my life experiences with this great training and the grace of God to help others.
As my life was slowly changing, my horizons were also expanding and my attitude was different. Emerging in me was an outward focus and care I had never experienced. As I began to understand the needs of other people in deep and challenging situations and learned how I could help them, my passion for this ministry grew along with my self-confidence. My thinking changed, and my desire to learn more of the principle and concepts embraced in God's love and mercy was firmly in place.
Yet, I was reminded that a person cannot do it alone. The Holy Spirit must be an integral part of this work. The Holy Spirit is what brings about change. As a result, each visit with our assigned care receiver, we pray that we will be led by the Holy Spirit in every word and deed and that God be glorified.
In closing, may I emphasize that as I grow in the work of Stephen Ministry, my own faith grows. I find I can use all I have learned in every encounter with people in life, be it at home, office or the market place. My knowledge has increased, my compassion has grown and my horizons have widened. Opportunities to witness to the grace of God are everywhere.
Come join us in Stephen Ministry and let it change your life!
---