Christian Clark, Transformed by Grace
By Darrell Duke Tidings July 2016
---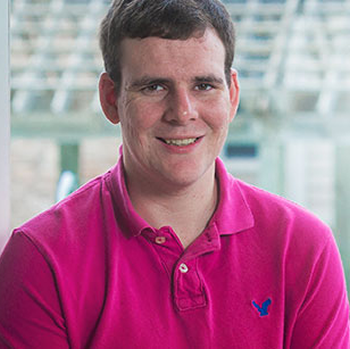 Christian Clark grew up in a middle-class family and was a troublemaker at an early age. He was diagnosed with ADHD, and his mother was divorced from his estranged father. At age 7, his mother married again. Christian never knew his father well, and at age 12 his mother took him to see his dad who sold vintage Levi jeans out of the back of a van and initially made a decent living; later, he lived on government subsistence. Christian was 13 when he learned his father died of a methadone overdose. His dad was never around much, but Christian didn't harbor any grudges against his homeless father. His grandmother was the guiding force throughout his young life, and he visited her frequently. At age 14, his beloved grandmother died in a terrible car accident. It left him devastated and afraid to get too close to anyone, because he thought if he did, they would die.
Eventually, family life became more difficult because his mother and stepfather would come home drunk and would argue and fight while Christian was forced to listen. Christian often ended up in physical fights with his stepfather, defending his absent father and protecting his mother. Christian physically fought with a much bigger stepfather many times over the course of the next two years until finally he couldn't take it anymore. He vowed next time would be different and purchased a can of bear mace.
One night, the stepfather ordered Christian inside, grabbing, pushing and shoving him; in between punches to his ribs, Christian managed to hit his target with the bear mace and then ran to his neighbors for help. The stepfather called the police and Christian was arrested for domestic assault and battery; the charges were later dropped. Afterward, they stayed away from each other as much as possible. His mother decided not to go to church anymore, but Christian managed to attend church by himself for a couple of years.
While in middle school, Christian was issued a disorderly conduct ticket which led to his attending Hope Harbor in Claremore, a Christian-based school and home for children with anger issues. Christian then attended Thunderbird Academy during his junior year of high school but only lasted 15 days until he got in trouble and refused his punishments, forcing them to expel him. He returned to high school but was promptly expelled and stopped going to school. He wondered around aimlessly and indulged in smoking pot. Christian felt like his mother and stepfather no longer cared for him because there were no longer any consequences for his actions.
Then, his parents went on a trip to Colorado. While they were gone, Christian decided to throw a party with alcohol, marijuana and some unwanted troublemakers. Christian left the party for a short while and returned to find the house torn to pieces and many items stolen. Returning home the next day, he found multiple police officers standing around his parents. Christian recognized his belongings placed in bags in the front yard, so he loaded up his car and thought he was leaving home for good.
This started 10 months of homelessness where he lived in 24 places during that time. He stayed with a neighbor for a week while he helped paint his house. His mother gave him some funds she had saved for him, and he blew through it very quickly. A friend borrowed - without permission - Christian's car which was on loan from his parents. The friend managed to totally wreck the car by hitting a brick wall, and the police could do nothing about it. Christian moved back to his parents' house only to endure more arguing and fighting.
Shortly afterward, his mother left his stepfather and took all of her belongings. The stepfather gave Christian 15 days to leave with all of his belongings. With help from his church family, he managed to move from place to place, but the condition of his dwellings became worse and worse. He even ended up in a shed for a while with a bucket for the bathroom. Christian would often stand out on corners with a sign that read, "Need work." Through the kindness of strangers, he managed to get enough money for a room to rent and something to eat. Occasionally people would hire him for odd jobs and churches would give him food and bus passes. A friend picked him up and made a huge impact during breakfast by suggesting temp agencies for work and arranging a cheaper place to stay.
Looking for jobs, Christian went to the Marriott Hotel for an interview, but it did not go well. Discouraged, he looked up; through the glass of the hotel, he saw the steeple of Asbury UMC, and without really knowing why, was drawn to go to the church. He entered the church office not realizing how much his life was about to change. He had a long talk with Associate Pastor Guy Ames who aided him in securing a motel room; a year-and-a-half later, Pastor Ames recommended he talk to Glen Gruesendorf with Asbury Celebrate Recovery. Glen immediately placed Christian with Michiel Conner who introduced him to everyone. Michiel Conner is one of those unsung heroes who has mentored men for years and years. While Michiel is in many leadership roles, a lot of people don't know the countless hours he spends mentoring people behind the scenes.
Christian had found a home at CR and was soon in a 12 Step class. He found a sponsor and began serving as sound man for the CR band. Life changed almost overnight when he began to shed his toxic past and was on fire for serving God. In the 12 Step group, he met a bunch of great men who were struggling just like him and learned it was a safe place to share his story. He discovered who he really was and that gave him courage. With the help of his sponsor, he began the transformation from denial to a new vision of himself. As he grew, he became more honest with himself and others and got very close to his CR friends. Christian continued his meetings and began having meals and going places with real friends and eventually joined a Wednesday night men's group. He began tithing whenever he was able to make income and became devoted to working in service to others.
Christian had a difficult life and struggled to make sense of it. But along the way, the seemingly random acts of love and kindness from strangers guided him to the next step. It was no accident that caring people guided him toward Asbury Celebrate Recovery. Christian didn't just hear about grace; he actually swam around in a big CR room full of it. He learned that sharing in an accepting, safe environment would lead to the healing life transformation he needed. Christian now has a job and will attend college classes this next semester. Meanwhile, he continues in Celebrate Recovery, works with joy serving others and glorifies Christ by telling others of his incredible story of transformation.
---