Discipleship and Service
By Lucienda Denson Tidings February 2017
---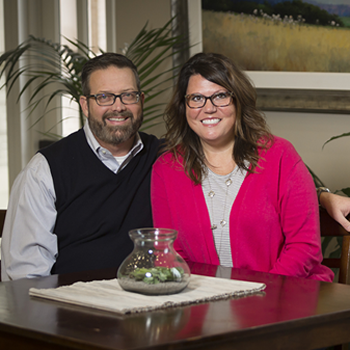 For Richard and Heather Steger, Discipleship Pathway isn't just a way to serve with Asbury United Methodist Church. It's also a way to practice what Jesus taught – discipleship and service.
"Jesus practiced discipleship," Heather said. "He served." The couple, who have been members of the church for almost a decade, already knew how to serve on levels that included working with youth. They have two pre-teen daughters. Isley is 11, and Mollie is 9. As a result, they were regular volunteers for Vacation Bible School and missions trips as well as other youth-related programs. What the Broken Arrow residents were finding they were missing at Asbury was a way to connect with other members who were not necessarily involved with youth programs, and a deeper involvement in discipleship.
Richard grew up Methodist in Pampa, Texas. Heather's family, who lived in Wichita, Kansas, attended Church of the Nazarene. Richard and Heather met in Wichita, where they both worked. A woman they worked with who also attended First Church of the Nazarene played matchmaker by inviting Richard to attend the church. Richard and Heather met, married and in 2006 moved to the Tulsa area, where Heather is a stayat- home mom. He is a civil engineer with Ingevity Specialty Chemicals Company, a company based in Charleston, SC.
During their nine years at Asbury, they have been involved with different programs, but there were things they would have liked to be a little different. That included a way to plug in better with other opportunities to serve as well as with other people.
That happened when the church developed Discipleship Pathway.
Discipleship Pathway is a relatively new program developed by Asbury. At first glance, it may appear that the program is a way for new people who are coming in or who are interested in joining the church to learn more about Asbury at a Welcome Brunch where attendees get to know not only the church, but also one another a little better.
At a deeper level, it also provides ways for existing and even long-time members to learn more about the church, and how to connect with other members.
The program is under the direction of pastoral staff but run primarily by volunteers like Richard and Heather who function as both hosts and facilitators. The first meeting is a welcoming, getting-to-know-you brunch. Brunches are offered at 9:15 and 11 am. Members of Discipleship Pathway are on hand to make things run a little more smoothly, answer questions, keep conversations going and in general provide information about the program. People who are interested in becoming part of the program commit to meeting on five consecutive Sundays for Discipleship Orientation, including a brief overview of the Bible and what Methodists believe.
"The idea is to get people to come in and meet some familiar faces. We just finished (hosting) a class at the end of the year," Richard said.
"We serve six consecutive Sundays," Heather said.
"We act as table hosts. There are several different jobs," Richard added.
"The purpose of this course is not only to get new people involved but also to reach people who do not know how to plug in to the church," Heather said. They may not know how to serve, have any type of connection or know how to fit in. They can go through the five weeks of classes that follow the brunch, then go into Learn2 Serve2where participants will learn two Sundays each month and serve the other two Sundays
"It's just for an hour. People can serve in the nursery, in technology and run the video camera, or go to a prayer room and pray," Heather said. For the session that just began, the Stegers will be table hosts. "Table hosts meet for six (consecutive) weeks with incoming new people. What we do is a little different. Most people sign up for two weeks, we sign up for six. Then we will go to a Learn2 class. When the girls were little, we volunteered in the nursery and the little kids Sunday School area." But for themselves, they found it was difficult to connect with a community at Asbury. People may have been in the same class, or community, for 25 years, "I connected through volunteering at the nursery, Vacation Bible School and on mission trips. But Vacation Bible School is just once a year, and so is the mission trip.
"When this opportunity came up, we decided it would be a good opportunity for us. We've been here for nine years. I'm sure for a new person walking in, it's very overwhelming," Richard said. Not only have they walked into a new-to-them church, it is filled with mostly strangers.
In addition to providing ways to "plug in" to Asbury and the different service opportunities the church offers, the program can also sometimes provide unexpected personal growth opportunities. For Richard, that recently presented itself in an unusual manner.
"I'm not a people person," he said. Each session begins with a Welcome Brunch. The table host makes sure everyone is introduced, and everyone gets to know one another a little better. Following that is Disciple Orientation, with five weekly meetings. Each meeting is with a different focus and highlights a different service area. On one occasion, Richard's table was made up of all women, and he was at first a little uncomfortable. By the time the six weeks were over, he said he was much more comfortable talking with them.
You just need to try it. Become a part of The Discipleship Pathway; you won't regret it.
---