God Prepares You for His Perfect Plan
By Michelle Carney Tidings February 2017
---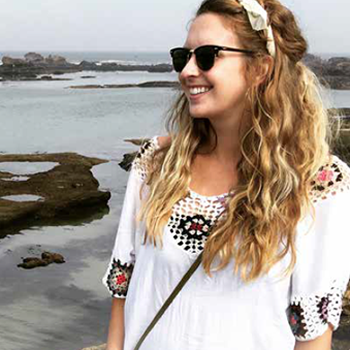 Various childhood memories come into mind when I think about how exactly I have arrived to this moment. I am not talking about the previous three years spent studying Arabic at the University of Oklahoma, but I am talking about how I dressed up as the heroine from the "Mummy" for Halloween and dreamt of being an adventurer like Indiana Jones and exploring the world.
I am currently curled up on my mattress under four thick blankets to fight off the cold, surrounded by four white walls with photos from home taped up, providing a sort of refuge from the outside, all with the background music of feral cats fighting five floors below in the street. This is home. One of the many: Tulsa. Reynosa, Mexico. Shell, Ecuador. Meknes, Morocco.
There are 24 of us students here in Meknes for the year. We are all part of the government-sponsored Arabic Flagship Program from five universities across the United States. We came together for this fifth and final year in the city and country of their choosing. I would like to note that Morocco is an absolutely beautiful country with diversity ranging from cultural and ethnic diversity to landscape; however, Meknes has been nicknamed the armpit of Morocco. Every day, I overhear my fellow classmates complaining about Meknes. If it's not one problem, it's another. "If only we were in Egypt, we would be so happy…" I would confidently say that in our situation, attitude is the indicator of happiness and not location. And that's where Asbury Spring Break Missions comes in. part of the year and possibly the hardest couple of months of my life up until now. I had the opportunity to live with an average Moroccan family which meant no air conditioning in extremely hot weather, lots of stomach issues, more family members than you can remember names for and no concept of privacy or boundaries, whether physically or socially. Several sleepless nights were spent on the tile floor, because it was a few degrees colder, but sweat still collected in a puddle. If that didn't keep me awake, the wave of family guests arriving at midnight for dinner or my host sister watching Indian films until 8 am did. During the summer, life in Morocco changes completely to accommodate Ramadan hours as well as the heat.
In retrospect, I would happily contribute my summer survival to Asbury Spring Break mission trips, because the church and people I met during those trips taught me many lessons that I hold very dear to me whether it was a basic lesson about physical circumstances (i.e. mosquitos or the toilet situation) or a lesson about perspective.
So we have arrived at one of my favorite memories as to how I ended up here. I was in 3rd grade. Last minute, my parents were asked to be leaders on a Spring Break Mission trip to Houston, Texas. It was too late to drop me off at my grandparent's house, so I tagged along with them and the group of sweet and forgiving 7th graders who graciously befriended me. I remember being by myself in a shed in a homeless shelter. I was putting women's products into bags and handing them out. I remember thinking that makeup is not a basic need, so why are these women so touched? I realized that the act of caring and serving was more important to them than the actual makeup. That week forever embedded a desire to serve within me, as well as the idea that the circumstances and places we live in are only temporary, so we should focus more on the eternal, spiritual and intentions behind our actions.
Finally, I reached the 7th grade and was able to attend the Houston trip again with my peers. Kentucky, Mexico, San Antonio (because of last-minute security concerns), Guatemala, then returning to Kentucky and Guatemala as a leader. I went with my father to Ecuador several times over a few summers with Covenant community group. My loving parents, Mark Fowler and the Asbury community encouraged me in my love for missions and exploration monetarily and emotionally.
When asked by friends and fellow Christians questions about how I can live here or how are the people, I would say… I am very happy here in Meknes, though it was a process. SBM preparedme for an array of experiences from squatty potties, to eating goat heart, to the people that I love so much but whom also are constantly testing my patience. Whether on the outskirts of Boy's Town in Mexico, Tulsa, or a Muslim country, a child's laugh is still the same laugh that is contagious and beautiful. The nosy neighbor and the taxi driver who tells me he has a good friend looking for a wife are still human. The fruit vendor who sleeps every night on the street in the cold trying to provide for his family never fails at making me smile every morning and evening with a warm hello.
I have countless stories of hospitality and kindness: of families who have opened their houses and hearts to me, of numerous free cups of tea and conversation to keep me out of the rain, of people always accompanying me from one destination to another holding my things for me, people offering all they have to make me more comfortable, and my personal favorite, baby kisses. Here in Morocco, there is the environment that we are all family, so there are few personal boundaries when it comes to quickly befriending strangers and children (Does this make sense? Basically, I get to play with random kids whenever I want, kiss them, and in return they have to kiss you on the cheeks out of respect.)
I often feel like I have more in common with Moroccans than my classmates from the north, bonded together with a common culture of warm hospitality as well as religion being the driving factor of how I interact with others. SBM showed me that we are all children of God no matter how different the culture, customs, or clothing. The lessons I have learned in Mexico and Kentucky and so on are being tried here in Morocco. Through these experiences as a child and teenager, I learned that God has called me to be His hands and feet wherever I am, in the simplest of ways. Knowing that His will prevails and seeking joy in hardship helps me through each day. So here in Morocco, God has simply called me to be a diligent student of the Arabic language and Moroccan culture and to do so joyfully in preparation for what comes next.
I do not know what exactly I will be doing the next few years (most likely Peace Corps in Morocco followed by a job in the United States government working with national security), but I am not worried about it. Why? Because I know that wherever I am and whatever job I have, I will be doing the same thing. Spring Break Missions taught me that despite all circumstances, to work as the servant's hands of God with an eternal mindset and a smile. So, thank you Mom and Dad, for allowing me to go on all these adventures and follow my dreams, as well as for always being my home. Thank you Mark Fowler, the Coopers, Mrs. Crum, the Covenant Community, Santiago Ruiz, and the Asbury community for your donations and support.
Finally, I would like to encourage all of you to trust in God and to take risks. His will is more perfect a will than what we could dream up. Whether dressing up as my favorite heroine or handing out goodie bags to women, I never could have imagined being where I am today, thanks be to God. Life begins when we get out of our comfort zones and be bold, because it is God who gives us strength. His will for us may seem unclear or unconventional, but fulfill it with an adventurous spirit and an eternal perspective.
---