Hope for the Holidays
By Shantel Nelson Tidings October 2016
---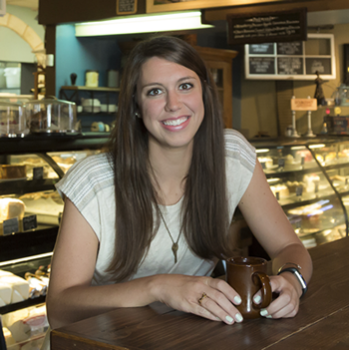 Are you dreading the holidays, knowing everything has changed and that happy memories from past years can't be recreated? We know grieving the loss of a loved one is a difficult challenge at any time, but the holiday season has a way of magnifying the pain.
This was precisely the thoughts that Katelyn Moore pondered for months and weeks. In January 2015, Katelyn lost her grandmother, better known as Marmee, which left a hole in her heart. Katelyn had this to say about her grandmother, "She was not just an ordinary person, but an extraordinary woman of God. Her spiritual convictions were the spiritual foundation for our family, she was our 'Rock'. I attribute my passion for youth ministry and my family's passion for the church to my grandmother. Losing her was awful, and it devastated my whole family; we did not know how to move forward."
By the world's standards, it seems like there is a timetable of how long it takes for someone to move through the grieving process, which sometimes causes a person to stop the grieving process before they are ready. We have to understand that everyone grieves differently. Ten months after Marmee's passing, Katelyn's grandfather, better known as Papa, encouraged the entire family to attend a grief sharing class entitled "Surviving the Holidays," now entitled "Hope for the Holidays." Even though Katelyn and her family were initially reluctant to accept the invitation, amazingly, it was through this class, that they learned how to press the reset button on their grieving. Katelyn had this to say about what she observed and experienced while attending, "We learned how to cope; it gave us the permission to ask for what we needed during the holidays and not get so focused on the traditions. With the help of this class, we were able to talk openly about what we would be missing and the great role Marmee played in our holiday traditions. We were able to decide on new, special memories that we could start in her honor. Otherwise, we wouldn't have known the power of asking the right questions, which gave us the opportunity to open up and talk freely about our emotions. This class drove home the point of talking about traditions before- hand, deciding what you want to keep, change, and recommendations for doing something new and/or different."
Katelyn was impacted the most through the message given by one of the facilitators, Dr. Paul David Tripp. He shared, "Christmas is, in fact, a holiday made for the sufferer. We are celebrating the day that Jesus came to earth willingly, to take on our suffering as His own, to share with us in grief, and to overcome all of our pain and suffering with the promise that one day, we will join Him." Katelyn's perspective on Christmas and finding hope for the holidays was forever changed in that moment. She is grateful to Asbury for offering this class; now she has the necessary tools to not only help with her own losses, but since she works with high school students at Asbury on a daily basis, this material has been a vital tool for her to support them through their time of grief as well.
How beautiful it is when a family can push through their feeling of loss over what the holidays used to be, in turn, having the strength to recreate what it will be now. What a comfort to have the assurance that it is perfectly fine to celebrate and grieve at the same time during the holidays. If you are mourning a loss of a loved one you do not have to go through it alone, "Hope for the Holidays" is a great class that will give you the necessary tools and support to get you through the grieving process.
---