Keys to the Kingdom
By Lisa Witcher Tidings April 2017
---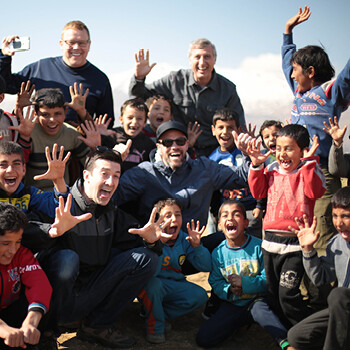 The brightness in Jim Davis' blue eyes welcomed me into the maze of Asbury's administrative offices. Within minutes, the immense heart and burden he carries for ministry brought the land of Syria to the table between us and set it down as if it were a scaled model complete with tents, refugees, loss and hope, a war-torn country over six thousand miles away. Approximately the size of Oklahoma, its coastline faces the Mediterranean Sea–and like Oklahoma–depends on agriculture and oil for its economy as well as industry and tourism. Neighboring Lebanon, a very small country, has taken in about 1.5 million refugees, many of whom are in tent settlements. It is this space, two countries the size of our state, and its displaced people that has captured the heart of Jim Davis, Asbury's director of Global Missions.
"Refugee," an interesting word, from the seventh century French word – refugie, is a noun meaning "to take shelter, protect." The word meant "one seeking asylum" until 1914, when it evolved to mean "one fleeing home." Now, one can only be considered a refugee if he/she crosses international borders; the United Nations considers those fleeing but not crossing a border as an internally displaced person. Today, there are somewhere between 12 and 15 million people who are displaced since the beginning of the Syrian civil war in 2011. Many are still hanging on to hope, with their house keys in their pockets, that war will end and they will return home.
Every good problem-solver begins with an essential question, and Jim is no different. Of the many ways we could serve the people of Syria, Jim asks this: Are there ways we can relationally connect with the people of Syria? In an age when popular culture tells us that love is the answer, Jim's sincere and friendly tone suddenly takes on an air of caution and gravity. Can a church and its people from the West genuinely connect with churches and believers doing ministry in the Middle East when culture, language, and political ideology differ so greatly from our own? Jim stated, "We needed a partnership with believers and churches in Lebanon and Syria to connect."
Meetings, international phone calls, and dozens of discussions later, Jim, in discussion with a number of other churches in U.S. found two ministries that cultivate three important aspects we were looking for:
The organization must have evangelism and disciple making as its objective;
It must have already navigated or constructed a cultural bridge between America and the Near East as well as have a willingness and capacity for facilitating volunteers;
Finally, the organization must have the ability to connect with churches in Lebanon and Syria.
Our goals remain loftier than simply offering finances. Instead, Jim and his team were committed to finding the organizations who could deliver on our relational engagement. As is often the case, prayers and diligent research brought Jim and his team to two organizations: Horizons International and Ananias House.
Horizons International, based in Beirut, Lebanon, but with a presence in Colorado, serves refugees in three cities within Lebanon. They have centers which provide food, clothing and schooling for Syrian children with Syrian curriculum. After life's essential needs are met, Horizons then offers Christ through Bible studies and discipling. This summer, Horizons International will pour love and light into more than 1,400 children in summer camps. There are six three-day kid camps and two five-day kid camps, and they could use as many volunteers as churches can send.
In Damascus, Syria, Ananias House stands to help people see Christ and is our connection to the evangelical church in Syria. Emboldened by the partnership, Ananias House acted as the architects that brought nine pastors out of Syria to meet with Jim and company in Lebanon last October. They represented several cities, including Aleppo. Before the war, Syria had become a stable place to live and had no national debt. Pictures taken before the war depict Aleppo like a Mediterranean jewel, pristine with white stone buildings, lush foliage and the mystique of old royalty. Today, people walk in the rubble to fetch water from a broken pipe, dare to go to school or venture to find work that no longer exists, and they are in danger of being shot by a sniper or killed by air strikes.
These pastors live there. They drove to Lebanon to meet with the Americans, which carries a certain political danger for them, and they drove back into war-torn devastation, hunger and despair – willingly. They drove back into Aleppo and other cities – with purpose. They drove back into Aleppo and other cities because that's where the people they serve are. Despite the danger, the danger of being connected to Americans, the danger of their own children being kidnapped, the danger of being shot by snipers, these pastors preach the message of Jesus in Syria, but they have no funds.
In order to stand with the pastors, churches and ministries in Syria and Lebanon, about a dozen U.S. churches are partnering with Horizons International and Ananias House to form the "Kinship Network" to provide a means of connecting and serving. In the midst of the chaos and mayhem and as a result of believers physically seeking a connection to a people in need, God moves. Bravely, pastors in Syria report, "this is the golden time of the church in Syria, where many people are coming to know Christ." People are showing up to churches to ask questions or to request a Bible. Church services have become standing room only, and additional services are being added. The Holy Spirit is active among this massive displacement of people and there is great excitement because of new life in Christ. One of the most common ways those on missions in North Africa and the Middle East see people come to Christ is to ask a crowd of people this profoundly interesting question:
"Has anyone had a dream of a man dressed in white?"
God often works in dreams in the Muslim world, and many come forward from the market place, from the food lines, from the shelters. A common dream revealing an everlasting truth in the middle of desolation – "And lo – I will be with you even unto the ends of the earth."
And these pastors are able to say, "I know who you saw." It's a friendly message, a positive story, an uplifting outreach that attaches itself to hearts hungry for love, for home and for freedom.
Recently, Pastor Jon Odom traveled to Lebanon after meeting with Rich Sterns, president of World Vision, a Christian humanitarian organization steeped in excellence. Jon and several pastors from Oklahoma and Texas observed the work the $80 million dollar budget affords World Vision to do in the Bekaa Valley settlements, the agricultural valley of Lebanon. They work in the tent settlements, home to more than 600,000 refugees. While World Vision does its work in Jesus' name, it is not an evangelical organization. However, it can operate on a scale unlike the Kinship Network ministries (Horizons International and Ananias House) in bringing food, clean water, clothes and safe spaces to refugees. While Horizons and Ananias live out Matthew 28 (the Great Commission of making disciples and teaching), World Vision lives out Matthew 25 (feeding the least of these).
We at Asbury are taking both approaches by connecting with both Kinship Network and World Vision, enabling our ministry work for the Syrian refugees to be deep and wide: deep (as the Kinship allows us to go deep relationally) and wide (as World Vision's scale is massive and allows us to meet the physical needs of a hurting village the size of our state).
They carry the keys to their homes in their pockets. I remember when Jon Odom said those words in service on a Sunday morning in our own Tulsa - a commonality of connection. Yet, the enormity of this mission's task calls to us. We want physical peace and healing for Syrians, those displaced and those who have remained – but Global Missions works to bring an everlasting peace, a forever refuge, and the promise of eternal hope. Yes, we want our Syrian neighbors to take their keys to enter their homes – and as we prepare to serve their physical needs until peace returns to their nation, Jim Davis and the Asbury Global Missions team will work prayerfully, diligently and strategically to offer them keys to a greater kingdom.
---