Meet the New Director of Children's Ministry
By Shantel Nelson Tidings July 2016
---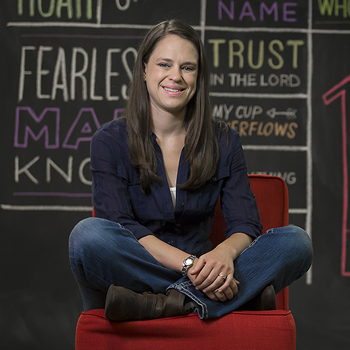 Asbury Children's Ministry is beginning a new time with a new director. Marsha Baker is returning to Asbury after having served as the director of an orphanage in Africa alongside her husband Bobby. Some Asburians may remember Marsha when she was in student ministries. But this new role is a great match to the desires of her heart, and she is excited to be back.
"They are the beat of my heart, the pulse in my veins and the energy of my soul. They are children," said an unknown author. This is the same passion that burns in the heart of Houston native, Marsha Baker, for children everywhere. She accepted Jesus Christ as her Savior at 12 years old during a puppet show at the Methodist church she attended; she never fathomed the journey the Lord had in store for her. During her high school years, the Lord planted a deep passion in her heart for children, youth and orphans. While Marsha attended college, she was the babysitter for the children of the couple that started Bless the Children Ministries (BTCM). As the years progressed and college came to a close, she lost contact with this couple. In 2004, Marsha met her future husband Bobby Baker. He was helping with worship, but they did not really begin getting to know each other until they were leaders for the Asbury Junior High Disciple Camp of June 2005. As time progressed, the relationship of Marsha and Bobby developed, and they became husband and wife July 22, 2006, in the Asbury Chapel. They worked at Asbury together with the youth for several years and always felt a mandate to minister together in some capacity. Little did they know a new adventure was right around the corner!
One particular day there was a divine connection; Marsha ran into that same couple she provided child care services for while in college. She had not seen them in a couple of years, but they asked her to assist them with Bless the Children Ministries. The adventure began! Marsha and Bobby started volunteering with them in 2009 by assembling folders for them at their kitchen table. As Zechariah 4:10 says, "Do not despise these small beginnings, for the Lord rejoices to see the work begin." They started traveling to Uganda in 2010 assisting wherever necessary. Initially, Bobby did not want to go to Africa (it is amazing how hearts change when God is involved), but once he started going and serving, his love grew for the Ugandan people, especially the children.
By this time, Marsha had served as junior high youth associate at Asbury for nearly 10 years. But now the Lord was calling them to be the directors of Bless the Children Ministries (BTCM), an orphan sponsorship ministry in Uganda. They never suspected the Lord would take them to a world where so many children lacked the very basics in life: food, clean water, medicine, shelter, safety and a bed of their own. Their mission was to meet the spiritual, physical and emotional needs of orphaned and vulnerable children while bringing them the hope of Jesus. This is the mission they carried within their hearts as they served tirelessly in Uganda. During the past 3-1/2 years, they spent 21 months there. Since the ministry is a sponsorship program, the couple served three months in Uganda and then would come back to the United States to fundraise for a three-month period. During their back-and-forth trips to Uganda, they have hosted eight teams, 17 interns, graduated 20 children and added 175-plus children to the Bless the Children Ministries family.
While serving in Uganda, they were stretched beyond their abilities and pushed out of their comforts zones. Their faith and trust in the Lord grew by leaps and bounds. They learned to survive with limited power and ice-cold shower water. They acquired a taste for matooke, barcora, ground nut sauce, fried chapatti, African tea and jackfruit. They witnessed healings, numerous children accepting Jesus as their Savior and many Ugandans having life-changing "aha" God moments. It was such a joy for them to have several of the Asbury youth come on teams and be able to watch them pour their hearts out to minister to the Ugandan people.
While serving as the directors, Marsha and Bobby's job primarily focused on raising children, and developing families and discipleship. The deeper they went into ministering in these areas, the more alive their hearts became. They were honored to be a part of such a life-changing ministry and watch the children grow closer to the Lord. On several occasions, Marsha took some intentional time to go through the scriptures with four girls, ages 10, 12, 15 and 17. In the words of Rick Warren, "Sometimes you don't know God is what you need….until you know that God is all you've got." To these girls, God was all they had, and they devoured His Word. Marsha said, "I would read them one piece of scripture, and they interpreted it in their second language which was English, and we all shared how that particular scripture applied to each of our lives. It was incredible to hear, especially from the young ones, how they could interpret the scripture and hear the Holy Spirit in their lives. So many nights they were teaching me.
"God often speaks through children, and when we can slow down and listen, we can learn so much from them. As part of Asbury's Children Ministry, I hope to help encourage and empower staff, parents, and volunteers to have more moments like these with their own children."
Out of the fruits of their labor, the summer of 2013, they meet a 10-month-old girl name Zelda who weighed only 10 pounds. Marsha said, "We fell in love with this little girl. I noticed she had a condition with her eyes, so she remained with us for two weeks as we located proper medical assistance for her. It was during this time that I felt the Lord calling us to be her forever family. In February 2014, my husband and I became the official parents of little Zelda. She is incredible, loves to travel, adjusted very well and her English is great."
Early in 2016, BTCM took a big step and changed to a new location. Marsha and Bobby said it became increasingly clear that the Lord was making a change in their family to transition out of full-time missions. It was a very difficult and heart-wrenching decision, but they knew it was the right one for their family.
Now the Lord has opened another door for Marsha to become the team leader in the children's ministry here at Asbury. She is thrilled to be given this honor and to partner with parents to disciple their children, encouraging entire families to follow Jesus. In the words of Lisa Wingate, "Your children are the greatest gift God will give you and their souls the heaviest responsibility He will place in your hands. Take time with them; teach them to have faith in God. Be a person in whom they can have faith. When you are old, nothing else you've done will have mattered as much."
And in Luke 2:40, "And the child grew and waxed strong in Spirit, filled with wisdom, and the grace of God was upon him." Remember God speaks to those who take time to listen, and He listens to those who take time to pray. Marsha is excited to come back home to Asbury with an ignited passion to serve and help children grow in their personal walk with the Lord.
---