Obedience... and Toys!
By Erika Elijah Tidings April 2017
---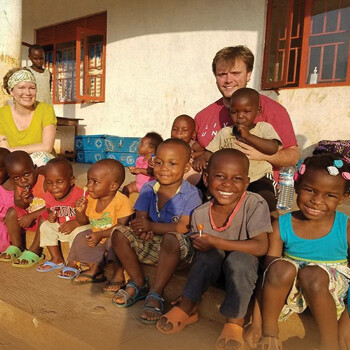 Don't wait to be better qualified. Just start. Confess. Pray. Read your Bible. Reflect. Repeat. Jesus does the perfect part. Last August, a Bible verse and a Facebook post drastically changed the course of my year.
Isaiah 6:8 says, "Then I heard the voice of the Lord saying, 'Whom shall I send? And who will go for us?' And I said, 'Here am I. Send me!'" That was the daily scripture reading for the sermon journal. Wow, what a verse! I said a quick prayer. And then scrolled Facebook before I needed to get back to the day.
I see a post from Marsha Baker. "Any stay-at-home or homeschool moms or families have a daytime open that Hedwig and Allan could spend with your family?" Hmmm, that's ME. Oh, I don't know. Spend a day with people I don't know? That could be really awkward. What the heck would we talk about? But I'm exactly who Marsha is appealing to. That verse kept popping up in my head. A week later I was picking up Hedwig Mbaziira.
Hedwig is the Ugandan director at Bless the Children Ministries (BTCM) Home in Mabaale, Uganda, which provides a loving home and education to orphaned children. They also run a sponsorship program, similar to Compassion, to reach needy children and families in the local village. As we talked and I got to know more about BTCM, a simple question popped into my head. "What do you need on a daily basis?" Hedwig replied, "Toys; the littlest children we care for have very few toys."
Immediately my mind kicked into gear. Every family I know here in Tulsa has a least one room full of toys, including me. Surely, we could pool our toys and send them some awesome stuff.
Guess who came to speak at Asbury the next day? Bob Goff. I'd actually read his book several months earlier. Talk about a guy whose excitement for being the hands and feet of Jesus to others is SO contagious. Oh, and he's the Ugandan diplomat TO the United States. Read his book. WHAT?!? So, I had NEVER met anyone from Uganda. In two days, I meet two people who LOVE Jesus and are working to do good things in His name in Uganda. I hear you, God. I went up and talked to him. I never need to meet a movie star; I met Bob Goff. He's kinda crazy and put his cell phone number in the back of his book. So, I was crazy and called him three times to bounce off logistics and ideas for this project. He answered each time. He told me I would have to GO with the toys to ensure they made it. Uh, OK. Gulp.
It just so happened, Marsha and Bobby Baker were leading a small mission team in December. Hey, guys, uh, count me in! I was a mission trip virgin, though I had some summer camp counselor experience (nervous chuckle).
Facebook page. Flyer printed. Conversations with Pastor Gloria and Jim Davis. Get a call from Beth Groombridge. Choir wants to support me! An anonymous donor. Choir members connect me with the local Rotary Club. A Volunteer in Mission from Asbury provides a scholarship. And friends kept coming forward with toys or monetary donations.
I am a listener; don't make me talk. I am a thinker and a reflector. And have believed the lies that no one cares what I have to say, that I'm not qualified, or I'll sound dumb. Earlier in the year at the women's conference, IF Gathering, I'd felt God's prompting to commit to "speak up." That was the personal goal I gave to God for 2016. I want to crack up laughing every time I reflect on this particular moment because God already knew what was in store for the rest of the year.
Raising awareness for a project involves public speaking. Typically, I would feel myself go red like a thermometer. But each time I spoke, I felt peace, calm and excited to share this toy need.
Several times, in quiet moments, anxiety and nervousness would overwhelm me. Will this all come together? I've never done anything like this. Several times I was literally on my face praying that God would bring what was needed.
By early December I had PLENTY of wonderful, good quality, educational and fun preschool toys, just the kind we want to see in the preschool classrooms where we send OUR kids. By my goal date of December 15, I was fully funded to make my trip. Tulsa even raised ALL the extra cash to be able to purchase tricycles, scooters, more art supplies and soccer balls once we arrived. Tulsa friends and even several from out of state helped me bring our best to these children. After two trips to Tulsa airport to make sure the trunks and I would not be turned away (that's a LOT of extra luggage) and several phone calls, Delta waived baggage fees for eight of my ten trunks of toys. I was jumping up and down! I was 90 percent sure all my toy trunks would get checked in when I showed up December 29.
Can I get a deep exhale? That early morning, all the luggage was checked in, all the way thru. And THEN, It ALL arrived with us late in the evening in Entebbe, Uganda. Every single trunk. Nothing missing. No damage. No customs issues. That was totally a miracle. Jesus was serious about these kids getting their toys.
But wait there's more. The seven-hour van ride from the capital to Mabaale was without incident. It was a ride like Mario Cart Brothers in real life. I get motion sickness on carousels, people. But I was fine the whole way and not a nervous wreck. That had to be Jesus…again.
We were on campus two days at BTCM Home before we brought out the toys. It was obvious that these children had NEVER seen any toys even close to what they were about to get. It was Christmas morning times 1000. To see them just dig right in--observing, trying, wondering, figuring out, pretending. Their HUGE smiles. Jesus has had his eye on these forgotten, abandoned, orphaned children. He had already moved in the lives of the adults to love and care for these children. Through them, these children have a safe place where they can heal, grow, love and learn. Not only has HE provided the necessities, He saw fit to move us to bring them the extravagance of toys. Don't we lavish our children here with everything we can?! As their Heavenly Father, He is not at all dismissing their need for joy.
Every day now, the preschoolers have playtime with toys. It has significantly enriched their daily lives. They loved the children's books that came along, too. Another amazing thing: The older children started reading the books to the little ones!! Win. Win. That was so special to witness because that had not even occurred to me.
You know how God helped calm my nerves for speaking to large groups about this project? He had further plans for my speaking. Tagging along on this small mission trip, I was the "toy lady." My main focus was just get there, with the toys. This toy project was juggled with mothering my 2nd grader, Andrew, and my preschooler, Nora. I homeschool my son, and ALL the major holidays happened. I knew our team was hosting a VBS in Uganda for the younger kids and a youth conference for teens (including kids who lived off campus). I knew I just didn't have much time to think about that part till much closer to the trip. A week out, Marsha asked me, "Can you do the sex and healthy relationships talk with the teen girls at the orphanage?" I laughed at God's sense of humor and said sure. Thankfully, I had some resources to pull from. And Hedwig tag-teamed this talk with me. The key counter-cultural message many of these girls need to hear is that they are allowed to say NO. Girls are not being disrespectful saying "no" to an older male relative or friend. In fact, the male is taking advantage of them and disrespecting her. My talk was 45 minutes with Hedwig interpreting and adding anecdotal stories of her own.
What parent doesn't feel super nervous or struggle with inadequacy in talking to our own kids about this? Was my talk perfect? Probably not. God still used it.
Two days later during playtime with the preschoolers and the toys, a 14-year old girl came up to me needing to talk. "Please, because of what you said and talked about, my stepfather his hurting me. I don't want to go home, and I need help." The Holy Spirit used my imperfect words. He gave me courage to speak about this important topic. And that gave her courage to speak up and get help.
She lives on campus now. Hedwig arranged counseling. Her stepfather is in jail. I want to cry when I realize again what God did there. Saying goodbye was heart-wrenching. All the teen girls in my room hold a special place in my heart.
Our family had just started sponsoring an 8-year old girl. I got to spend several days with her. When she met me, she was dazed. She had just recovered from malaria, and her last remaining adult relative could no longer take care of her. She's one of seven young children. She now lives on campus, too. It's sobering and gut-wrenching to see a child, the same age as mine, and hear what their young life has already weathered. By the end, she was much happier and adjusting and getting to know her new sisters.
These orphans KNOW who their Heavenly Father is. It shines from their faces. Luke 18:16 "But Jesus called the children to him and said, 'Let the little children come to me, and do not hinder them, for the kingdom of God belongs to such as these.'" Yes, it BELONGS to them, absolutely. I've witnessed, first-hand, what that verse means.
Please keep BTCM home in your prayers. There are ALWAYS more children coming, and every single one of them needs help. This is a home that nurtures in the love of Jesus and prepares them for a bright future with an education. Children are supported through vocational school or university. That is what breaks the cycle of poverty. Literally they are emancipated from a life of day-to-day survival. Because: Matthew 4:4: "Jesus answered, 'It is written: man shall not live on bread alone, but on every word that comes from the mouth of God.'"
When you can only be worried about your next meal, you cannot learn and think. You are only hungry and weary. Read Psalm 23 again for His promises.
---