Our Journey through Grief after the Death of Two Family Members
By Chris and Michael Eldridge Tidings March 2016
---
(As told to Charlene Giles)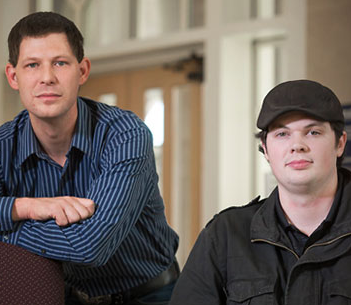 (Chris) When I picked up the phone that evening, I had no idea my world was about to change forever. The date was May 7, 1994. I was only 15 and home alone when I received word that my 17-year-old brother, Mark, had been in a car accident. Within 24 hours, he was gone. It was more than I could absorb, and for months I withdrew and pulled into myself in grief. People in the Asbury youth group loved Mark, and they loved me too. Mark was known for living life fully and for making great music. They even put his guitar up on the wall of the (old building) Asbury Breakaway room in memory of him, and as a reminder to teens that life is fragile. The leaders reached out to me, but I wasn't able to respond much. I really appreciated how they didn't give up and kept on caring about me. One thing that finally helped me begin to come out of my shell was when I tried to focus on remembering the good times I'd had with Mark.
(Michael) I was only 5 when Mark died, and the two of us didn't have the close relationship that Chris and Mark had, mostly because of our age difference. I think it is very important to remember that each relationship is different, so we shouldn't judge others for grieving in their own unique way, based on their level of connection and their own personalities. I believe that even young children grieve, but sometimes adults forget that. It helped me so much that my mom and others told me all about what had happened, even the hard parts. I felt included. We are very blessed that when our family goes through terrible times, we always draw closer together for support rather than splitting apart, like I've seen happen in some families.
(Chris) Another Asbury member, Nancy Montee, went through the death of her husband, Alan, at a young age; and in honor of their children, Megan and Alex, Nancy began a Bear Bag ministry to support children during their times of grief. Our family was asked to put together a coloring book to be included in the bag along with crayons. My brother, Ryan, and I still remember coming up with ideas for that coloring book, though I know it has been revised since then. It meant a lot to our family to honor Mark that way. (Editor's note: Bear Bags are still available at the south Guest Services desk for anyone who wants to give one to a child who has been through the death of someone they love.)
(Michael) Our dad, Richard, died on December 13, 2011, after complications from many years of fighting leukemia. We actually thought several times we might lose him, but he kept on rallying. At the time, I didn't truly appreciate how hard those years must have been for him, but now that I have gone through over three years of life-changing symptoms due to a malformation in my brain, I admire him even more.
(Chris) When Dad died, I had a wife, two children, and a full time job. I was so busy that I didn't have time to focus on grieving. I was glad the church family showed so much support. People were always bringing food and coming by to see Mom. One of my hardest times without Dad was the first time I went by the Asbury room where he'd taught his Sunday school class for over 30 years. It almost felt like I might see him standing there! There are still times when I hear certain music, or watch an exciting sports event when I think, "I sure wish he could be here!"
(Michael) When I finally went to GriefShare a few years after Dad died, I really liked one of the exercises in the book that is a checklist of common symptoms of grief.
I learned how we each grieve differently, and how grief affects our whole being: body, mind, emotions and spirit. GriefShare also helped me learn that we never get over the death of a person we love, but we do get to the point where we are able to move on with life. I'm getting married in April, and it really makes me sad that Dad can't be there. But I know Dad would be glad I am continuing to live.
(Chris) The first time I attended GriefShare was with my wife, Mandy, who was grieving the loss of her mother. It was really helpful to watch videos showing several different people talking about their lives and what helped them process their grief. Later, I went through again, and have also attended Beyond GriefShare. It made me feel more normal to find out I wasn't the only one who had times when I hardly knew which direction was up.
(Michael) My dad was known for his deep faith, but I had a sort of crisis of faith when he died. I knew Dad was in heaven, but, for a while, I lost sight of my heartfelt connection with God. I needed to go back to my basic beliefs, and I have, but it took me some time to work through all the questions I had. I learned that it's OK to express all our feelings to God, not just the positive ones.
(Chris) One thing that helps me continue healing is when I can be encouraging and comforting to others. I know from my own experience that it is important never to be too pushy, but also not to quit trying to connect.
(Michael) It sort of surprised me how helpful GriefShare was. I think that, in our society, men are encouraged to just move along and not dwell on death. Maybe young men are especially in a hurry to leave the sadness behind. But grief is one of those things that doesn't go away until we process it. I'd encourage men of all ages to give GriefShare a try. Whether we like it or not, grief is a part of life, and we can all benefit from learning how to grow through the process.
---