"Overlap"
By Caroline Smallwood Tidings July 2016
---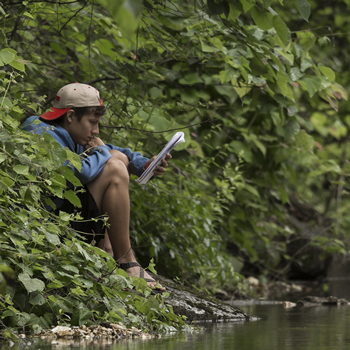 The rain poured down while we floated the Illinois River. We laughed hysterically as our friends slid into second base at kiddie pool kickball. Small group discussions grew deep, especially after learning about authentic community. These are just some of the memories that have come from the first year of our new summer camp, Overlap.
This is the first year Asbury Student Ministry has done a summer camp all alone with 6th through 12th grades. On May 31, all of the leaders went to Camp Egan to prepare for the students. Each student was prayed for by name, the whole campground was covered in a prayer walk, and of course, leaders bonded through Mad Gab and Phase 10. The next afternoon, the students arrived, and God began moving immediately. On the first night, our speaker, Matt Porter, talked about being aligned with God and realigning if necessary. Students and leaders alike were suddenly ready to surrender whatever was in the way of a strong relationship with Him. Confessions, praises and prayers filled the tabernacle as we responded to the call to realign. This was only the beginning of God's power that week.
Sermons were not the only avenue God used to speak to us. In recreation, through the worship band, even in the mud pit during free time, God was glorified, and He sure made Himself known. There is story after story of students and leaders being healed by God's presence and love.
We learned at camp that our stories are for God's glory and being authentic helps build the church. So, the following students were excited to share their story about Overlap 2016.
Ashli, a 10th grader, experienced God's healing when she was able to pray with her younger brother and talk to him about the Lord. God used her to lead him in his faith. God used her to encourage him to keep pursuing. God used her to disciple him. But, God also discipled Ashli this week. When she wasn't talking with her brother, she was busy confiding in her friends and leader. She was able to listen to their godly counsel and experience His love through them. She was being filled as she poured out to her brother. God is cool like that. He fills us and empties us, and it is all for His glory. I have already received a text from Ashli, since we have been home, about using her newfound power to demand that the devil get away from her and be filled with the Holy Spirit instead. Camp is not just a one-week experience; it is a training for this spiritual race that will last a lifetime.
Again, a relationship between siblings was mended when a 9th grade boy and a 7th grade boy were able to cry together and praise God together. These brothers decided to let their walls down and begin confiding in each other at home. They have made a pact to encourage each other in their faith. This began when the older brother prayed for the younger brother before he shared his testimony with the entire camp. Healing, boldness, unity and love were all displayed between these two young boys because they let God take over. Again, camp is not just a week to have fun and play, but a time and place for God to move in ways that will impact us forever.
Lastly, God spoke in such a unique way to one of our 7th grade students, Cora. At camp, we put a lot of importance on sharing testimony, which we all know can be terrifying. Cora took courage and decided to write hers out and consider sharing it with the camp. As she began to work out her story on paper, her nerves rose and the lies got louder. Surely a 7th grade girl couldn't make a difference by telling her testimony. Surely her age should hold her back from doing anything life-changing. Just as she was starting to listen to these discouraging lies, would you believe that a Dove chocolate wrapper fell from the top of her bunk bed? (Let's be honest, it is a common occurrence at camp.) It read, "Be proud of your age."
Right then Cora knew she had to share her testimony and stop listening to the lies about being too young. That night she told all of the middle schoolers what happened and encouraged them to be proud of their stage of life. Coming home, Cora is determined to "not let anyone look down on her because she is young but set an example for other believers in speech, in life, in love, in faith, and in unity." 1 Timothy 4:12. God changed this middle schooler's mindset via a chocolate wrapper. Praise God for His uniqueness.
One thing about writing articles is that you get to put your two cents in whenever you want, so now I get to share my perspective of Overlap 2016. God can do anything. Nothing is impossible with Him. He equips us for that to which He calls us. He gives us the Spirit without limit and works through us. These were all truths that I knew before camp this summer, but they have never been more tangible than this past week. I saw high schoolers ministering to middle schoolers, leaders having the perfect words for students they have never met, energy that is not natural for such a small amount of sleep, and laughs coming from students who have all the reason to be void of joy.
God came in this past week and completely took over camp. He did it in a personal way and in a corporate way. He transformed and healed hearts that have been lost and broken. He led students to boldly share their stories and ask questions to leaders and peers. He gave confidence and a feeling of belonging to students who would previously describe themselves as not good enough or an outcast. He also reminded leaders that when they are willing to serve, He will equip them with what they need.
But not only did He heal and transform individuals, He made Himself known to the youth group as a whole. Grades and ages were no longer segregated, but interacted with love and acceptance. Students raised their hands and said "me too" when peers shared their struggles. Groups of people heard messages from God about projects to start once they arrived home. At the end of the week, we all knew our identity as a son or daughter of God and as a brother or sister of each other.
We say that camp is where heaven and earth overlap, and this past week could not have proven that to be any truer. Thank you, Heavenly Father, for letting your kingdom come.
---