"Perceptions" for All Generations
By Gini McFarland Tidings April 2017
---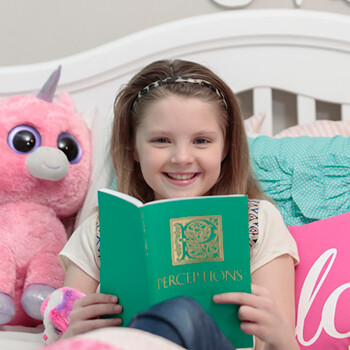 When I asked my daughter, Presley what she liked about the "Perceptions®" book, she said she liked that each page is a different story with each a different meaning. Some of Presley's favorite stories are "Ruby Bridges Hall" and "Despicable Me."
When I asked her about "Ruby Bridges Hall," she said she liked it because it is very powerful and "it touches my heart." She also liked that at the end, it seems as if Paul wrote Colossians 4:2-6 with Ruby and her mother in mind. In the Living Bible, it reads: Don't be weary in prayer; keep at it; watch for God's answers, and remember to be thankful when they come. Don't forget to pray for us too, that God will give us many chances to preach the Good News of Christ for which I am here in jail. Pray that I will be bold enough to tell it freely and fully and make it plain, as, of course, I should.
Make the most of your chances to tell others the Good News. Be wise in all your contacts with them. Let your conversation be gracious as well as sensible, for then you will have the right answer for everyone.
When I asked her about "Despicable Me" and why it was a favorite story, she commented that it's one of her favorite movies and she liked the fact that Mr. Gru made such a turnaround in himself.
"Josh's Error" is another favorite, possibly because it was written about her dad. The story, in one of the early "Perception" books, was one he had shared with Pastor Tom. Basically, Josh made three errors in the first inning of a college baseball game against No. 1 Nebraska and got pulled from the inning. Presley likes it because it was written about her dad, but mostly because it talked about him making mistakes!
Sometimes Presley brings her "Perceptions®" book to school and reads it when she has free time. She talks to her friends about the stories in the book.
As a mom, it makes me feel good that Presley and her friends are interested in real-life stories with a message that, hopefully, makes them better kids but also gives them a different perspective should they ever be in a similar situation. I especially like that Presley is not afraid to spread the Word at school with her friends and is confident in her love for Jesus.
My husband and I read "Perceptions®" as well, and we also give one to my dad every year for Christmas, too. Our love for "Perceptions®" must run in the family.
I remember before I was a member at Asbury, I would hear Tom on the radio every morning as I drove to work. I looked forward to hearing his voice and always got a laugh or shed a tear! It got my day started!
Listen to Tom Harrison's "Perceptions®" at the following times each weekday:
K-95.5 KWEN 7:43 am
Mix 96.5 KRAV 7:45 am
97.5 KMOD 7:55 am
98.5 KVOO 7:45- 7:55 am
104.5 KMYZ 7:47 am
101.5 KTBT 7:40-7:45 am
---