Student Ministry is Joinging the Discipleship Pathway!
By Katelyn Moore Tidings July 2016
---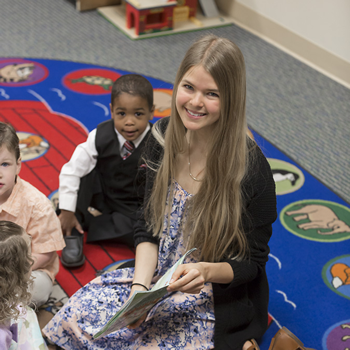 On May 25, our student ministry held a very informative meeting for parents and students to discuss some changes that are coming up in our programming structure. Senior Pastor Tom Harrison and Caroline Smallwood, junior high associate, began the meeting by sharing the heart behind our ministry and their excitement over what's to come.
We LOVE your students. We are so grateful to play a role in their walk with Christ. Our driving passion as a community here at Asbury is HELPING OTHERS FOLLOW JESUS. Everything we do is designed to teach, enable and encourage your students to be followers of Jesus Christ, because we believe following Jesus is the key to life. That is why everything we do – in every ministry and for every age group – must be focused on helping others follow Jesus. Following Him provides direction in our lives, it gives meaning, heals the hurting and secures our salvation and eternity with God in Heaven.
Research has shown that three out of four students who were actively involved in student ministry in high school are leaving the faith for at least a year in college. Many of them aren't coming back. In our setting, we believe that one major factor is the lack of integration of our student ministry into the larger congregation of our church.
It both saddens and frustrates us to see our students graduating from high school, only to realize they feel like they have graduated from everything they've known about church, as well. However, this is the state of student ministry all over the country. When we program our teenagers out of the body of the church and then they graduate from the student ministry, they no longer know where they belong.
Research has also shown that students are twice as likely to retain a lasting faith in Christ if they have had an adult who is emotionally and spiritually involved in their lives who is not a parent or youth pastor. We are already doing this very well through small group leaders, Spring Break Missions leaders and Overlap summer camp leaders. We are so grateful for the adults who get involved on that level.
We treasure and admire the many strong believers here at Asbury, in all generations and in all walks of life, and we think our students are missing out on this weekly aspect of our church family during a critical phase of their spiritual development. They are searching for belonging, asking the hard questions and deciding what they believe to be true about God and His Church. Our desire is to harness this phase and bring them into the fold of our community, so that we might all learn from one another and grow together as more committed followers of Christ.
It took a lot of meetings, prayers and constant reevaluation and a willingness to open our hearts to make these changes. We are thrilled to announce that the high school students will help launch the Learn2Serve2 on September 4. We will fully integrate into the life of the church on Sunday mornings by signing up to join in Learn2 courses as well as Serve2 teams.
Learn2 courses will include at least three options taught by Josh Coats, Katelyn Moore and David Read, so there will be familiar faces. Serve2 opportunities will include volunteering in middle-school programming, Sunday morning hosting, children's ministry and many more.
We recognize this will be one less chance for total group interaction for our high school students during the week. To make up for that, on Sunday nights at 6 pm we will begin small group programming by meeting together as one group in the Community Life Center (CLC). Small groups will then meet on their own from 6:30-7:30 pm as we have done in the past. This will also begin in September.
Our middle school program is excited for the influx of Serve2 leaders and high school leaders on Sunday mornings. We will continue to offer Sunday morning programming for 6th, 7th and 8th grade students from 9:15-10:30 am for the 2016-2017 school year.
Beginning fall 2017, we will now be offering confirmation for students in the 8th grade. Confirmation classes will also make a move to Sunday mornings and will include 8th grade students as well as their parents. Because our most recent confirmands are now in the 8th grade, we will not have a confirmation class this year.
Our Sunday morning programming beginning fall 2017 will look like this:
6th and 7th grade: Continuous programming in the Venue
8th grade: Confirmation or Learn2Serve2 schedule (main building)
9th-12th grade: Learn2Serve2 (main building)
Thank you for your support as we continue to improve our student ministry programs and practice to cultivate a firm and lasting faith in our students. Our goals and purposes remain the same, as will the rest of our programming. It's our joy to serve our church in this way.
---