Thankful to be Part of God's Village
By Brooke Condry Tidings March 2016
---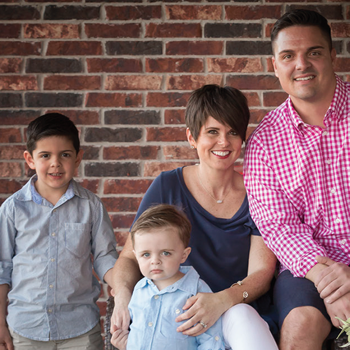 I grew up in a small town in the Texas Panhandle where I attended a small United Methodist Church. My pastor was my dear friend's father, the organist the grandmother of a classmate. We all knew one another; we were all family.
After graduating from Oklahoma State in 2005, I made my home in Tulsa. Finding a church home was important, and Asbury was my first church to visit. I instantly felt at home. Everyone was so kind and welcoming. I knew this was where I belonged. Two years later, I married Michael, and we became members at Asbury. In 2010, we welcomed our first son. I remember vividly his first day in the nursery of Asbury's Children's Ministry. Ms. Julie Karpio was so sweet to reassure us that Carter was in GREAT, loving hands. Of course, he was and has been for the last six years.
Carter's little brother, Colin, was born in 2013. By then I had come to love and trust many members of the children's ministry and knew we were loved in return. Again Ms. Julie welcomed our newest addition with much love.
As a parent, it brings great joy to see my boys excited for "church day." Their spiritual growth at such young ages amazes me. Colin (2) singing songs from "big group," complete with hand motions. Carter (5 1/2) retelling Bible stories, happy to fellowship with his friends each Sunday, and excited to participate in mission projects. He is always eager to lead us in prayer. When we discuss a difficult situation at home, it is almost always Carter who suggests we stop and pray right away.
Ms. Candice Whitehead has played a HUGE role in Carter's love of the church. No Sunday is complete without a hug from his favorite teacher. Ms. Allison Kent has really helped Colin come out of his shell and feel more comfortable leaving Michael and I. Allison has helped him feel safe and loved. We leave our children, knowing they are in a secure and nurturing environment. All the volunteers have been kind, caring and patient. As they welcome us each Sunday and call our sons by name, it is obvious they are happy to be there and care about our little ones.
They say it takes a village to raise your children. As a mother of two and our third on the way, I believe this is true. We are thankful and feel blessed that Asbury is a part of our village. We appreciate the love, support and spiritual growth we know will continue for years to come.
Children are my passion, so serving as a volunteer has truly been a blessing to me. As a former educator, I know the importance of investing time in our youth. Being able to teach our children about God's love, grace and forgiveness fills my heart with joy. This is an important job, but one that isn't hard to do. Our children only need us to love them, show them God's love and lead them in a way our Heavenly Father would.
Having the opportunity to watch the future of our church learn about God's love and share it with one another is a gift. I invite those who are able to share God's love with our future. I am certain these children will be a blessing to your life, and you will bless those around you.
How do I get involved? How do I sign up?
Marsha Baker will be able to answer questions, give a tour and sign you up for the August 2016-August 2017 school year. Volunteer form

Contact Marsha Baker, children's ministry coordinator, at 918.392.1127 or for questions.
---