Triumph of God's Mercy and Grace
By Sallye Nail Tidings February 2017
---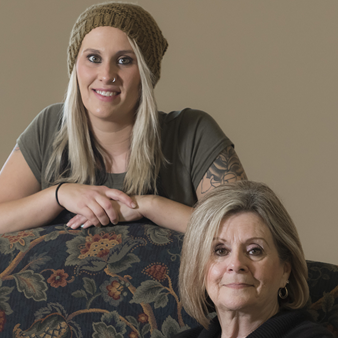 To give all of the details of the 10-plus years that our family lived in a wretched hell created by the chaos of drug addiction would certainly take a book, which I may someday write, but here I will share just some of our story.
There is a most beautiful young woman with blond hair and brown eyes who has a heart overflowing with love and respect for her family. She cares about and has the softest heart for babies, children, old people and animals. In 2011, our daughter, Lindsay, lost a sweet baby boy, Roman, to a rare disease called biliary atresia. He had a liver transplant at the age of seven months, and before leaving the hospital at 10 months, he died from an infection contracted in the hospital. She doesn't want to talk about that time. We all loved him beyond belief, and the loss was dreadful. I thought I would not live through that pain that tore my heart and my soul, but there would be more pain to come, so much more.
Her dad and I were married in the little chapel at Asbury on Sheridan 30 years ago this coming May 15. A year and a half later, we had this precious baby girl. She was "spirited" as some would say about her even when she was very young. We have always attended Asbury, and we brought her to Sunday school most every week. She went on mission trips, first in Tulsa, then to Houston, Mexico and Kentucky. She was a cheerleader for several years at Union and very "popular." We thought we were raising her right – in the church, in a good school, and with lots of love. In the 6th grade, her teachers gathered in a circle and told me they believed she was ADHD. We had her tested, and she was put on medication.
As time went on, her behavior often would be troubling, and we took her out of Union for a year after she got in trouble in 9th grade Spanish class and was sent to the office. The principal called me in and said she had a note on her and it had to do with drugs. He asked where I thought she might be getting drugs. What? I was not believing what I was hearing. We took her out of Union, and she went to Victory Christian School and cheered there, but things were certainly not any better there. There was still turmoil. When she came back to Union, we put her in the alternative school because we thought she would have fewer distractions with smaller class sizes. There she met a girl who seemed quiet and nice. She would go home after school with this girl on occasion; then it became more often. I met the girl's mother. I knew where they lived. Then I began to get very bad feelings about the situation. Our daughter finally told me that that mother did meth and had allowed her daughter and my daughter to do meth at their house. She was sorry. We were devastated. It was like a grotesque nightmare. This drug began dragging her into a dark, dark place. She would go off for days and not come home. She would call, but we had no idea where she really was.
We decided to send her away to a wilderness rehabilitation program in Utah. She was gone for three months. We missed her very much, but at least we felt like she was safe there. When we went to Utah to get her, she was so beautiful. She was tan, her hair bleached from the sun, and she had gained weight back that she had lost while on meth because they ate a carb-loaded diet to give them the energy and strength to hike for miles a day, make camps, and put up tents, etc. She was also dirty from living in the wilderness. But she had never looked so beautiful to us. We brought her home with hope in our hearts. Two days after coming home, she climbed out her window, and the nightmare continued.
She would come home and then go out and be gone for days. We would find out now and then where she was by doing our own investigating. We would go to a house and literally drag her out and bring her home. She would be high on something, and she would scream and cry and try to jump out of the car. We couldn't tie her down at the house, so she would find a way to leave again. This went on and on.
I helped her and encouraged her with an online senior year program so that she could graduate from high school. I had to quit my teaching job at Union High School because of the stress; there was no way I could do that intense job that required day and night work and dealing with other people's children knowing my daughter was going in such a sad direction. We took her to a rehabilitation center in southeast Oklahoma. She gave away all her things, walked out of there, met strangers and lived with them for months. We were very afraid. We drove there looking for her, but to no avail. She finally called and asked us to come get her. She was thin and looked tired, and we knew drugs had taken a toll on her.
She would be home some and gone a lot. We then found out she was doing opiates. Opiates are everywhere, but they are expensive. People who are sick with cancer or other illnesses will sell them to those who are addicted. And she had become addicted. Because of the cost of opiates, this led to shooting up heroin because it is less expensive, and we realized we must certainly be in hell. Four out of five heroin users were first addicted to opiates. You see stories on the news or on TV shows about heroin and the terrible epidemic that is growing in our country, but we never dreamed our child would or could be living in that very world. We felt like we were fighting some evil, dark entity.
Things were out of control. We went to one Al-Anon meeting. They told us to lock her out the next time she came home. Tough love. We absolutely would not do that. That was not an option for us. She would come home for a day or two at a time. We would think maybe she's going to stay this time and turn her life around.
She would tell us how much she loved us and that she hated what she was doing to us, but she couldn't stop. She would get money from us – she would steal from us (computers, laptops, phones, cameras, jewelry, lawn equipment, and the list goes on). The police were called more than once, and we were called by the police more than once. She took our cars without our permission. At least two were wrecked; one was stolen. We were called to the emergency room several times. We knew that something had to be done, or she would surely die.
One awful day, she had been at the mall terribly impaired, so the police were called. When we arrived and walked into the emergency room where she was, she was in a terrible state. Her face was bruised and bloody, a front tooth had been broken from her falling flat on her face while her hands and feet were cuffed, and she was handcuffed to the bed. Blood was dripping down the side of the bed because the handcuffs had cut into her wrists. The police had pepper sprayed her, so when we got her home and I got her in the shower, she was screaming because the pepper spray was coming off of her hair and into her eyes. When all of this was done, I put her in bed and laid beside her and held her as tight as I could, crying with my heart in pieces. Even now I shudder and want to cry thinking of her falling on her face and screaming because the pepper spray burned her eyes. This was my little girl.
Another time in a hospital room, I was sitting beside her bed. She was being given a medication to counteract the drugs she had done, so she was quiet and still. She looked up and stared at the wall where a crucifix hung with Jesus on the cross. She quietly and seriously said, "He's moving." I told her yes, I was sure He was moving because He was hurting because of what she was doing to herself after He paid such a price for her.
We loved her with all of our hearts, and we would never give up on her. In one horrific scene with her screaming and crying, her hair messed up, and black eye makeup all around her eyes, her dad was trying to hold her down so that she would not leave, and he screamed at her, "I am NOT going to let the devil have you – I am NOT!!!!" That was one of many dreadful scenes. We simply could not believe that we were actually in the middle of this bad, bad dream or that we or she would survive it.
For some time, she went to a methadone clinic – where they give patients methadone to try to help them with opioid addiction. That is just another addiction that they have to withdraw from. Around this time, she met a young man, Tyler, and they fell in love. With them both on drugs, their relationship was volatile at times. Later she had her beautiful baby daughter, Sadie. After a bit, I had to make the difficult decision to get custody of Sadie. They had always lived with us since her daughter's birth so the baby was never in danger, but I just felt I needed to take custody until she could find her way out of the drug world. Our daughter, in a calm demeanor said she understood why we did this.
If you have been through times like these (and we do know those at Asbury who have), you know that often you feel alone in your turmoil, and you know that it rips your heart to shreds – it hurts you to your very soul and the pain is worse than excruciating. It drains you – mentally, physically, financially, and every other way. We were always so afraid for her and scared when she was gone. There was absolutely no peace. It was difficult to sleep – the worst scenarios would go through our heads when we closed our eyes. We'd hear sirens and get literally sick with fear and our hearts would sink. We would get so tired and overwhelmed, and sometimes we would feel like our prayers were just not getting through. But God was listening, and I believe that He hurt along with us. Our children are His children and He wants their lives to be good, peaceful and productive, just as we want those things. When one of these is lost to the darkness of drug abuse or more horribly to death because of drugs, it isn't because God didn't hear the prayers. I believe in my heart that He will cry with those families. He is always with us.

One of my very favorite songs is Broken Vessels (Amazing Grace) by Hillsong. "All these pieces broken and scattered in mercy gathered mended and whole; empty handed but not forsaken; I've been set free." Hearing that at church, my mind always went to her, and I would cry and pray that God would touch her heart and that she would be set free. And if you don't know the story of Horatio Spafford who wrote the beautiful hymn "It is Well with My Soul," please Google his story. All of this is about faith. It is about feeling God with you in the depths of despair and heartache.
By the grace of God, after many tortuous years for us all, the hell came to an abrupt end. She realized she could not continue on this road. She loved Sadie, and she wanted to make a good life for her and work to get custody back, and she knew that this had to be the end of the madness. She checked into Rose Rock Rehabilitation Center in Vinita. She stayed for about a month and came home and went directly to the Center for Therapeutic Interventions (CTI) where they have counseling, meetings, drug testing, etc. on an outpatient basis. She finished a long program there. She and her daughter lived with us during this time.
She has become the most amazing daughter and mother. Her sweet heart and soul that we always knew was there beneath the tortuous mask of drugs is alive and well. She began to look healthy and act normally. It's like she walked out of the deepest, darkest, demented fog and into the sun. We had been through times before when we thought she was going to be OK, but it but it would be a false hope. There has even been a previous story in "Tidings" about her during one of her short periods of sobriety. But we knew this time was for real.
At the same time, Tyler turned things around. He went to a rehabilitation facility, got on the right track, and has a very good job. A neighbor of ours realized they were doing better, and he said to me, "See – that's what happens when you don't give up on someone; you love them through it." I have to say that love is an answer – and prayer – literally "crying out" to God for his intervention. Asking Jesus to speak to her heart and to touch her soul.
There is one more part of this story that is amazing. A while back, my husband Matt and I were sitting in church. He filled out the attendance book, and I passed it on to a couple who had sat down beside us. After the lady opened the book and sat there a minute she leaned over and whispered to me, "Are you Lindsay Nail's parents?" I was a bit taken aback, wondering what on earth she going to tell me, and meekly said, "Yes – How do you know her?" She said that she had been on a mission trip with Lindsay years ago (probably 9th grade), and she could tell there was perhaps some trouble brewing. She said she had followed her and had prayed for her. I cried through the entire service, and when the service was over I hugged her and told her how much what she had said had meant to me and told her that Lindsay was now doing very well.
So now you know who our daughter is and who we are. But you need to know who this mystery lady is because as I've said, we often felt alone in our pain but that really wasn't the case. God was listening to all of the prayers and was watching the story unfold and was with us. We had our family and our Harvest friends praying, and this wonderful lady – she said they call her "FooFee." Her real name is Ruth Brower. You may know her or will have the opportunity to know her. I understand she is quite loved by the kids she accompanies on mission trips, and I'm sure by many others. To us, she is such a very kind and special person.
Addiction is a brutal and often deadly disease, and Lindsay and Tyler have fought very hard and won some battles, but they haven't won the war. For the rest of their lives they will be addicts, so we will never stop praying or thanking God for the blessing of their sobriety. They will always need our prayers, our support, our encouragement and our love. They have two very special reasons to never use again – a beautiful little 4-year-old princess, Sadie, who is a joy that cannot be put into words, and a sweet 6-month-old baby boy, Micah, with a smile that melts our hearts. Micah was born on May 29, 2016. That was Roman's birth date. I was worried this would be a sad thing for our daughter. Instead, she says it is a sweet thing. And our family believes it is a sort of spiritual message. This young woman is a wonderful and amazing mother and daughter. Lindsay and Tyler are sober, have been working hard, and they have a very nice home for their family. I feel with all of my heart that they will continue to grow and flourish in their sobriety. She has met all requirements to get back custody of Sadie.
I am sure that some people will ask, "Why would you tell this story to the world – aren't you embarrassed and ashamed?" No, I'm not. Drug addiction happens in all types of families – rich, poor, highly educated, poorly educated, the best neighborhoods, very bad neighborhoods, in the cities and in the country.
I don't mind sharing our story because drug abuse, especially opiates and heroin, is an epidemic of enormous proportions right now in this very town, in our state, and in our country, and it is on your side of town as well as mine, and most likely in your very neighborhood. I feel that God has allowed us to go through all of this for reasons unknown to us – that only He knows. But we believe it was in order to strengthen us, to make us grateful for what has come to pass and for what we have now, and to use us so that our story might be a bit of hope to others or even one family or one person. If we can give hope or encouragement to even one family or hurting parent who has a child or loved one in the grips of addiction so that they know they are not alone, we gladly put aside pride.
I hope if there are those in similar circumstances, they will not be afraid to ask for prayer or to discuss what they are going through with friends, family, and others going through the same things – because there are many. I also pray that they will never forget, no matter how alone they feel, that even though He may often be quiet, He hears our prayers. We must continue to have faith and know that He is the one and only God, we are His children, He loves us, and He is always and forever with us.
---