Turn the Tables
By Charlene Giles Tidings July 2016
---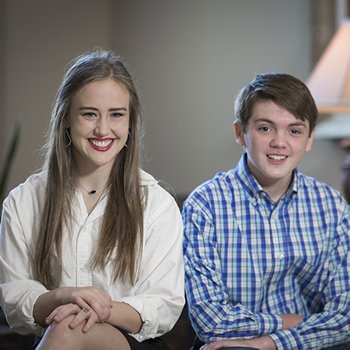 Zach Magnuson and Audrey Keeling had no idea how they would be put to work when they signed up to serve at Asbury's annual banquet to honor couples married 50 years or more. They mostly just needed the service hours. Plus, they thought it was a nice thing that Asbury was doing. Zach is 14 and will be a Jenks freshman in the fall while Audrey is 16 and about to be a junior, also at Jenks.
Audrey remembers wondering, "Will I be able to relate to people in that older generation?" Audrey noted that the couples who attended might have also been nervous about being able to relate to students. Once there, she could tell by the smiles and comments that the honored couples appreciated all the attention and service. Zach sees his great-grandparents pretty often, so he wasn't concerned about being around people many decades older. However helping with the banquet reminded him, "It is beautiful to see the interconnection between the generations, even with a huge age difference." He was really surprised with the large number of Asbury couples attending. The CLC was packed! Asbury honored 216 couples at the 9:15 worship service on Sunday, April 17. The banquet was the evening before and featured excellent wait-staff service from 30 students and adults.
Both Zach and Audrey had a fear they might spill food in someone's lap, but they made it through with no mishaps. Students helped by placing salads and desserts on the tables before the banquet began, then during the event they poured water and iced tea, and carried full plates of food to the tables. Later, they carried empty plates and glasses to the kitchen. The one thing Audrey wished someone had told her was that wearing high heels was a big mistake. All that running around all evening took a toll on her feet!
Chances are that many of the honored couples also had sore feet that night, since many wore their best shoes. Still, several took advantage of the big band music by the Mike Bennett Orchestra and danced a bit in the aisles. Special guest Rev. Bill Mason was even seen kicking up his heels along with some good friends. The teens who served enjoyed that. As Audrey put it, "It was fun to see the older generations have fun dancing just like younger generations!"
When asked what he learned about himself from this service experience, Zach said it helped him realize that he still has a long way to go in life. "Those couples have enjoyed marriage four or five times the amount of time I've even been on this Earth! It made me excited for that kind of attachment to a person, and for the future." He wondered if some of them might have felt a little nostalgic, maybe even thinking, "I wish these students knew some of the things that are still coming in their lives."
How do couples stay married so long? While both Zach and Audrey have goals of being married 50 years, it's really a hard concept for them to grasp. Both think it must be about choosing well. Zach mentioned that it's probably important to see how that person handles hard times before you marry them. Likewise, Audrey commented, "I can see that long-term marriage is less about love when everything's good and it's all happy. It's about when you love each other, but right then you truly don't even like each other."
What were some good things about helping at this event? Audrey's favorite type of serving is direct and relational, so it makes sense that she enjoyed herself at the party. Zach says he really enjoyed himself. "Adults are usually the ones working so that we get what we want, but the dinner was more of a give-and-take situation, and not just a take. I know those couples appreciate what we did, and it was nice to turn the tables on them, and give them a chance to take a load off."
---