Waiting Experts
By Marsha Baker Tidings October 2016
---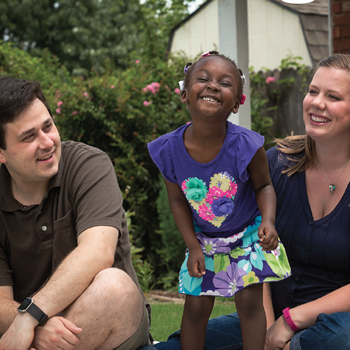 Waiting... no matter how difficult or scary it is, is worth it when you are following God's plan. You could call Isaiah and Tiffany Edison waiting experts. From the day they met the little girl God had planned to be their daughter in Uganda, it took 28 months before she legally became forever theirs.
Isaiah and Tiffany married at Asbury in 2011. Isaiah was Tiffany's brother's best friend, and there was no better man Tiffany's family could have imagined her with. In 2013, they were living the "American Dream" and were steadfast in their faithfulness to God when they sensed Him preparing them for something big. Tiffany always dreamed about an African mission trip, and after three failed attempts, God finally opened the door in December of 2013. Isaiah signed up, too, but with apprehension; he was not so keen on the Africa idea. Just before they left, they were challenged by the book "Radical," and the also felt God speaking to them through a sermon themed on "The Spirit of Adoption."
Tiffany was beyond blessed to grow up in a God-fearing, tight-knit family. This extra special family instilled in her heart a desire to one day adopt. She knew there were children out in the world who would be blessed by this kind of love. Isaiah, who grew up with a much different environment, always desired to have a "normal" family.
The day they met Savannah, both of their worlds were turned upside down. It was Isaiah who saw her first, exclaiming, "That is the most beautiful baby I have ever seen!" Tiffany immediately went to hold her and was completely smitten by her the rest of the trip. Before they left Uganda, Tiffany felt God strongly calling her to add Savannah to their family, but she knew mountains would have to move to convince Isaiah. On the final day, she asked God for clear confirmation—a physical sign—and for God to move in Isaiah's heart. Not only did God immediately answer her request three times (Savannah pointing to her), but God also sent a woman named Grace to hand Savannah to Tiffany and say "This baby loves you; she has been pointing to you" just moments after she prayed. But would Isaiah hear God's voice about the adoption, too? This is when the waiting began. After a month, Isaiah finally said the words Tiffany had been silently praying to hear: "I think we are supposed to pray about adopting Savannah."
There was confirmation from the Lord, but next came fear. What would people think? Should they have a biological child first? Could they afford it? Could they get through the mental stress of adoption? It was all very overwhelming. After two months of "what if's," Todd Craig preached a sermon about anxiety. As they left Asbury that day, they decided it was time to simply trust God and follow His plan to adopt Savannah. They began the adoption process but continued meeting obstacles. It was an agonizing 18-month wait before they would be able to return to Uganda. There was nothing they could do but wait and watch their little girl grow up on the other side of the world without them. But in the waiting, they could see God's goodness through His provision in so many areas.
Finally, they got the call… and on July 1, 2015, they got to hold Savannah in their arms again! They couldn't believe it was actually happening! Unfortunately, their waiting wasn't over. Just because they were in Uganda with Savannah didn't mean they would get to take her home. They still had to get through the Ugandan court and produce endless paperwork to the U.S. Embassy. The expected timeframe to complete this process is six weeks; it took them 12. Everything that could be delayed, was. Isaiah had to return to the U.S. after six weeks for work, so Tiffany singlehandedly had to care for a little girl who was afraid of sleeping, going potty, and couldn't even speak English. There was government resistance, spiritual warfare, intense interviews and sleepless nights. The outcome was unknown, but God was in control. He blessed Tiffany over and over by meeting her needs, He grew the mother-daughter bond, and He was faithful. Tiffany could do nothing but trust Him in such an unfamiliar culture and process. Looking back, they see how God was showing them what it means to really believe and live the Word. Through this journey, Isaiah learned God wants us to engage in His good plan and live the Gospel through our outward actions. Tiffany was forced to deeply trust God in everything and learned that if we seek God in our most challenging times, He will grow us beyond what we think we can handle.
After delayed flights home, Tiffany and Savannah arrived in Tulsa on September 26. They were finally home safe and together as a family—the dream God gave them complete. It took seven more months of waiting before they were able to make the adoption legal in U.S. courts, and then 11 weeks of waiting for her U.S. passport. They got to experience an extra special moment recently when Jon Odom baptized Savannah at Asbury! "It was so special to publicly dedicate her to the Lord at Asbury—we got to show the congregation that blood doesn't make a family, God does! It was full circle for me; I was baptized here, and it made my story feel complete showing my church family what it means to respond to God's call and truly care for all His children," Tiffany said. "Our hope is that our story will help people to stop telling God to wait, and open their eyes to see and respond to the needs of God's children all over the world!" says Isaiah. Now they are waiting again, this time just nine months to meet their son, Noah, whom they are thankful they get to carry with them during this wait.
---