Wanting to Learn
By Andrea Stephens Tidings July 2016
---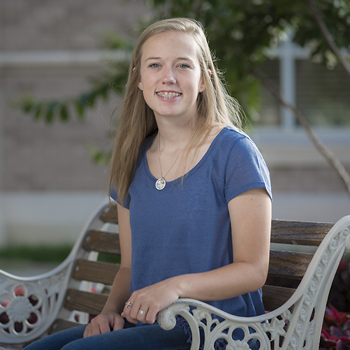 Though she loves basketball, she wouldn't call herself a star on the basketball court when she plays guard. Maybe something more like "benchwarmer MVP." But you will see her shine on the soccer field. March and April, you can find her playing center mid-field position. She loves the feeling of working as a team to win a game, especially the excitement of combination play. Recently she hit the ball with her head to her best friend playing forward, who then set it up for another player to kick it in for the goal. Yet Kaitlyn Fitzmorris, a senior at Wright Christian Academy, will pursue her first love when she goes to college: Jesus.
Kaitlyn, the youngest of four kids, grew up occasionally going to church with her aunt or grandmother. She gave her heart to the Lord when she was in 8th grade, while attending a discipleship weekend. As she learned Scripture and discovered more about living for Jesus, she found herself wanting more. It was Kaitlyn's love for God and thirst for solid, Bible teaching that eventually led her to Asbury's new Learn2 courses.
One morning, on her own, as she was looking for a new church experience, she decided to visit Asbury's modern service. Being a fan of contemporary worship music, she really enjoyed the worship team's style and Chris Cleveland's leadership. Equally appealing was the way communion was served and the invitation to come to the railing to pray. Seeing the pastors praying for people seemed very real and genuine to her.
The next day at school, Jon Ensor, the Bible teacher and Asbury member, was pleasantly surprised to hear Kaitlyn had visited Asbury. Kaitlyn explained that she really wanted to learn, not just play games and have fun like her former youth group. She shared that she understood their need to maintain the attention of teens, but she wanted more. Impressed to see a high school student truly desiring to grow, he invited her to Learn2. The topic was the Ten Commandments, specifically adultery and stealing. Over the two weeks, teacher Jason Jackson dug into the meaning behind these two commandments.
When asked what she gained from the lessons, Kaitlyn quickly responded, "A totally new perspective!" She went on to explain that she had always viewed the Ten Commandments as a strict list of things not to do, the law of no's, a bunch of negatives. Now she could see them in a positive light.
"Yes, they tell us what God does not want us to do, but if you turn it around, they tell us what He wants us to do." This fresh way of looking at God's commands, taught Kaitlyn that God's motive was love and that He always wants what is best for children. Pertaining to stealing, her main takeaway from the teaching was that God wants us to avoid coveting by being happy and grateful for what we have, then be genuinely happy for others and what they have. This is how we grow to be content. Contentment trumps coveting and therefore keeps us from wanting to take from others what we think we lack. This turned "Do not steal," into "Be grateful and content," a positive spin.
So, will Kaitlyn be returning to Learn2? Definitely, yes!
Becoming part of Asbury as an incoming senior, she hopes to be part of Pastor Tom and Pastor Todd's class just for seniors on Wednesdays. This small discipleship group will help prepare her for the future. Kaitlyn plans to attend a local university where she will major in pastoral or global ministry. She was bitten by the missions bug several years ago and was able to go to Ethiopia on spring break. Kaitlyn feels called to Africa but never wants to overlook those in need right here in Tulsa. She volunteers feeding the homeless with Under the Bridge Ministry and reaching out at local apartment complexes. She has heard about Asbury's 2nd Saturday and plans to volunteer. This is not surprising coming from a soft-hearted girl whose favorite scripture is James 1:27, "Religion that God our Father accepts as pure and faultless is this: to look after orphans and widows in their distress and to keep oneself from being polluted by the world."
Kaitlyn has come to Asbury to learn. Perhaps we can learn something from her as well.
---