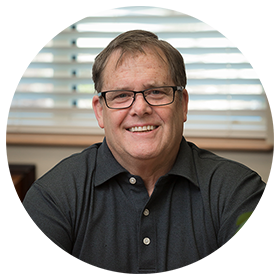 Guy Ames
Retired Pastor
Office: 918.392.1134
Growing up in a family with five generations of Methodist preachers, it was no surprise that Pastor Guy Ames felt the call to serve God's people. As the Asbury Foundation's Pastoral Director, Pastor Guy raises funds for long-term care and ministry of Asbury, while leading a board of nine members overseeing endowed assets of over $4.2 million.
Guy has been married to Margaret for 42 years and has three sons, seven grandsons and one granddaughter. When Guy isn't serving Christ and looking into his family ancestry, he enjoys traveling, reading, fly fishing, hiking and watching Thunder Basketball.
Guy is passionate about helping people to understand the truths of Scripture – how this truth is healthy and healing for our lives, world and souls.
"The Lord is my chosen portion and my cup; you hold my lot. The boundary lines have fallen for me in pleasant places; I have a goodly heritage." – Psalm 16:5-6
Bachelor's, Oral Roberts University
M.Div., Asbury Theological Seminary
DMin., Phillips Seminary
Ordained Elder, The United Methodist Church
Previous UMCOR Board Member (United Methodist Committee on Relief)
Previous Oklahoma delegate, UMC General Conference
Previous Disaster Response Coordinator, Oklahoma United Methodist Church