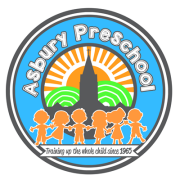 The mission of Asbury Preschool is to Help Others Follow Jesus by nurturing children in their spiritual, academic, physical, emotional and social development. This is achieved through providing developmentally appropriate activities while recognizing the individual needs and differences of children. Children are encouraged to be independent thinkers, life-long learners and dedicated, loving followers of Jesus as a result of teaching Christian principles and hosting teacher assisted/directed-activities.

All classes are 9:30 am to 2:30 pm.
Download Instructional Calendar 2020-2021
2020-21 Preschool Registration:
Currently, enrolled students can re-enroll January 8-17, 2020.
Members of Asbury UMC can begin enrollment January 20-24, 2020.
Enrollment opens to the public January 27, 2020.
Three enrollment options available:
2 days a week, Tues/Thur - $220 a month

(PreK, $235 a month)

3 days a week, MWF - $330 a month (

PreK,

$345 a month)

5 days a week, M-F - $550 a month (

PreK,

$580 a month)
Within one week of completing enrollment forms, please bring your $75 non-refundable registration fee to the preschool office. Your child's enrollment will not be placed until your registration fee is received. Fees are based on a yearly enrollment and can be paid in total, a semester at a time, or in nine equal payments. Your first month's tuition is due the week of March 2, 2020 and is non-refundable. Your child's registration is not final until we have the completed forms, registration fee, first month's tuition and an updated copy of his/her immunization record. Immunizations can be faxed from your pediatrician's office to 918.392.1100, Attn: Asbury Preschool Office.
Tuition Payments Online
Currently, enrolled students may pay monthly tuition via e-check by clicking this link for the website.
Questions or want to schedule a tour? Contact:
Director of Asbury Preschool
Christina Treat | 918.392.1172 |
Assistant Director
Susan Rizzotti | 918.392.1126 |