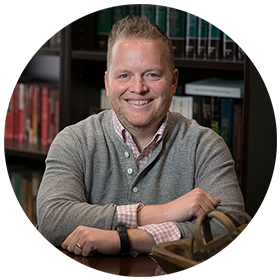 Daniel Dennison
Executive Pastor
Office: 918.392.1131
Though he does many of the typical ministry things such as preaching and pastoral care, Executive Pastor Daniel Dennison's role is similar to a company's CEO – administrative and leadership-oriented. Pastor Daniel is passionate about taking care of the details pastors don't enjoy – budgets, fundraising, staff development and committee meetings. Daniel believes doing these well will free others up to focus on what they are best at, resulting in their jobs, Asbury and ultimately the Kingdom of God thriving.
After meeting his wife, Mindy, at OU (Boomer Sooner!) the Dennison Family now consists of their children Ruthie, Mckenna and Brick, along with their beloved cat Olive.
Don't forget to ask Daniel about the time he made $10,000 selling pacifiers on Amazon and eBay.
B.S. in Education, The University of Oklahoma
M.Div., Phillips Theological Seminary
Ordained Elder, The United Methodist Church
Previous Executive Director/Campus Minister, OU Wesley Foundation
2016 Leadership Norman Class