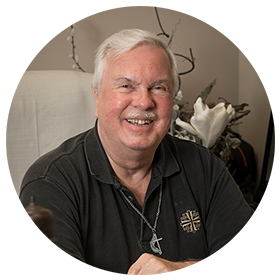 Robert Duran
Pastor of Congregational Care
Office: 918.392.1154
As the previous full-time Congregational Care Pastor, Robert Duran visited hundreds of hospitalized Asbury members. Though he officially retired on June 30, 2020, Pastor Robert Duran continues hospital visitation part-time, Monday through Wednesday.
Robert is a veteran, having served in the U.S. Air Force Security Service (under the direction of the NSA), with overseas duty at Clark Air Base in the Republic of the Philippines. He also began full-time ministry as a second career after running the family insurance business for many years in McAlester.
Robert is married to Brenda and they have five children and five grandchildren.
B.A. in Business Administration, The University of Oklahoma
M.S. in Human Resources, East Central University
EfM, The University of the South - Episcopal Church
Basic/Advanced Courses, Southern Methodist University
Ordained Elder, The United Methodist Church
President of the OU Alumni Association