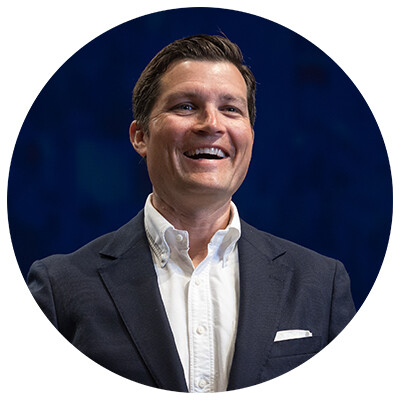 Andrew Forrest
Senior Pastor
In August of 2022, Rev. Andrew Forrest became the new senior pastor of Asbury. His desire is to build on the legacy of the past while leading Asbury toward the future of accomplishing its mission of Helping Others Follow Jesus.
One of his first directives was to begin a Thursday night worship service for people who are unable to attend on Sunday due to work, sports activities, vacation or other life events that happen. Pastor Andrew believes that attending worship is the most important thing of the week – One of his favorite sayings is "Don't miss church. Ever. If you're going to be gone Sunday, come Thursday!"
It might sound cliché for a pastor to say this, but Pastor Andrew LOVES the Bible! But don't ask him to pick his favorite Bible verse, because he has so many. He likes to say, "asking me to pick my favorite verse is like asking me to pick his favorite Oreo out of the package." In fact, it is so important to him that the Asbury congregation becomes a "Bible-reading church" that he produces a Daily Scripture Reading Guide with every new sermon series.
He also started Wednesday night Bible studies where he dives deeper into the Scriptures related to the Sunday sermon. Another congregational favorite is the new Daniel Project. The Daniel Project is a weekend seminar taught by Pastor Andrew to help believers feel confident in the face of the hard questions our culture is asking about faith.
Pastor Andrew started out in life almost as far away from Oklahoma as you can get! His family was a missionary family (his father was a pastor too!), so he did a lot of his growing up in West Africa before moving back to the US to live in Virginia. He attended college at Columbia University in New York City and earned his seminary degree from Southern Methodist University in Dallas.
He is married to Elaine, and they have two children: Jack and Annie. The Forrest family moved to Tulsa from Dallas where Andrew was the Senior Pastor of Munger Place Church (a church plant of Highland Park United Methodist) for 12 years before becoming the Senior Pastor of Asbury.