Be Like a Child to Come Unto Me
By Tracy LeGrand Tidings December 2019
---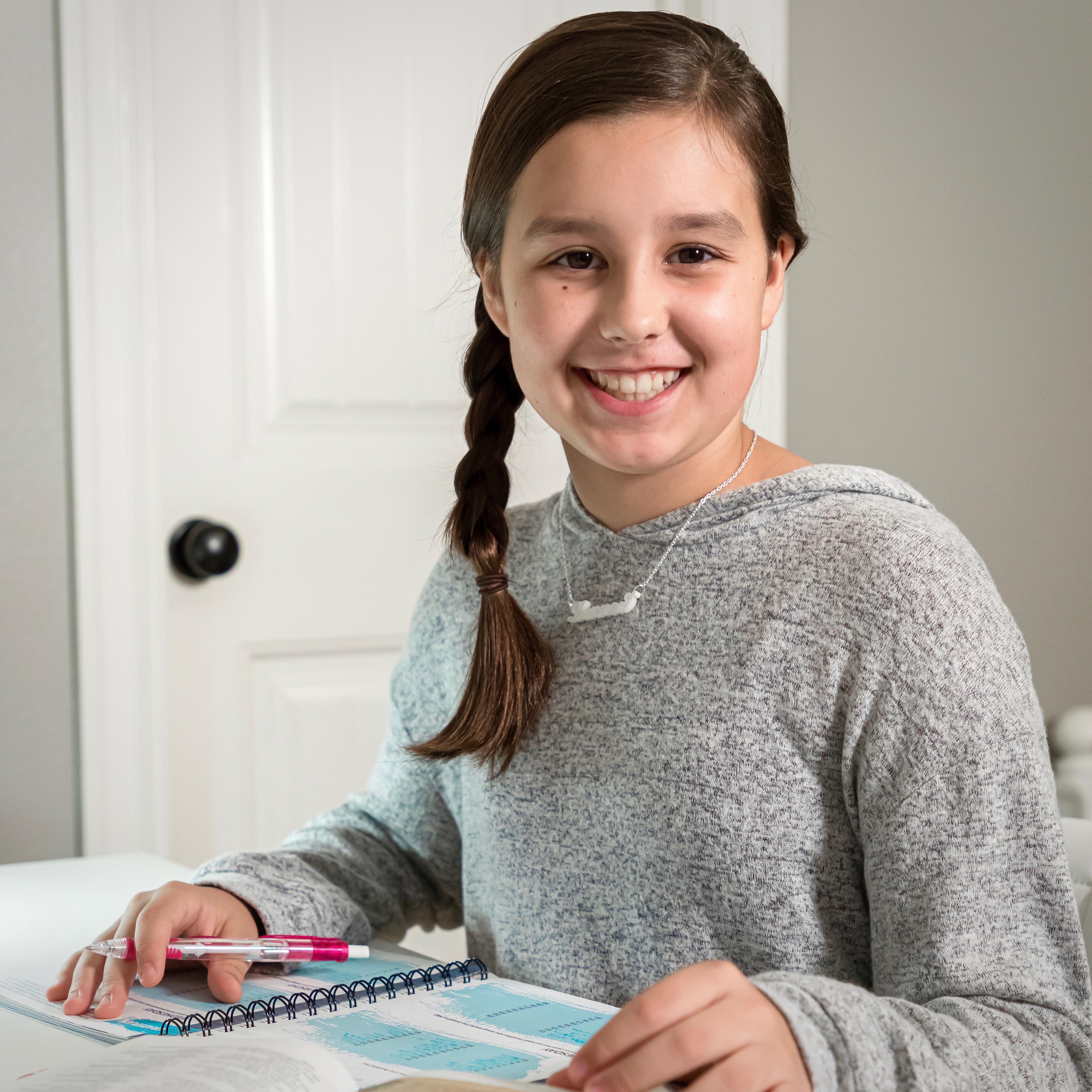 Lennox Williamson, the eldest child of longtime Asbury members Josh and Becky Williamson, doesn't think of herself as extraordinary as she goes about her days, looking out for her siblings and thriving in both her family home and her church home.
As enthusiastic participants in the Think Orange curriculum, Lennox and other children are engaged in their faith walk and parents have assistance in leading their child. At Asbury, families and children are given experiences, resources and coaching to share their faith, service others and become Kingdom builders. This includes the utilization of journals for thoughts on sermons, for prayers and to list reasons for gratitude.
The sixth-grader doesn't remember when she first heard about the church community campaign to build the student development center.
It could have been during Sunday sermon, on a Wednesday evening or in Sunday school, but before she knew it, Lennox was actively involved in the kid's section of her mother's Better Together sermon/prayer/gratitude journal.
"She used it more than I did," Becky laughs, showing pages of her journal and the sections where Lennox first worked on the lessons of gratitude. In that lesson, the listing began with Mom, Dad, Kendrix, Roux, Mason and continued with other church family members. Other listings include favorite activities like dancing. Soon Lennox had her own sermon journal, in which she uses the kid's section to practice and deeply examine the Lord's Payers and other exercises.
"She's filling it up and studying it," says Becky, and Lennox is generous in sharing her handiwork - heartfelt and colorful mélange of handwritten testimony and listings of gratitude along with cheerful stickers, artwork both of her own and the coloring in the provided images, chore chart ideas and more. Lennox approached the journal activities with a giving heart, her mother says, and challenged herself by participating in the weekly lessons and spending time contemplating what she learned.
The Williamson children earn points for performing chores with Lennox tracking her progress on a wrist device as she can trade points for privileges, treats and "even cash" for tasks including loading and emptying the dishwasher, cleaning the family bathrooms and vacuuming. With this money - and some innovative ideas -
Lennox acted on a personal drive to give back to her church. She says, "I just felt like I wanted to and could do something to help my church and for the campaign for the Student Center Building and Community Outreach Center," so she took her goals to her family.
"We discussed it," Becky says, "And we all agreed it would mean a lot less meals out, fewer trips to the movies, less summer camp and other holiday activities. We discussed what a tithe is, that it is 10 percent and Lennox wanted to do more than that." The Williamsons - with Lennox poised to add to the family contribution - would make their donation as a family with faith in action.
With an entrepreneurial spirit and armed with a longtime family recipe for easy, comparatively nutritious and especially yummy Monster Cookies made of oatmeal, honey, peanut butter and M&M candies, Lennox went to work. She consulted with her mom on ingredient costs and her business plan included preparing the no-bake treats, cleanup and filling a basket with those tasty treats.
She included bananas at 50 cents each and, on the computer, created a sign advertising the treats along with the "$2 Afternoon Specials" of a banana and cookie bar.
Classmates and kids waiting at the bus stop were customers.
Lennox's giving heart and commitment to discipleship is the perfect reminder to give and serve with a "child-like" faith.
---