Closer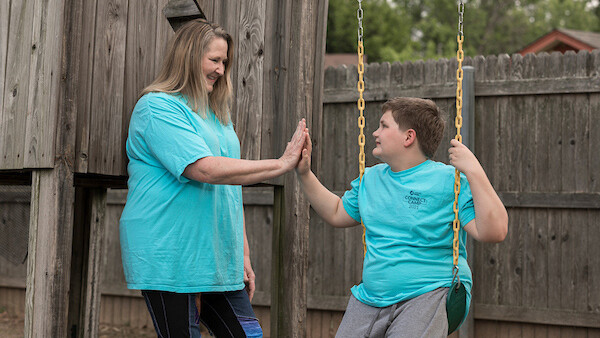 by
Abigail Roesler
As long-invested members of Asbury, Jennifer Beach and her fourth-grade son Freeman had been aware of Asbury's Connect Camp and planned on taking part for a long time. They were finally able to attend this latest Connect Camp, and it did not disappoint.
The deep, personal atmosphere that greeted them made it obvious why the camp was initially known as Family Camp when it first started in 2010. Its purpose was to provide a place where parents and their children, usually ranging from fourth to fifth grade, could spend time together for the sole purpose of strengthening their relationship with each other and with God.
Jennifer remarked, "I cannot emphasize enough how smoothly everything went; it just flowed."
The weekend started with a chapel service and transitioned smoothly into breakout sessions. After, Jennifer and Freeman reunited as the camp activities moved into a time where they were free to roam the campgrounds and share what they had learned from the sessions.
The activities ranged from archery and ziplining to horseback riding and a giant swing. Both Jennifer and Freeman were able to enjoy a relaxed and organized weekend that beautifully balanced bonding, entertaining and spiritual pursuits. Even in the free time when it rained or the only activity planned was spending time with one another, the camp never missed a beat and still provided a personal and spiritually enlightening experience.
Having been to several church camps before, Jennifer had known what to expect walking in, but she was not prepared for the amazing adventure of being able to see the camp through her son's eyes.
Jennifer said, "It was enlightening and a very fulfilling weekend," and as a single mom, she left with an overwhelming joy after having spent this time focused on family.
For Freeman, his favorite aspect of the camp was simply spending time with his mother: from singing in chapel to bonding in prayer groups and everything in between. Jennifer and Freeman's relationship together had always been open and deep; they read the Bible together, prayed together and shared everything with each other.
"After we came out of it, I felt like we were even closer with each other and with God," Jennifer said.
Especially after a long and challenging year, this camp was just the blessing that Jennifer and Freeman needed: a safe and personal environment to realign their thoughts and allow God to piece everything back together.