Discipleship Pathway
By Tom Harrison May 2016
---
A Deeper Connection with Jesus Starts with a Single Step… or Five Steps
Discipleship Pathway Launches July 24
FOLLOWING JESUS IS THE KEY TO LIFE. That's why the core vision driving our church is "helping others follow Jesus." That's also why we are excited to announce that on July 24, Asbury will unveil an important new initiative for our church family: our Discipleship Pathway.
The Discipleship Pathway prepares us to carry out the Great Commission. Our goal is to equip you to develop a close, personal relationship with Jesus, grow spiritually alongside others and further God's kingdom where you live, work and play. I believe Asbury is called to make disciples who go out into their world and make other disciples.
Asbury is a big church, so to make it easier to find your place and meet people, we have designed this comprehensive program. The first two steps are designed to help you get started in discipleship and connected with others in the church.
The Welcome Brunch will be held approximately every six weeks at 9:15 and 11 am. We want to include everyone, whether you are new to Asbury or seeking to deepen your connection and involvement. You'll learn more about Asbury's vision, worship opportunities on Sunday mornings, children and student ministries, and how to get connected with our Disciple Orientation (Step 2). We'll also introduce the other, ongoing steps in the program that will help you in your own, personal relationship with Jesus and provide opportunities for you to follow His example in service and love.
We're excited to share this life-changing program with each and every one of you. It has the potential to change our church and our community. More importantly, if you join us in this journey, it could forever change you.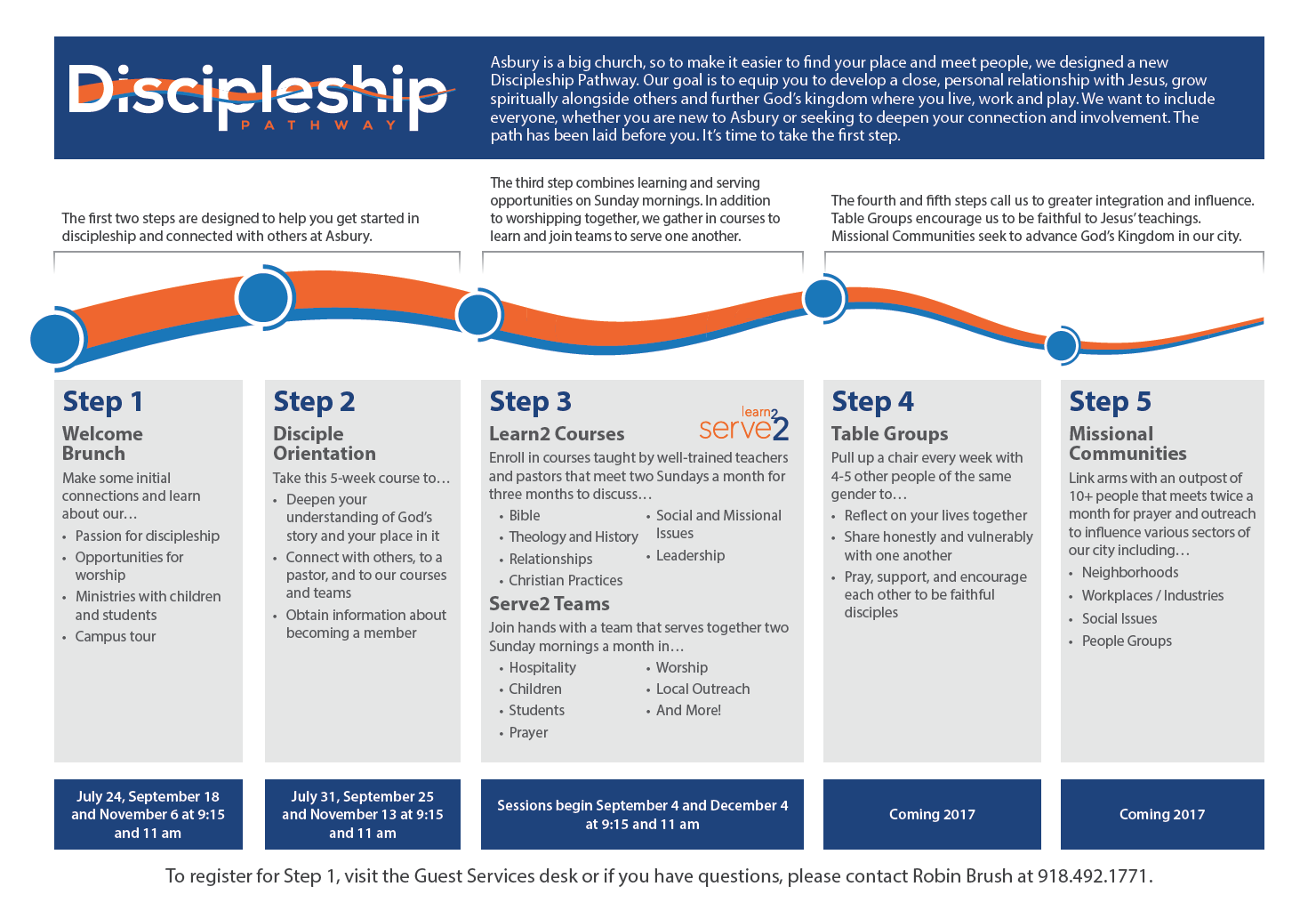 ---