Establishing the Faith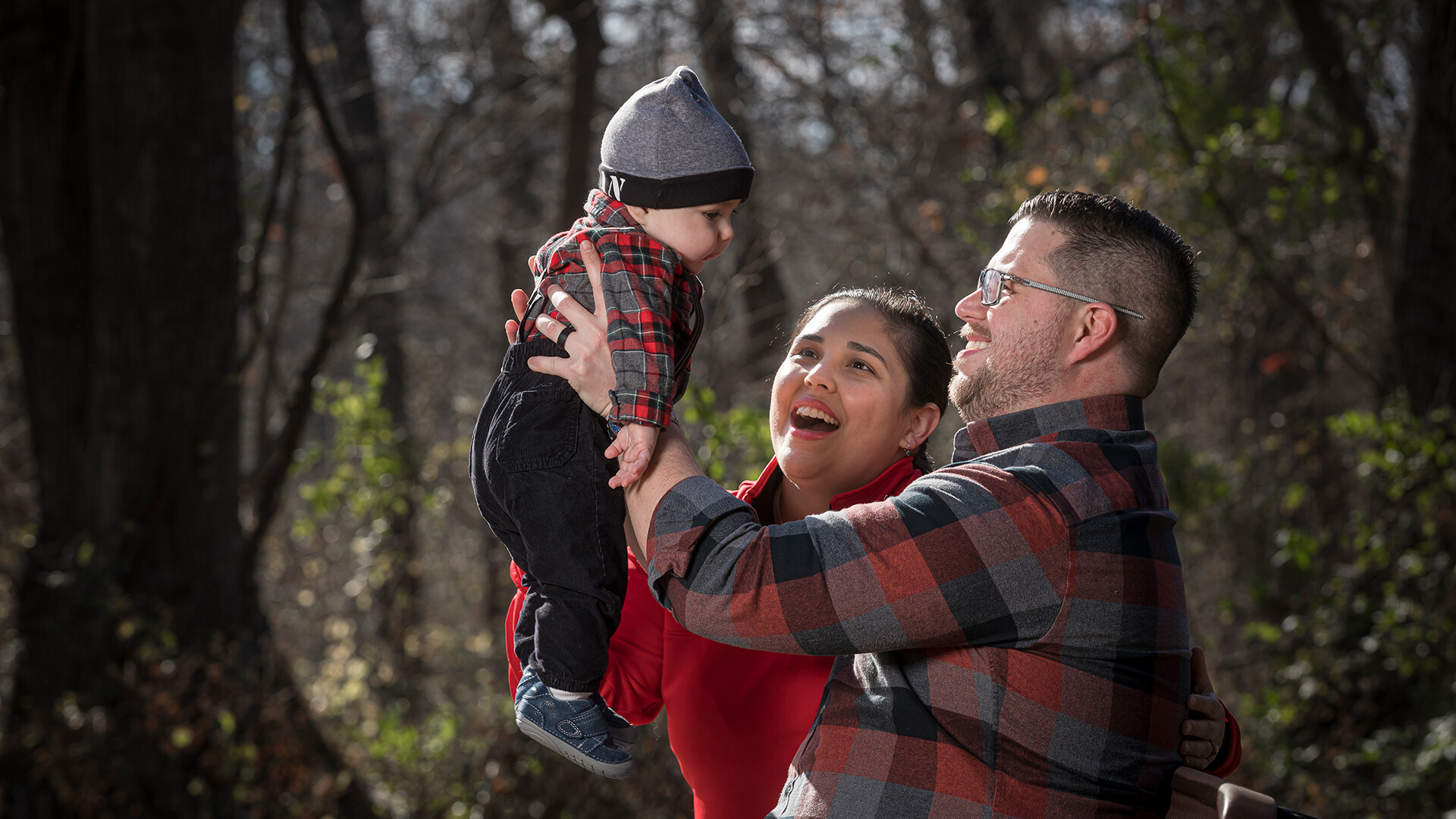 by
Lisa Witcher
After attending Asbury's New Member class and experiencing the emphasis Asbury places on serving and discipling young families, Josh and Candis Cummings knew they had found a new church home.
Raised in the church from a very young age, Candis remembers "loving the sense of peace, calm and comfort that she felt learning and living in Christ." Candis became a Christian at 8 or 9, attending prayer services with her parents and watching her mom sing on the praise team.
Josh was raised in a Baptist church, proclaiming his own faith as a middle school student. He enjoyed his youth groups, choir and volunteering at different church events, but didn't attend church as regularly after high school.
Candis began worshipping with the Asbury church family 11 years ago attending the 8 or 9:30 am service before she reported to work. The church's convenient location to her work made Asbury the right place at the right time to minister to her.
Just before Josh and Candis welcomed their first child, Josh could sense God calling him back to the structure and support of a church home. When COVID stole the congregational in-person worship, he gratefully worshipped on-line with Asbury and continues to do so, although he cannot wait to be back in one of Asbury's pews.
Six months ago, Josh and Candis welcomed baby boy Callan to their union. Having watched Catholic christenings and more recently, infant baptisms at Asbury, the new parents admired the spiritual dedication of the church's collective accountability to guide children down a path to find and follow Jesus. So, it was with great joy that they presented Callan for infant baptism this fall, the same Sunday they formally joined the Asbury family.
Candis noted, "I consider it a blessing to present [Callan] to the congregation… who will join in common, powerful prayer with us." Having seen the power of prayer, the Cummings welcome Asbury's offering to pray with and over them just as they pray nightly with and over God's gift – sweet baby Callan. "I love the volunteering opportunities Asbury offers and look forward to raising Callan with a servant's mindset," Josh adds. He and Candis want Callan and any future babies to grow up in the faith and be active in church functions. Candis is grateful Asbury has a servant's focus and varied opportunities for children, new parents and developing families. She says it has reassured her that "all will be well."
Praising her own grandfather as a servant leader, a follower of God and a significant hand in her own spiritual growth, Candis offered, "I want my son to grow up knowing and feeling God's love and experience His unending grace. To know the peace, calm and comfort of God's presence from childhood throughout his life – just as I have known. My grandfather was the kind of man I hope my son will become, and I feel Asbury can help him find his way."
Children are a gift from the Lord; they are a reward from him. - Psalm 127:3