Family Camp: An Important Step in Asbury's Village
By Lucienda Denson Tidings April 2017
---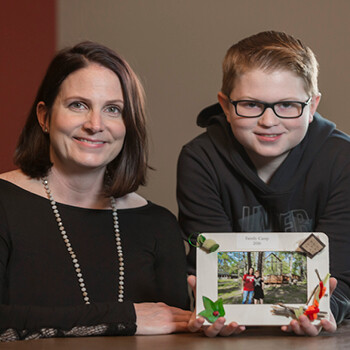 Ginny Martin can't say enough good things about AsburyKids Family Camp.
"My husband, Jason, and I have two children. Ty, our son, is 11 and in 6th grade" Ginny said "Our daughter, Laci, is 8 and is in 3rd grade," said Ginny.
This will be Laci's first time to attend Family Camp, open to 3rd through 5th graders only. Her older brother Ty's first experience with Family Camp was last year in Tahlequah. He had been reluctant to attend the camp the two previous years. The date conflicted with other events and the other events won. Last year, Ginny insisted.
Family Camp offers a trial run for more traditional church summer camp. Youthful participants arrive with a parent on Friday evening, spend the night in a cabin and return to Tulsa the next day. Ginny went with Ty. It was, she said, an incredible bonding experience. Ty now wishes he had attended the two years when other things seemed more exciting or interesting.
"I don't know who got the most out of it, me or Ty," Ginny said.
One thing the Martins came away with was the importance of age-group bonding. Until Ty's Family Camp experience, the family went to communities and classes at 9:15 Sunday mornings and all attended "big church." Most of Ty's friends went to 11 o'clock classes, and he wanted to go to class with his friends.
"We made an agreement. If he saw his friends go in, he could stay two hours. I felt, especially after Family Camp, it was important for him to be where he could be forming lasting friendships. After Family Camp, I stopped being so strict about attending class first followed by big church. I learned to back off and just relax a little. There is much more to being a kid than sitting with your parents in the pew, being quiet, being still and listening or not. I knew everything would change in 6th grade. All 6th graders meet at the same time.
Family Camp helped Ginny reach that decision. "We had time together (at Family Camp), but he also had time to socialize," she said.
There are many reasons why Ginny believes Family Camp is a very positive experience for both children and their parents. What she considers one of the most beneficial aspects of the camp is how it helps younger kids learn how to be "big kids," and also the importance of serving.
"The way Asbury works, it's all about serving. Ty is building relationships that will probably last a lifetime," she said.
"I still feel like I'm new to parenting. Every day, every season is new. I went to Family Camp thinking OK, we're going to be surrounded by God, God's going to call us, it's just going to be this one-on-one time with Ty. And we did have time for that. But I was really able to see how our church worked, and we've been there since they were babies."
Ginny said when she, Jason and Ty drove up, there were people waiting to greet them. "We pulled our car over. Mark (Fowler) and Caroline (Smallwood) greeted us. We didn't understand why they were there until meal time. They're middle school. Mark was at our table. He was there to bond and introduce himself to the 5th graders who would soon be 6th graders and moving into student ministry. I just thought, 'Wow, a lot of thought went into this.'"
Family Camp isn't just for the kids, she said. For the kids, it is a gradual introduction to church camp and retreats. It's also for parents who are wondering if they really want to send their children to church camp and to help them make a decision. Family Camp is one night away, and retreats are for a weekend. "This way, parents know what their children are doing at camp," Ginny said.
Teen leaders are one of the things Ginny particularly likes about Asbury. When she dropped off Ty for the retreat, one of the teen leaders greeted Ty by name.
"They give up their time for the younger kids. They hang out with them in class on Sunday, go to Family Camp and go to retreat. Ty is involved in small groups now, and there are teen leaders involved there. I cannot relate to my son like a teenage boy can. I'm so very thankful they pair these teens who will always be in contact with Ty. Whether he goes to retreat, or camp, or VBS, or wherever he is, he will be formulating these relationships," she said.
The teen leaders are having an impact on Ty. He wants to become a teen leader "and go out and give back exactly what's been given to him."
Ginny continued, "I'm encouraged. I don't think I knew how hard our church worked for us. At one time, I thought it was Jason and myself trying to parent these two kids. But (at Asbury) we're not alone. Look at all these people who are helping us raise our children. My parents and grandparents have always told me, you raise 'em up with a good foundation, and they will not depart from that. I really think they (Asbury) are helping me live that out. We're not all on our own."
Asked if she thought Asbury's Family Camp is helping create the "village" many people have said is required to effectively raise a child, she said yes.
"I had a great time at Family Camp. Ty and I both did. But Asbury provided the environment."
---