Lost Things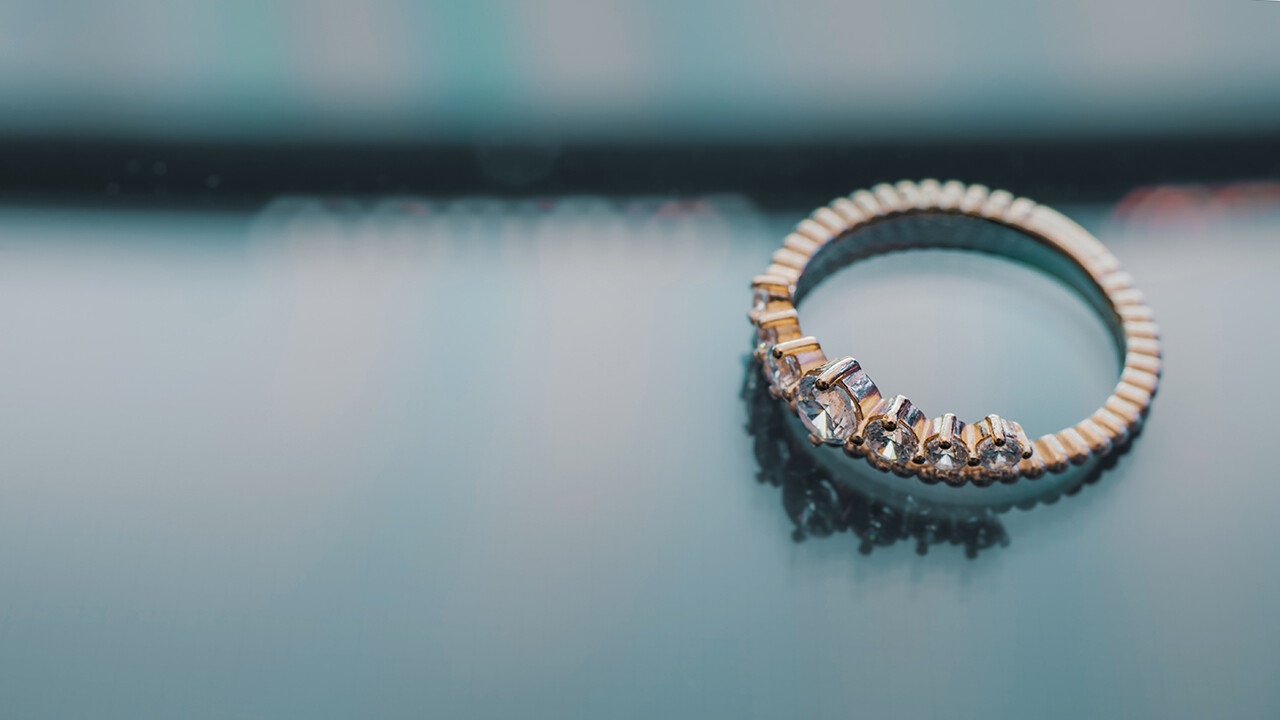 by
Charlene Giles
Or what woman, having ten silver coins, if she loses one coin, does not light a lamp and sweep the house and seek diligently until she finds it? - Luke 15:8
Have you ever lost something precious to you? The other day I found myself relating to the woman in Luke 15 who lost one of her valuable coins. Like her, I searched high and low – in my case, for a priceless heirloom ring.
I first heard the story about this ring when I was a teenager. My mother's mother, Viola Smith, was asked by her parents to end her formal education after 8th grade so she could help with the four younger children and cook for the farm's hired hands. What her life on their northern Iowa farm lacked in luxuries, it provided in deep faith, family connection, fun around the piano, and nightly board games.
One day when Viola was in town with her father, she spied a treasure in the jewelry store window—a breathtakingly beautiful yellow sapphire ring. Even as she asked, she knew it was impossible. "Dad, could I have that ring for my sixteenth birthday?" Gently her father confirmed that as much as he'd love to buy it for her, he simply couldn't afford it.
Imagine her amazement a few days later at her birthday party when she opened a small box from the hired hands and discovered the shining ring inside! Viola wore the ring nearly every day until her death in 2002 at age 101. My mom, Jeane White Burke, one of four girls, was given the ring and it became a priceless possession. Mom wore it daily until her death in February of 2019. And on her deathbed, she lovingly passed the ring on to me, with the stipulation that it remain on her hand in the casket until after her memorial service. No wonder every time I wore the ring, I somehow felt closer to Mom.
I was so concerned with the possibility of losing it that I took special precautions the other night when I realized the next day I'd be at an appointment where I'd be required remove my jewelry. I decided to take it off and put it with my watch on the countertop instead of sleeping with it. Sometime the following day it occurred to me that the ring was missing! It felt like I was grieving the death of an old friend. After a few days of diligently searching everywhere I could think of, it was time to accept the fact that I might never see the ring again. I confessed to God that the ring had probably become too important to me. Almost like a superstition of keeping my mother near me! And God reassured me I'd be fine without the ring, as my memories of my mother and my grandmother are imperishable and eventually we would be reunited with Him.
About three hours later I opened the bottom drawer and spied my precious family ring nestled beside some warm socks Mom had given me a few years back. How had that drawer been open right as the ring fell off the counter above? I woke Rod up and said, "I found it! I found it!"
Oh the joy of finding lost things. I want to tell everyone, "Come celebrate with me!"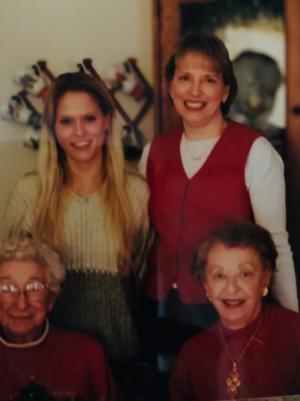 As much as I enjoy wearing my grandmother's ring, the most important legacy we can leave our families is the legacy of faith in the Lord. God is always wooing our loved ones to Him, even in ways and times unknown to us. As I look at this photo of my grandmother, Mom, me, and daughter Megan, taken in Grandma's house in 2020, I rejoice to know that even though the path has not been an easy one, faith in the Lord Jesus has been faithfully handed down from generation to generation. Because God never gives up searching for His most important treasure—the heart of each child He created.
Luke 15:9, 10 reads, "And when she has found it (the lost coin), she calls together her friends and neighbors, saying, 'Rejoice with me, for I have found the coin that I had lost.' Just so, I tell you, there is joy before the angels of God over one sinner who repents."
Lord, may we diligently continue to seek and pray for lost souls You long to reclaim, especially those in our families. Let us rejoice with You and your angels when they are found! And thank you for reminding us of the most important family legacy of all.