Making an Impact
By Sarah Pradhan Tidings March 2018
---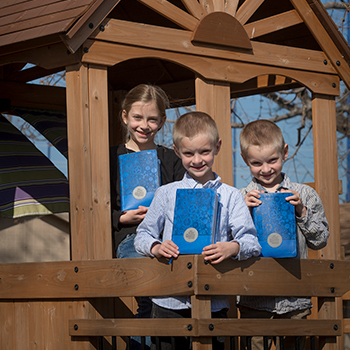 My first thought when I met these two precious little boys was, "How will I ever tell them apart?" Twins. That infamous stumbling block of all teachers!
And while I still have to sneak a peek at their nametags (just in case!) when one of them runs up to hug me or tell me a story, my relationship with Braden and Russell Shouse and their kind, devoted parents, has gone well beyond my ability to tell them apart at first glance.
I began my tenure at AsburyKids ministry to kindergarten, 1st and 2nd graders in June of 2017. I was blessed to step into a ministry chock-full of kids who'd been walking these halls since their diaper days. This ministry is full of parents dedicated to their children's spiritual growth, who had already seen them through such milestones as their baptisms, salvation prayers and even their first experience with communion.
For me, it began when I saw these two boys come forward to receive their first Bibles as part of Asbury's "Bibles & Blessings" service. These normally wiggly, chatty little boys seemed in awe of what was happening around them–the music, the families coming before the pews, and of course, the brand new blue Bibles I handed them. Like all of our kids during this very special service, they looked so proud of themselves!
This moment seemed to have a domino effect of sorts on these little boys. They came running into my classroom Sunday after Sunday (in their tiny matching suits, of course) looking absolutely thrilled to be there. They gave me huge hugs, told me eight stories at once about all their adventures from the previous week, and then went running into the classroom. During Big Group, they are always the first to have their hands up to share an answer or volunteer to come up onstage and help me with my lesson. I was seeing in them what I hope to see in every child of every new family that comes through our doors--they were beginning to be at home, at their best, at their most excited, while at church.
Braden and Russell are also regulars at our Wednesday night program, CounterPoint Live! It was there that I first connected with their mom, Ashley.
She went on to tell me about how the family works on memorizing our monthly Bible verse together at home.
She shared about how they talk about what they are learning in church and read their Bibles together.
I love hearing this kind of thing from families, but in this case, I was not surprised. I could see that the Shouse family was taking the message of Jesus and the practice of spiritual disciplines home with them. It showed in Braden and Russell's enthusiasm for coming to church, for learning new Bible stories, and even making that coveted trip to the treasure chest when they recite their memory verse. This kind of enthusiasm and deepened understanding of all we teach at AsburyKids is almost always a result of what's happening at home!
So, in the case of these two boys, it seemed to begin with receiving their Bibles and continued with their loving parents' devotion to their spiritual growth. But it didn't stop there!
Braden and Russell's big sister, Kylah, began to assist our AsburyKids worship leader, Mason Miles, in leading worship in my classroom! She walks over from her usual hang-out with Miss Bonny and confidently steps up on my stage to help teach our Bible verse and lead our singing.
My favorite part of the story came around Christmas time.
The boys had started to talk about baptism, which made me think that the idea had been talked about at home as well. Sure enough, I received a stack of cards to sign the following Monday–many of which we send to extend our congratulations to kiddos who have recently been baptized. To my delight, I saw that all of the Shouse children had their own cards in my stack. They had all been baptized together at a recent service.
The next time I saw the boys at church, they told me all about their baptism. They were talking so fast and so excitedly that I could hardly understand a word, but the message was clear: these boys were excited and proud of the milestones taking place in their faith. I, on the other hand, was completely overjoyed!
Closer to Christmas, Mrs. Shouse brought me a bookmark for my Bible that she'd made as a Christmas gift. It had a picture on it of the family's baptism, and sweet words telling us that what we would do at AsburyKids makes a huge difference. I showed the rest of the staff and volunteers in my room the bookmark, using it to assure them, in turn, that what we ALL do can make a huge difference in a child's life.
To watch the milestones unfold as this family has gotten connected into the life of Asbury has been one of the greatest blessings of my ministry here.
As of now? The boys are still their exuberant, affectionate selves and are regular fixtures in my classroom. I cannot wait to watch as they continue to mature in their faith, to trust in God's love for them even more, and begin to discover the unique call on their lives.
And to think, all this began with a family dedicated to Christ, and the blessing of a brand new Bible!
---