Middle Schoolers CAN Change the World by Helping Others Follow Jesus
By Isley Steger and Heather Steger Tidings February 2017
---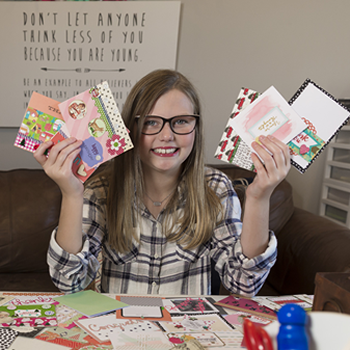 Don't let anyone think less of you because you are young. Be an example to all believers in what you say, in the way you live, in your love, your faith, and your purity. 1 Timothy 4:12
Yes, I am young. I am an 11-year-old 6thgrade girl at Oliver Middle School. I'm too young to have a real job, but my current job is as important as any career. My job is to spread God's love to people who don't know Jesus. Mark Fowler tells us weekly that "middle schoolers can change the world." In fact, he believes this so much that at our middle school retreat he gave each of us a dollar bill with those words written on it. I still have mine and that's exactly what I did. That's exactly what I am doing. I am changing the world by helping others follow Jesus.
I didn't know that I was changing the world but now I know I am. In the spring of 2014, my mom received a phone call from one of her friends who worked in the children's department at Asbury. Her friend was approached by the missions team to join a group of people going to Estonia to help with Vacation Bible School. She thought my mom and I would be great additions to this team. After talking it over with my dad and praying about it, my mom and I said yes. We were on our way to Estonia. I was on my way to change the world.
Since then I have been back to Estonia one other time. My love for Estonia has grown since the summer of 2014. I now have friends who live there, I pray daily for them; I think about Estonia often and can't wait to return.
My entire family went to Estonia this past July with my mom leading the team. She was asked to lead the 2017 team as well. I wanted to go back with her. I couldn't imagine not being able to go; this would make my heart so sad. My mom told me that if God wanted me to go, He would let me know. My parents also told me that if I was serious about going I had to pay for part of this trip. Wait!! What?!? How am I going to raise money? I have no job and I am too young to start working. I was nervous that I wasn't going to be able to go.
At school the next day, I started a list of ways to earn money like walking dogs, mowing yards, card making, selling some of my stuff, and garage sales were some of my top choices. That night I thought I would first try card-making. My Nana makes cards for fun and has given me some supplies and has shown me how to make them. I also called a card-making friend of mine, Kim Broadhurst, to ask her to help me get started. I spent an afternoon with her making cards and talking about Estonia. Kim suggested to my mom that we should post a video on Facebook about my card-making business and see if anyone would want to buy a card or two. So we did. Within minutes of posting my video I had my first order, and it was for three cards. Then here came another order for two more cards and then another for nine. It was crazy. Within 24 hours I had more than 30 orders placed, and I was busy making 80-plus cards! I remember looking at my mom and saying, "I guess God really wants me to go back to Estonia."
Over the last month I have posted a second video on my mom's Facebook page and have made several hundred more cards. My cards have been sent all over the US, and I have had people my mom barely knows buy my cards. It's pretty awesome to see God working through my little business. All of the money that I have earned thus far has been given to Asbury for my mission trip. I have a long way to go to make my goal but I know God is going to get me there.
See, middle schoolers can change the world. It doesn't matter how young or old you are, or how important your job is; God can use you to change the world.
---