Never Too Young
By Bonny Coats Tidings January 2018
---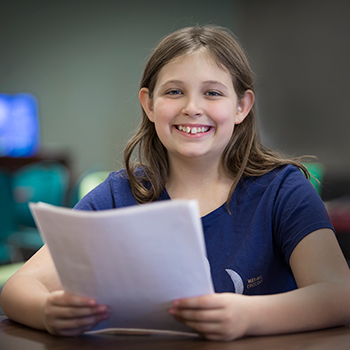 Isabella Garbelman has been an Asbury kid since she was 3-years old. She is now a bright 10-year-old who loves church, Tae Kwon Do, Jojo Siwa and teaching.
No, that's not a typo. Just half-way into her 5th grade year, young Isabella loves to teach.
"She's a teacher at heart," says Isabella's mother, Lindsey. "She loves to teach people things. I see her teaching all the time. At church. At Tae Kwon Do…"
"…and I love to spread the word about God!" adds Isabella.
According to Lindsey, teaching is a habit Isabella has put into practice for quite a while now. Lindsey loves to tell the story about Isabella teaching other kids about Jesus at school. "When she was in 3rd grade, she was found witnessing on the playground. You guys are always telling the kids to tell their friends about Jesus; she took it seriously and did!"
Two years later, Isabella is still taking the call to tell others about Jesus seriously. Isabella is active in our 3rd-5th grade classroom in AsburyKids. This summer, she asked if she could teach in class. A bit surprised, I answered "Yes, of course!"
And so, the process of developing a lesson began. We talked about what she would like to teach about, and I gave her copies of our upcoming Sunday morning curriculum. September's monthly virtue was "friendship," and Isabella decided she wanted to teach about how to forgive your friends, a lesson she had learned the hard way.
Do you ever think to yourself "Oh, to be a kid again!"? When we think about our childhood, what usually comes to mind is endless play, bicycle rides and zero responsibility. It's easy to forget the difficult things that can come along with being a child. Take friendship for example. Pausing to think about your childhood friendships, maybe memories flood back about playing catch or hide-and-seek and sleepovers during the summer. But friendship, like any relationship, takes time and effort and an understanding of social cues that can be difficult to grasp. The unfortunate results of not abiding by these unwritten rules include bullying, social punishment and segregation from the group.
Isabella knows the good side of friendship, but she knows the tough parts, too. Amazingly, instead of being embarrassed or shying away from the difficult things she's experienced, this sweet 10-year-old decided she wanted to tell her story…and let God redeem it.
As Isabella prepared to tell her story, she knew exactly how she wanted it to go. She wanted to open with a multiple choice large-group game and include a funny video and pictures. She would speak on Colossians 3:13 and John 21:1-17, where we see Jesus forgiving Peter who had denied knowing Him just three chapters before. Finally, she would tell her story about how she had chosen to forgive her friends, who had decided without warning that they just didn't want to hang out with her anymore.
Friday evening before the Sunday she would teach, we gathered in the 3rd-5th grade class, and Isabella practiced her lesson from beginning to end two times. She was ready.
That Sunday morning, she arrived with a smile on her face, simply giddy to teach others about God. When she got onstage, she was a natural. She told her story bravely TWICE, at 9:15 and 11 am. Friendship is hard, she taught the class, but forgiveness is worth it.
It was apparent during the small group time following her teaching how God had used her lesson to help quite a few other kids in the 3rd-5th grade class see they weren't alone. Isabella prepared the way for several of our 3rd-5th graders to be open and honest about the struggles they were going through with bullying, betrayal and broken relationships. Then, we could pray over them specifically and affirm them through their pain. Praise God!
After it was over, Isabella immediately asked when she could teach again. She loved her experience teaching the class! Months later, Isabella says, "I loved that I could express my feelings about what happened in the lesson and the story. It made me think a lot more about friendship…I think about what happens if I'm in that position again? How will I respond? Because I have to do the things I taught about, too!"
Imagine that! Our girl is already learning the importance of practicing what you preach. Here's hoping for many more opportunities for Isabella—and all of our Asbury kids—to use their stories to tell others about Him!
---